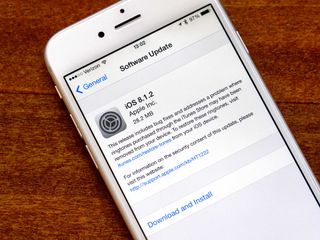 Apple has released a new iOS 8 to the public, this time iOS 8.1.2. The update is available for download over the air on your device or through iTunes. This update is supposed to correct an issue that may have caused ringtones purchased through iTunes to be removed from devices.
You can restore your lost ringtones by going to this link (opens in new tab), which redirects you to iTunes. From there, you can recover any of your lost tones. To update to iOS 8.1.2 over the air, go to Settings > General > Software Update, and select Download and Install. The update comes in at around 28MB on the iPhone, and 25MB on the iPad.
Get the best of iMore in in your inbox, every day!
Joseph Keller is the former Editor in Chief of iMore. An Apple user for almost 20 years, he spends his time learning the ins and outs of iOS and macOS, always finding ways of getting the most out of his iPhone, iPad, Apple Watch, and Mac.
The restore ringtones link does not work.

Unless you edited it, it most certainly did not. It's incorrectly formatted. It resolves to this nonsense:
http://www.imore.com/itunes.com/restore-tones

Did for me Sent from the iMore App

Still interested in what exactly 8.3 will hold (weren't there supposed to be 3 major updates to iOS 8?) with .2 we got Apple Pay and bug fixes so I'm guessing .3 will just be more polishing? Sent from the iMore App

I'm thinking it will have support for the apple watch.

Ah totally forgot about the Watch. That makes sense, so then .3 will definitely be a surprise or just polishing. Thanks! Sent from the iMore App

The first was 8.1 with Apple Pay. 8.2 will support WatchKit and is already in developer beta. 8.3, no clue nothing announced. You're counting 8.1.1 & 8.1.2; these are not major releases.

Well if there is an iPad pro 8.3 maybe adresses to that.

Sorry I meant .1 got ahead of myself. I know these are smaller updates, thanks! :-) Sent from the iMore App

Anyone know if this fixes issues some were having with Google Calendar and Google Contacts sync from iOS 8.1.1?

I've been having this issue too. Does iOS 8.1.2 fix this?

That's all that's in this? You'd think they would put a little more into an OS update. Sent from the iMore App

Hence why this is a 8.1.2 update and not a 8.x release. The ringtone bug affected quite a few people and needed a fix. Sent from the iMore App

The link in the article is wrong its is pointing to imore.com/itunes.com/restore-tones instead of itunes.com/restore-tones

All I want is in Clock when I add alarm to be able to choose repeat "Everyday".. I don't get why it's missing..

After creating the alarm choose Repeat, then select all the days (or whatever days you want it to work on). I do it for Monday through Friday as a work alarm, then I have one set for the weekends, etc. Just never flip the switch off and you should be good to go! Sent from the iMore App

Alarm app is horrible on iOS. Lack of options w snoozing and the actually snooze button on the lock screen is a joke. Sent from the iMore App

I hate the vibration. There is almost no way to turn that off. The only fix is to go to settings

On my 4s, I'm still having random lag, freezing, and reset issues that the last update didn't fix. Sent from the iMore App

Restore it as a new iPhone on iTunes not from back up. Sent from the iMore App

Pretty cool! Just experienced this bug myself over the weekend and now there's a fix. Apple was great in handling it. I called, they refunded my money, and gave me two song credits. Plus I made the tone I wanted for free and already added it to my phone. I made out like a bandit! Now, just need a fix for the stupid all-day calender events not showing and just general responsiveness fixes on ios 8.

More than anything, I'm surprised to learn that people buy ringtones! Sent from the iMore App

That was also my first thought; so easy to make whatever ringtone you want, surprising there's still a market for that...

So the battery season issue is still not resolved. Damn!! Sent from the iMore App

I meant battery drain. Sent from the iMore App

I am not having that issue on my Plus. What device are you using?

All my family and Boyfiend suffering from Battery Drain iphones 5 / 5s 32 gb

iPhone 5s
The bad part is that you cant even restore back to iOS 8.1 now. The battery life on it was swweeeettt!!

Please tell me this fixes the "control center fails to open when swiping up from lock-screen half of the time" bug that has been driving me (and many other users) crazy?!

I agree it only works on the home screen and takes several tries while using an app. The worst is messages where it makes me wrote 2 sentences before finally working. Sent from the iMore App

Multitasking gestures still buggy for me. 'Pinch to home screen' is still hit and miss. Sent from the iMore App

wifi slow connection has never been fixed for me. Sent from the iMore App

I'm with you on this one Sent from the iMore App

Now I have 2+ of tones. I am going to reset my phone and then go to the backup I have and try again. Sent from the iMore App

i'm reluctant to upgrade. i didn't do the last one because my phone works fine for the moment. Well aside from slow itunes syncs sometimes but we are talking about itunes. It's probably itunes' fault.

Sound when photographing often DOESNT give away the capture-sound. Still.. Sent from the iMore App

I have this (no sound) a lot when I take a picture, but if I take another picture again right away, there is always sound. Doesn't bother me much, though, as I'm just a crazy animal lady taking pics of my pets.

Well, I followed all the instructions, and the link to the iTunes store told me that "Your tones were not affected," when, clearly, there's a ringtone in my purchase history and it worked and was loaded onto my 4s prior to the upgrade.

What about the app store icon problem? download an update on iTunes, and wireless sync... App store badge icon remains, though when you open it, shows all apps up-to-date

itunes.com/restore-tones Sent from the iMore App

Broke spotlight search. Ugh.

That happened to me once on 8.1.1...it corrected itself pretty quickly and hasn't happened since *knock on wood*

Updated failed because the iPad wouldn't take my pass code while updating than decided to lock me out and now I got to hook my iPad to iTunes which is not very Windows 8 friendly. Posted via the iMore App for Android

Updated both my iPhone 5s and iPad Air (first Gen) to iOS 8.1.2 not that I was effected with this particular bug with lost ringtones, but I updated anyway no problems so far. Sent from the iMore App

Wonder when they'll fix the wifi and battery drain issue ?? Sent from the iMore App

Since upgrading I keep getting this message popping up. " Connect to iTunes to use posh notifications. Program... Notifications may use alerts, sounds or icon badges" Sent from the iMore App

*push Sent from the iMore App

Any idea if this upgrade fix the BT problem

The update never restored my purchased ring tone. I followed the link through my phone and it says "restoring purchased ringtones - you'll get a notification when done." Been almost 12 hours and no notification or restored ringtone. Don't think this is working.

Went really smooth. No problems. Sent from the iMore App

http://www.imore.com/itunes.com/restore-tones

I just upgraded to iOS 8.1.2 and the annoying passcode is enabled again, and I can't find how to disable it. Can anyone help?
Thank you for signing up to iMore. You will receive a verification email shortly.
There was a problem. Please refresh the page and try again.