Apple updates Apple Store app, teases white iPhone 4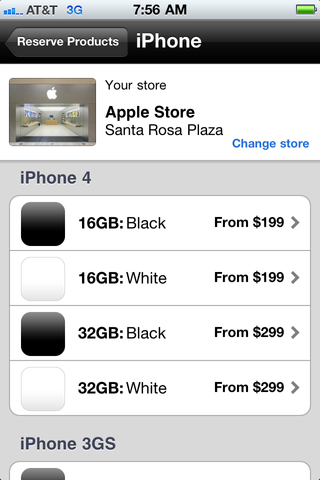 Last night Apple updated the Apple Store app for iPhone, iPod touch, and iPad and decided to tease us by including what looks to be white iPhone 4 reservations as part of the new functionality.
The caveat to this, however, is that not everyone is seeing the white iPhone 4 listed, and even if you do, when you try and reserve the it you get a popup stating they are not taking reservations for that product at this time.
So given that it is still not available to be reserved but that Apple updated their app to include the white iPhone 4 does this mean we will be seeing them sooner rather than well…never?
If you're using the Apple Store app, let us know if you can see the white iPhone 4, if you can whether it lets you try and reserve one at your local store, and whether or not you're having your dreams crushed with a notification saying unable to reserve?
[ iTunes Link (opens in new tab) via BGR ]
by Brian Tufo
Get the best of iMore in in your inbox, every day!
Your source for all things Apple
I'm in the Chicagoland area, and I can see the white iPhone 4 models, listed as "Not available to reserve".

I think we will see the White iPhone 4 just before Christmas so that it will be boosted because of the holiday season.

my brother in law works for apple. way high up. he said the white iPhone will be released in feburary. and he said it's going to be better than the white one? haha I don't know how it will be better. maybe no antenna gate?

better than the black one*

Northwest of Philadelphia - No white phones listed.

Im in California and no white iphone showing for me. On the screen where you click 'capacity and color' though the image above shows a white and black one but then when I click it, it only gives me an option for black

@iStoner. Even waaaaaaaaay high up at Apple doesn't guarantee knowing anything about anything.

I know. that's why I am still pessimistic. but he did make it seem like a big deal that he told me of that means anything haha. I guess we will see!

@iStoner he was just bragging to make himself look cool and feel important.
In other news, I can't see it in Los Angeles. I still want to get my hands on a black one. #beingbrokesucks

I take back not seeing the white. Going to the iPhone 4 product page, it's not listed. Go to stores > reservations > iPhone, it's listed with "Not available to reserve" underneath the size/color label.

@nerdy white boy. I bet you really like hard, black manly men things.

Well... I mean it's just a different color, really that big of a deal? I guess so :/

@Aaron kaiser. i hope u die in your own self pitty when in febuary I am correct. ass.

Same in OKC - "Not available to reserve."

Also showing up as unavailable to order in the Canadian store. There is a white iPhone photo up on the page though!
Canada -> Shop iPhone

lol @iStoner, yeah and my dad is steve jobs and he said tomorrow, lol, gotta love the interwebs, little kids can just say anything they want. Got to love it!

I made a reservation at my local Apple Store Genius Bar through the app, and it gave me a push message about an hour before the appointment. The app didn't do anything when I got to the store though. (P.S. The rubber feet on the battery door of my late '08 MB Pro were coming off, so I ordered a new door for $27 US.)

White iPhone 4 has been delayed until Spring 2011

@iStoner
your brother is an @$$h**e.
That is all.

@iStoner that was extremely childish and rude. Your IP should be blocked from these comments for that remark. Grow up.

I never wanted to be that guy, but the time has apparently come. TiPb, please dig up some news and stop posting filler.

@Aaron Mathew Kaiser . Read the new posts. white iphone in the spring of 2011. which mean Feburary. Go choke on a di%#

@iStoner i am actually enjoying a mouth full right now thank you very much=)

Can one of the admins delete the previous fake comment above please. I did not post that.
Thank you for signing up to iMore. You will receive a verification email shortly.
There was a problem. Please refresh the page and try again.