What's the difference between iPhones?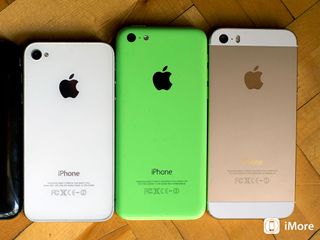 While 'iPhone' often sounds like one, iconic thing, Apple has fielded many different models, and an incredible array of variants over the years. This year there's the state-of-the-art iPhone 5s, the pop-art iPhone 5c, and the held-over iPhone 4s. Sure, 5 sounds higher than 4, but what's the real difference between all these models? Does more money really get you more features, does saving up-front cost you in the long run, and how much phone do you really need? If you're looking to get your first iPhone, or looking to get one for family or friends, figuring it all out can be confusing. Here's what you need to know!
Products and price points
Apple's 2013 iPhone lineup consists of 3 different models, the iPhone 5s, iPhone 5c, and iPhone 4s. Here are the models and price points, both on and off contract.
$0/$450 - iPhone 4s 8GB
$99/$549 - iPhone 5c 16GB
$199/$649 - iPhone 5c 32GB
$199/$649 - iPhone 5s 16GB
$299/$749 - iPhone 5s 32GB
$399/$849 - iPhone 5s 64GB
Yes, the 32GB iPhone 5c is the same price as the 16GB iPhone 5s. One has more storage, the other higher specs. Price, it turns out, isn't the only factor!
Storage
You can get and iPhone 5s with 16GB, 32GB, or 64GB of storage. It's the only iPhone that currently offers a 64GB option so if you need the most space, this is the one to get.
You can get an iPhone 5c with 16GB or 32GB of storage. So, if you don't need an extreme amount of storage, you can get a 32GB iPhone 5c for the same price as a 16GB iPhone 5s.
You can get an iPhone 4s with 8GB of storage. Frankly, we can't recommend this amount of storage for anyone. If you plan on downloading any amount of apps or media, it'll just end in frustration.
Colors
The iPhone 5s comes with two difference choices of faceplates and three metallic finishes, including white and gold, white and silver, and black and space gray. Verging on jewelry, they all look very high-end, and very premium.
The iPhone 5c comes in five combinations of black faceplates and bright, candy-colored plastic shells, including yellow, pink (salmon), green, blue, and white. Like pop-art, they're fun and coordinate incredibly well with the wallpaper and background on the software.
The iPhone 4s comes in either white or black. Single-toned, unlike the newer iPhones, they're also glass front and back which means there''s no safe side to drop them on.
Displays
The iPhone 5s and iPhone 5c have gorgeous, widescreen 4-inch displays at 1136x640 that makes it look like apps, images, and videos are painted inside the glass. They also have excellent viewing angles. These are both bigger and better.
The iPhone 4s has a great looking 3.5 inch display at 960x640 with an excellent viewing angle. These days it almost looks a little cramped.
Size and weight
The iPhone 5s is the thinnest and lightest iPhone. It's so thin and light, it almost feels like they forgot to put anything inside it. It's 4.87 inches (123.8 mm) x 2.31 inches (58.6 mm) x 0.30 inch (7.6 mm) and weighs in at 3.95 ounces (112 grams). If you want something that disappears into your pocket, this is it.
The iPhone 5c is slightly thicker and heavier, thanks to its bigger plastic shell. It's 4.90 inches (124.4 mm), 2.33 inches (59.2 mm) x 0.35 inch (8.97 mm) and weighs 4.65 ounces (132 grams). While bulkier, it is by no means bulky.
The iPhone 4s is the squattest and heaviest of the iPhones, thanks to its shorter screen and thicker body. It's 4.5 inches (115.2 mm) x 2.31 inches (58.6 mm) x 0.37 inch (9.3 mm) and weighs 4.9 ounces (140 grams). Compared to newer iPhones, this one feels weighty in the hand.
Power
The iPhone 5s is powered by the 2013 Apple A7 chipset and Apple M7 motion coprocessor. It's the same 64-bit, Open GL ES 3.0 chip that's inside the latest iPads, and the most powerful processor ever put into a phone. (It could just as easily drive a netbook. Which is insane.)
The iPhone 5c is powered by the 2012 Apple A6 chipset. It has no coprocessors but is still capable of good performance.
The iPhone 4s is powered by the 2012 Apple A5 chipset. It's still capable of driving the phone, but it's nowhere nearly as future proof as current chipsets.
Sensors
The iPhone 5s is the only iPhone with Touch ID, a fingerprint identity sensor that lets you unlock and purchase apps with the touch of a finger. It also includes a three-axis gyroscope, accelerometer, proximity sensor, ambient light sensor.
The iPhone 5c and iPhone 4s include three-axis gyroscopes, accelerometers, proximity sensors, and ambient light sensors.
Carriers and LTE
The iPhone 5s supports the most LTE bands of any single phone in history. You can get it GSM unlocked, which means you should be able to use it pretty much anywhere and everywhere.
The iPhone 5c has the same great LTE and carrier support as the iPhone 5s. You can likewise get it unlocked and use it just about anywhere.
The iPhone 4s has 3G carrier support. You can also get it unlocked and use it in most places. Because CDMA 3G (Verizon and Sprint) is much, much slower than GSM 3G (AT&T, T-Mobile), iPhone 4s performance can vary greatly between those networks.
Wi-Fi, Bluetooth, and location
The iPhone 5s and iPhone 5c support up to 802.11n Wi-Fi on both 2.4 and 5GHz. They also both support Bluetooth 4.0 as well as GPS and GLONASS.
The iPhone 4s supports up to 802.11n on 2.4GHz only. It also supports Bluetooth 4.0 as well as GPS and GLONASS.
iSight rear-facing cameras
iPhone 5s, iPhone 5c, and iPhone 4s all have iSight cameras with 8 megapixel stills and 30fps 1080p video, backside illuminated sensors with 5-elements, hybrid infrared filters, geotagging, face detection, auto- and tap-to-focus, auto stabilization, and panorama modes.
The iPhone 5c has an f/2.2 aperture and dual true-tone flash. The iPhone 5c and iPhone 4s both have f/2.4 apertures and single LED flashes.
The iPhone 5s and iPhone 5c both have sapphire crystal lens covers, 3x digital video zoom, and the ability to take still photos while shooting video.
The iPhone 5s can also record 120fps slow-motion video. It's one of the best camera phones on the market, and the absolute best camera on a 4-inch or under phone.
FaceTime front-facing cameras
The iPhone 5s and iPhone 5c both have 1.2 megapixel, 720p FaceTime HD video cameras with backside illuminated sensors.
The iPhone 4s has a VGA (480p) camera.
Battery life
The iPhone 5s and iPhone 5c both support up to 10 hours of 3G talk time, LTE or Wi-Fi web browsing, or video playback, up to 40 hours of audio playback, and up to 250 hours of standby. Depending on how much or how hard you use them, both will last you the day.
The iPhone 4s supports up to 8 hours of 3G talk time, up to 6 hours of 3G or 9 hours of Wi-Fi web browsing, up to 10 hours of video playback, up to 40 hours of audio playback, and up to 200 hours of standby.
Connectors
Both the iPhone 5s and iPhone 5c use the new, intelligent Lightning connector. That means they'll work with all the latest accessories and peripherals, now and into the future.
The iPhone 4s uses the old 30-pin Dock connector. That means it'll work with older accessories, but not new ones.
Software and services
The iPhone 5s, iPhone 5c, and iPhone 4s all run iOS 7 and connect to iCloud. That means you can run all the latest software from the [App Store](http://www.imore.com/app-store - over 1 million apps and growing - as well as manage all your email, calendars, contacts, backup your data, and more.
Bottom Line
The iPhone 5s is something from the future. It includes the Touch ID sensor, one of the best cameras ever to grace a phone, and the highest storage option. If you want state-of-the-art, you want the iPhone 5s.
The iPhone 5c is all about today. It's less expensive but arguably even more fun. If you want pop-art, you want the iPhone 5c.
The iPhone 4s is the past. It has an old screen resolution, supports only older 3G cellular connections, and while the camera is still good, the 8GB of storage is almost maddening. If you want an iPhone in name only, you might be able to make do with an iPhone 4s.
Get the best of iMore in in your inbox, every day!
Rene Ritchie is one of the most respected Apple analysts in the business, reaching a combined audience of over 40 million readers a month. His YouTube channel, Vector, has over 90 thousand subscribers and 14 million views and his podcasts, including Debug, have been downloaded over 20 million times. He also regularly co-hosts MacBreak Weekly for the TWiT network and co-hosted CES Live! and Talk Mobile. Based in Montreal, Rene is a former director of product marketing, web developer, and graphic designer. He's authored several books and appeared on numerous television and radio segments to discuss Apple and the technology industry. When not working, he likes to cook, grapple, and spend time with his friends and family.
The main difference in my opinion is price, but for a person who has never owned an iPhone or who has never owned an iPhone that is still manufactured in the 2013 line up. Here's why because those particular people will have an awesome experience regardless of which phone they decide to get, if they are coming from an iPhone 4 and decide to go with the iPhone 4S as a contract upgrade the get a phone that's a lot faster and has Siri a somewhat better screen because the colors are in fact more vibrant and warm b Sent from the iMore App

Pretty much agreed. I went from a Pre to my first iphone a 4s. I saw quite a few articles saying they wouldn't upgrade or buy it but as a first time iphone user it was a great phone. I think people should always be mindful of the different potential customers. There are first time smartphone users, first time iphone users, upgraders, people that want the cutting edge of tech, and also the "average user" may not care about near field communication or processor speeds. They may just want to text and take pictures and check a facebook status. For those people they'll be satisfied with lots of iphones. my mother bought a 5 last spring. For her needs upgrading would be flushing money down a toilet cause she won't notice the difference at all.

Accidently submitted. Between the iPhone 4S and iPhone 4. But if theyre coming from iPhone 3GS or lower they'll get a way better screen, way faster processor, front facing camera along with FaceTime, and a better rear facing camera with hd recording capabilities. And that's all for a free upgrade but if you wanna go a little bit deeper in quality your going to have to pay for it, going to the iPhone 5c from iPhone 4 or lower is a hellish upgrade!! Larger screen, hd front facing camera, 8 mp iSight rear facing camera, it will be thinner and lighter than all previous models, siri, a way faster processor and a couple other little software features that weren't available in previous models. My point is the price is the main difference for someone coming from a different platform or from an iPhone no longer available because regardless of which iPhone they go with it will be a great experience and there will only be a couple things unavailable features with the cheapest model iPhone 4S and for someone like that I assume it shouldn't be that much of a bother, but if you need the greatest and lastest you should already be aware of the main difference and your opinion of what's more important for you to have on the particular model you choose. Sent from the iMore App

There is a typo if you would like to fix it. Where is talks about the apertures. It says "the iPhone 5c has a 2.2 aperture" it should be 5s. Sent from the iMore App

This article seems completely unnecessary. If you can afford an iPhone, buy the new iPhone. You'll regret not doing so after a year when it becomes obsolete.

We get the question a lot, mostly from people who've never bought a smartphone before, think there's only one iPhone, then suddenly wonder what the differences are. We serve a wide audience. :)

How is this article unnecessary? When someone goes to buy an iPhone there are three different iPhones to choose from. It's a fact. Maybe you think the 4S and the 5C are unnecessary or not good choices but they exist and are available for purchase. And for those not sure of the difference this is a fantastic overview. The word "obsolete" is thrown around way way too liberally in tech discussions. My iPhone 4S is two years old (well last the one year you say defines obsolescence) and it works great for me. I have no plans on getting a new iPhone until the next version. If that.

Can you please say to me what is the different between iPhone 4 and iPhone 5C.

This was a very thorough comparison of the most recent iPhones. I have to save this article to share with those friends that are planning to switch to an iPhone. Great article, this is what separate you guys from other sites.

5c vs 5s main differences are Price, processor, fingerprint scanner, camera, pastel colors. I was a bit surprised seeing them lined up using the "compare" feature on a website just how similar they are. As a potential buyer i struggle to see justify the 5s over the 5c for any reason other than that i'd rather slide down a pole of razor blades than carry a pastel colored phone. But for my needs, the processor, fingerprint scanner, and an upgraded camera are not that big a deals. Camera's already pretty good on the 4s and 5. And it's not like my 4s is slow. So when i considered upgrading, from my perspective, really the only selling point for with the 5s was, one, a nicer non pastel case (though sadly no black) and, two, the option to have 64gbs not offered with the 5c.

"Figuring it out can be confusing" Really?? Are Apple users really that stupid.

Maybe you forgot to read your comment prior to submitting - but as it is - you sound like a D-bag of the triple A kind. So you might want to clarify your thoughts a bit...

People who've never used any smartphone before can have a hard time distinguishing the differences. Anything you don't know can be confusing, even compassion :)

"Stupid" like not putting a question mark at the end of that last (dumbass) sentence?

Outstanding article. I very much enjoyed reading this. Sent from the iMore App

I usually enjoy reading your articles Rene, but now that I've taken time to see how my 4S stacks up to the more current models, I'm sad.
My 4S is still kicking along well enough.
This is a nice article comparing the latest offerings in the iPhone line(s).
Thank you. Sent from the iMore App

"Lord of the generic comment" has spoken.........again

Another consideration is future feature availability. Apple updates iOS every year, and to date has followed a pattern of restricting access to features according to the age of the phone, either because the older phone cannot support it or to give people a reason to buy a new one. Whatever iOS8 has in store for next year, you can count on the 4S not being able to utilize most new features, a 5/5c able to access almost all of it, and the 5s being able to access everything that is not dependent on a specific new piece of hardware. The year after, the cycle will repeat with the 5/5c on the chopping block, and so on.

Lol at Apple not displaying the processor in the 5S. The differences between the 5c and 5s are minor. I can't justify the price difference. The bud of the 5c doesn't appeal to me so I went 5s. I do feel using the term "state of the art" is a bit strong considering the 5s truly isn't a big step ahead of the competition. My HTC One, 5S and LG G2 all sit side by side and the 5S doesn't really set itself apart in many areas. Smartphones these days are kind of at a standstill. It also seems like the iPhone 5 got the short end of the stick. The 4s is a two year old phone. It should be gone. Why ditch the 5? Because the 5s was such a minor upgrade?

Rule Number 5 Rephrased: Do you like acting as inhibited as you are at work in your own house, and having future work evaluations reflect how well you entertain as well as how well you do your job? Then by all means invite people from the office..........>http:\/qr.net/mneF

Simple but thorough. Just the way I like it. This is great for those who usually just buy their smartphones without giving it too much thought or without doing a little research. Also, now I feel bad about the editors of Android Central. Imagine all the different android smartphones out there. A comprehensive android smartphone comparison guide tackling all major factors similar to this article but with a few additions - recommending which one to get at certain price points, the various display sizes, the differences between each manufacturers' custom changes and added features with the android OS, etc.; it seems like a very tedious and insurmountable task. Sent from the iMore App

Here's an interesting question for you: do you ever foresee a day, even within the next decade or so, when smartphones trend back to the smaller side? I just had the thought that we got along just fine for 5+ years with phones that had smaller displays. But not only that. It was actually *cooler* to have a small phone. Maybe imagine a 4s with more screen real estate, thinner and lighter than the original. I still think the 4s is the epitome of iPhone...barring, of course, slower 3g speeds and all the other hardware hindrances of the time. Never say never?

Great article, and very helpful to those who may be confused, questioning, or new to smart phones and/or the iPhone lineup!

I've gone back and forth on whether to upgrade from an iPhone 4 or not. This article helps summarize the models to choose from. But, my biggest obstacle isn't about features, it's my plan. Specifically that I have an unlimited data plan that'll disappear once I upgrade. I'll keep looking for articles related to data plans to address that issue, but as far as a phone selection, this article would have me almost set on the 5 due to price as the additional features of the 5s aren't that important to me. Just wish the 5 came in black.
Thank you for signing up to iMore. You will receive a verification email shortly.
There was a problem. Please refresh the page and try again.