Apple is working to fix an issue that causes some iPad Pros to become unresponsive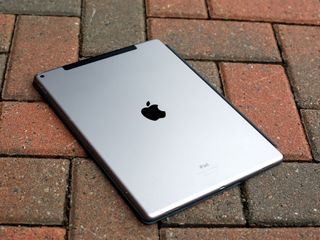 If you have bought an iPad Pro and have been having problems with the 12.9-inch tablet displaying a black screen and becoming unresponsive, you are not alone. Apple has posted up a new support document on its site stating it is working to fix this issue.
Apple's support page does offer a temporary workaround:
We will post an update when Apple has released a permanent solution to this issue.
Source: Apple (opens in new tab); Via: Re/code
I have been writing professionally about technology and gaming news for 14 years.
This happens to me almost every morning. Once or twice, the iPad was fine however.

Happens to me whenever I charge the iPad. I had to restart it multiple times.

This really bad for the launch of a new device, as well as the miss matched Touch ID button. Sent from the iMore App

Kudos to apple for acknowledging the issue and letting their clients know they are aware of it and working on a fix. Also to everyone ranting about the Surface pro 4 and Surface book, these things happen to the best of them. However I do wish Microsoft would take after Apple lead by admitting there is a problem and immediately work is to push out an update.

lol what sad defense of Apple putting out malfunctioned ipads. I'm sure if surface pro had such an embarrassing glitch that needed to be solved by the manufacturerer, they would have done the same. How low expectations have become of Apple that you're praising their acknowledgement of publicly known failures.

+1 Posted via the iMore App for Android

Agreed. Apple is held to the highest standard, so this is EPIC FAIL. Steve Jobs is rolling in his grave. Sent from the iMore App

Agreed. Apple is held to the highest standard, so this is EPIC FAIL. Steve Jobs is rolling in his grave. Sent from the iMore App

As an apple bro, I concur. It's like praising a child for only being a little obnoxious in the store... Sent from the iMore App

It happened to me two days ago when I left it to charge to 100%. I haven't charged up fully since, so I'm not sure if it only happens on a full charge or not. At least they know about it, and are investigating the problem. I totally trust Apple to sort this out, whatever it takes. I suspect it's a software glitch that the next update will fix. Sent from the iMore App

Apple's new motto..."It just...." Posted via the iMore App for Android

How sad and pathetic Android fans are Apple has acknowledged that there's an issue with some iPad Pros and are working on a fix. If you've got nothing positive to say then don't day anyway and go back to lag Droid Central with your fellow lag Droid nerds. Posted via the iMore App

Dude, my phone is a 64GB 6s in Space Grey. Just because I use an Android Tablet, and a Surface Pro 3 for a computer doesn't mean anything. I simply buy devices to suit MY needs, not yours and don't drink the kool-aid like you. When Apple screws up, I'll damn sure call it.

Surface Pro I could understand, but an Android Tablet? Ewww! Sent from the iMore App

It's just a faulty batch it can happen to anyone but because its Apple it gets highlighted more. By the way I could never use an Android table, iPad is the best tablet on the market. Posted via the iMore App

I've had my iPad pro since last Friday and it first occurred yesterday morning. I didn't know about this issue and just assumed it was a snafu. Happened again this morning. Strangely enough it stayed in my back pack unused all day yesterday after a full night's charge until last night because I was so busy. Not only was the screen black and I had to restart but the battery was at 66%. It would seem this is badly affecting battery life as well. Sent from the iMore App

Btw I also remember having a similar issue with my iPhone 4s. Anyone else? Sent from the iMore App

This is happing on my iPhone 6 Sent from the iMore App

Even tho the battery is 10307 mAh, they could not put a larger battery in due to the new speakers. I wonder if the battery itself is a problem? There is some odd things going on. My 6S was freezing on occasion. After the home sleep wake buttons held, it reset, but it wanted a recovery key. My key did not work, and had to get my iPad Air 2 out to get a new key, and had to change my password for my iTunes account. I did get a black screen on a 5S after a night charge, it would not respond to anything until I plugged it into my MacBook Pro, and did a reset. These problems are occurring through iOS 7-9, so it has to be something more that the current iOS. Sent from the iMore App

I solved my iPad Pro problem by enabling "HeySiri". Goto Settings > General > Siri > Turn on Siri and turn on "Hey Siri". This doesn't sound like it will solve the problem, but it does!!! I have seen this used elsewhere. Six day in a row with the charger plugged in overnight and it works. I hope this will work for others. Apple still needs to fix this. BobM,

Can somebody help me understand why this issue only happens to a few devices? Aren't they all built the same? I'm not a techie so maybe this is a dumb question but I've often wondered about this when a problem like this only happens to a few devices, not all. Thanks!

Tablets, cell phones, computers are VERY complex devices. Not everyone uses them the same. Under certain conditions devices will have certain problems or issues. Even the vaunted Apple will sometimes have issues.

Shouldn't have to create a fix. It shouldn't have happened in the first place if Apple had a better beta program. Look at EL Captain. Supposedly they had thousands beta testing it and since it's release it still has glaring bugs in it that should have been fixed before releasing it to the public. Makes you wonder if the same thinking is invading Apple like it did Microsoft back in the 90's when they had millionaires trying to sell crappy software.

That has been happening in my 6s also Sent from the iMore App

Well its sorta comforting to know that Microsoft isn't the only tech giant that can throw out some glitchy stuff from time to time.

Happens to the best of them. Albeit, I think Microsoft are one of the worst for it
Thank you for signing up to iMore. You will receive a verification email shortly.
There was a problem. Please refresh the page and try again.