AT&T reduces price for individual and two-line 2 GB accounts by $15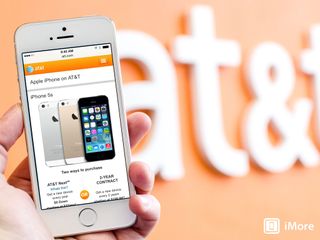 AT&T on Sunday will reduce the price of their 2 GB "Mobile Share Value" plan from $80 to $65 per month, with one smartphone and no annual contract. Two smartphones cost $90, down from $105.
The 2 GB plan includes unlimited talk and text, 50 GB of cloud storage using AT&T's Locker service, and unlimited international messaging. AT&T (coverage map here (opens in new tab) is directing customers who need more than two lines to its 10 GB Mobile Share Value plan, which starts at $145 for three phones.
AT&T already had a price edge over competitor Verizon, whose 2 GB More Everything plan costs $90 for one phone and $130 for two (unless you participate in Verizon's "Edge" upgrade program, which makes you eligible for discounts). The news comes on the heels of T-Mobile's recent improvements to its Simple Choice plan, which keeps prices pretty much where they are but increases data allowances. Sprint's pushing their Framily Plan, which scales its savings depending on how many people sign up with you - at two lines, it's $100 a month, with 1 GB of data for each phone.
It used to be that U.S. carriers had the upper hand with their customers by offering select smartphones that everyone wanted. With smartphone use in the U.S. slowly edging towards ubiquity and with carrier exclusive phone models losing their punch, carriers find themselves in the position of actually having to compete on price and features.
I'd argue that T-Mobile's been the disruptive force in the U.S. carrier market that's been driving much of this effort. Regardless if that's true, we smartphone users are beneficiaries of the increased competition, and I think we're seeing only the opening volleys of a very long battle to win our hearts and minds.
AT&T Offers Its Best-Ever Pricing for Individual and Two Line Accounts On Nation's Most Reliable 4G LTE Network
Plus, Customers Can Sign Up for 50GB of Cloud Storage at No Additional Charge
DALLAS, MARCH 8, 2014 — Last month, AT&T2 (NYSE:T) announced its best-ever pricing plans for families and small businesses and great international offers. Beginning Sunday, AT&T will extend savings to customers with one and two lines with the introduction of a new lower priced 2GB Mobile Share Value plan starting at $65 a month, which is $15 off the current 2GB plan for one smartphone with no annual service contract.
New and existing AT&T consumer and business customers will see great value in this plan, which includes unlimited talk and text, unlimited international messaging from the U.S. to the world3– all on AT&T's award-winning 4G LTE network. AT&T customers may also sign up for 50GB of cloud storage at no additional charge.4
Here's how it works
Additionally, AT&T recently added unlimited international messaging (text, picture and video) to all Mobile Share Value plans for no additional cost. Unlimited international messaging includes messages sent from the U.S., Puerto Rico and U.S. Virgin Islands to more than 190 countries for text messages and 120 countries for picture & video messages.
With Mobile Share Value plans, customers can choose to purchase a phone with AT&T NextSM (no annual service contract and get a new device every year for $0 down6), bring their own device or purchase a phone at full retail price. Customers may also choose from a larger amount of data if needed.
"We're continuing the trend of offering more value to our new and existing customers. Not only are families and small businesses able to save more on their monthly data plans, we're now delivering that same great value to individual customers on the nation's most reliable 4G LTE network 7," said David Christopher, chief marketing officer, AT&T Mobility. "We're delivering more savings for customers across the board - backed by award-winning customer service - with AT&T the value keeps getting better."
With 50GB of cloud storage from AT&T Locker, customers can keep more than 30,000 photos8 safe and secure in the network and access them across multiple connected devices. With AT&T Locker's cloud storage, customers can store photos, videos, music and documents.
And, for a limited time, all new and existing AT&T customers receive a $100 bill credit for each new qualified line of service added – whether a smartphone, tablet, feature phone, mobile hotspot or AT&T Wireless Home Phone.9
To complement these great new plans, AT&T offers customers award-winning customer service. The company recently outperformed competitors for the second time in a row in studies measuring customer service and the wireless purchase experience. J.D. Power awarded AT&T the "Highest Ranked Customer Service Performance Among Full-Service Wireless Providers" and "Highest Satisfaction with the Purchase Experience among Full-Service Wireless Providers" in their 2014, Volume 1 studies.10
Get the best of iMore in your inbox, every day!
Um, the headline is very misleading if the discount is only for people on the 2GB plan only.

Misleading? It clearly states it's for the 2GB plan.

Yes, misleading. A personal account does not necessarily mean a 2GB plan. Sent from the iMore App

I think you didn't read the "individual" part of the headline that basically burns a hole through your retina.

Well, looks like the headline was changed to include "2GB" part. Thanks for the comments.

Sorry for the delay in getting back to you. The intent wasn't to mislead. I made the correction after the story went live.

No worries Peter. Of course it's understood that there was no malicious intent here. Just bringing it to your attention.

Here's hoping Verizon follows suit by the time the iPhone 6 is ready. If not, t-Mobile or AT&T here I come. Sent from the iMore App

This is awesome. Just spoke with AT&T and I can change my plan tomorrow. That's a savings of $5 for me, due to my iPad. But hey I gain an additional gig of data. Thanks for the tip! Sent from the iMore App

Here's hoping my school discount of 15% can still be used as well to the 2 lines / 2 gigs for $90. That would bring it down to $76.50

I am still using my 20% school discount on the 10GB value plan. But expect AT&T to screw up (and eventually fix) something in your plan as a result. While AT&T has been cool with me keeping the discount, their system somehow always screws up.

2gigs ain't enough for my 2 lines (1is grandfathered unlimited), and the 10gig plan with my 2 lines will end up costing me more if I were to switch. Sure, I'd have unlimited minutes, but I'm rolling over 740-748 of my 750 per month as it is! No need for that bs! Sent from the iMore App

Sounds good to me! Go AT&T! Sent from the iMore App

If I already have a 1 line 2 GB contract, can I add another line & get this price? Sent from the iMore App

50 gigs of free cloud storage is pretty awesome, I have 3 lines on the 10 gig/unlimited call&text/$145, I didn't even know they had cloud storage. Sweet, I can store my whole 32 gig music collection for free!

The catch with all these new plans they are introducing is that all future upgrades have to be done using the Next program. If you don't upgrade using Next the access fee per phone goes up. I just talked with a service rep. The new 2GB plan is $40 for the data and $25 per phone for access. If you don't upgrade using Next the access price goes up to $40 per phone. Next doesn't work for me, I can't justify spending $390 on a phone in a year and not be able to keep it.

Verizon does the same thing with their Edge program and their More Everything plan. Another reason why I'm sticking with T-Mo.

I don't see how you can get a new phone every year any cheaper that let's you keep your phone, and the next cost is exactly the same as paying upfront (so interest free loan) if you keep your phone two years, including getting to keep your phone. Being on contract isn't a better deal than next.

Peter, T-Mo's coverage in my area isn't the best, they are trying to catch up but are still pretty far behind. I have 2 phones lines that I upgrade every other year. This past year I upgraded to a 5s, passed the 5 I was using down and sold the 4s for $250 covering my $200 upgrade cost and activation fee. For me being on contract is a better deal than next. If a next plan was so good for the consumer the carriers wouldn't be pushing so hard to get everyone on one.

They dont have the 1GB plan anymore Sent from the iMore App

It's all about competition which is possible since the sale of T-Mo to ATT was not approved last year. Now, how about calling the FCC and FTC about Comcast and Time Warner. Mergers aren't people friendly. Never were. If this isn't a wakeup call, then I don't know what is.