AR could be "better than just the real world" says Tim Cook as Apple VR headset launch looms
A revealing interview with the Apple CEO sheds light on the company's view of augmented reality devices and software.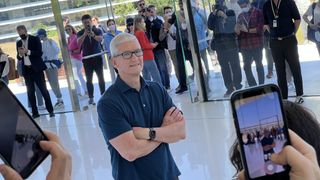 (Image credit: Future / iMore)
Apple CEO Tim Cook has spoken at length about his views on augmented reality and its associated hardware in a new cover feature for GQ magazine. And it represents a relative reversal of sentiment towards the product category for the Apple boss.
The headlining subject of GQ's Global Creativity Awards 2023 cover feature, Cook discussed why Apple could eventually be interested in working on an augmented reality device.
"If you think about the technology itself with augmented reality, just to take one side of the AR/VR piece, the idea that you could overlay the physical world with things from the digital world could greatly enhance people's communication, people's connection. It could empower people to achieve things they couldn't achieve before."
While Cook also spoke about avoiding the pitfalls of too much time spent looking at screens, augmented reality devices appear to be a potential exception, with the 'pass-through' nature of the devices allowing for better collaboration options for people.
"We might be able to collaborate on something much easier if we were sitting here brainstorming about it and all of a sudden we could pull up something digitally and both see it and begin to collaborate on it and create with it. And so it's the idea that there is this environment that may be even better than just the real world—to overlay the virtual world on top of it might be an even better world. And so this is exciting. If it could accelerate creativity, if it could just help you do things that you do all day long and you didn't really think about doing them in a different way."
A turning tide for head mounted wearables?
Cook's apparent enthusiasm for AR here runs counter to earlier statements he made. Speaking to The New Yorker in 2015, Cook called the now-retired Google Glass AR glasses a "flop", and steered away from Apple ever launching an alternative. But that appears to have changed, with Cook ready to accept he may have been wrong — a lesson he's taken from former Apple boss Steve Jobs.
"My thinking always evolves. Steve taught me well: never to get married to your convictions of yesterday. To always, if presented with something new that says you were wrong, admit it and go forward instead of continuing to hunker down and say why you're right."
Though much of the conversation focuses on augmented reality, it's expected that Apple's next big product launch will only at best touch upon AR features — the rumored Apple Reality Pro headset will instead center around VR experiences, a more proven product category, if still a niche one. Though the likes of Sony, Meta, and HTC have all put out good VR hardware, it remains far from a mainstream hit, with the virtual reality hardware market small fry today in comparison to Apple's other billions-making hardware pursuits. But acknowledging that Apple has always faced scrutiny whenever it's entered a new product area, Cook stressed that Apple often outperformed long-standing rivals in difficult spaces — though of course fell short of confirming any VR product is even in the works.
"If you do something that's on the edge, it will always have skeptics," he said.
"Can we make a significant contribution, in some kind of way, something that other people are not doing? Can we own the primary technology? I'm not interested in putting together pieces of somebody else's stuff. Because we want to control the primary technology."
Though it would appear some of those skeptics may in fact be internal employees at Apple, expect a bullish confidence at WWDC 2023 then, where the Apple VR headset is almost certain to make its debut.
Get more iMore in your inbox!
Our news, reviews, opinions, and easy to follow guides can turn any iPhone owner into an Apple aficionado
Gerald Lynch is the Editor-in-Chief of iMore, keeping careful watch over the site's editorial output and commercial campaigns, ensuring iMore delivers the in-depth, accurate and timely Apple content its readership deservedly expects. You'll never see him without his iPad Pro, and he loves gaming sessions with his buddies via Apple Arcade on his iPhone 14 Pro, but don't expect him to play with you at home unless your Apple TV is hooked up to a 4K HDR screen and a 7.1 surround system.
Living in London in the UK, Gerald was previously Editor of Gizmodo UK, and Executive Editor of TechRadar, and has covered international trade shows including Apple's WWDC, MWC, CES and IFA. If it has an acronym and an app, he's probably been there, on the front lines reporting on the latest tech innovations. Gerald is also a contributing tech pundit for BBC Radio and has written for various other publications, including T3 magazine, GamesRadar, Space.com, Real Homes, MacFormat, music bible DIY, Tech Digest, TopTenReviews, Mirror.co.uk, Brandish, Kotaku, Shiny Shiny and Lifehacker. Gerald is also the author of 'Get Technology: Upgrade Your Future', published by Aurum Press, and also holds a Guinness world record on Tetris. For real.