AutoDesk gets on the subscription bandwagon with SketchBook Pro 7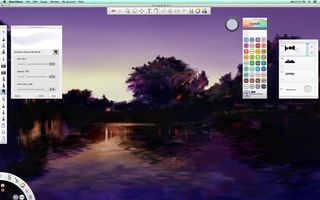 AutoDesk has released SketchBook Pro 7, the latest version of their desktop drawing software for Mac. Additionally, AutoDesk is following the lead of Adobe and others in creating a subscription model for SketchBook. The app is free to download, but you'll need a paid membership to unlock more features.
There are multip tiers of membership. Starter members can create basic drawings using the app's core tools for free without creating an account. When you create a free account, you upgrade to the Essentials membership, which includes layer management, full color palette, basic brush customization, and more. Purchasing a Pro membership for $2.99 per month or $24.99 per year gives you access to all of SketchBook Pro's tools, including perspective guides, Flipbook, Distort Transform, better layer editing, and much more. You can also buy a non-subscription license for $65.
Mac users can pay using their iTunes account. Additionally, downloading SketchBook Pro through the Mac App Store will allow you to save your SketchBook canvases to iCloud, letting you access them through the SketchBook apps for iPhone and iPad.
You can download AutoDesk SketchBook Pro from the SketchBook site, as well as the Mac App Store, for free. What do you think of AutoDesk's new subscription model for SketchBook? Let us know below in the comments.
Source: SketchBook, SketchBook blog
Get the best of iMore in your inbox, every day!
Joseph Keller is the former Editor in Chief of iMore. An Apple user for almost 20 years, he spends his time learning the ins and outs of iOS and macOS, always finding ways of getting the most out of his iPhone, iPad, Apple Watch, and Mac.
Ughhh I am not liking this trend at all. But at least they give you the option to buy it outright.

Do they though? What exactly is a "perpetual licence"? Is it a licence for the product "in perpetuity"? Or is it a licence that never ends and requires you to pay each year? Really quite deceptive language they are using there. Very "anti-consumer."

Does anyone know if this is just an announcement of a subscription program, or whether it's impossible to buy it now? This is the second article of this flavour I've read this morning, but if you go to the Autodesk site, they are offering the product on a "perpetual licence" which on the face of it would be the opposite of this. The site is typically confusing and a minefield of "legal-ese," but unless they have changed the meaning of "perpetual" it would seem you can still buy it. I was going to buy it flat out when I read the first review of it this morning but I will never, ever buy a product that requires a subscription.

Hey, mister_grey. I'm a community manager at Autodesk. Part of my job is to help people out, and I was just checking out some of the launch articles around the web about SketchBook Pro 7. I saw your comment and thought I would try to help explain it. Perpetual license means you get to use it forever. The new version of SketchBook is available in the traditional way as a perpetual license for people who prefer to buy it that way. It's also available as a subscription for people who prefer that. We also offer a free version, so give that a shot and see if you like it. There's some help content on our site (sketchbook.com) if you want to check out the new features, or you can just download it from there and try it out if you want to take it for a spin. Hope this helps, and if you end up making something with it, please let us know on Twitter or Facebook. We love seeing what people make.

Hello "autodesk eric", i wanted to know if qualify for any upgradeable price for the new sketchbook version 7 as i have the old version 5.5.7. i got it awhile back in the Apple App store on a iMac. sincerely
william
wsalvarez@me.com

Hey, William. Excellent question. I know that the details of this can be confusing. There aren't any upgrade pricing options if you bought from the Mac App Store, so I'm afraid the answer is no. But if you purchased from Autodesk or another digital outlet or via disc, there is a small upgrade pricing discount: https://support.sketchbook.com/hc/en-us/articles/202188594-Desktop-only-...

I'm not sure that I like this. I'm a SBP user and it really is for a specific need. Without a huge feature set like photoshop, I don't get the subscription. Are they going to give me a new pencil preset every few months? Also, this probably means that they will kill sketchbook express and copic. I'll just keep the previous version for a little while.
- Sent from the iMore App

You can buy for $60 or upgrade for $45. The amazing perspective tools are an example of features that were available in the subscription service months before the retail. So I guess the question is how often can they make major improvements like that? With the painting tools, blend modes, etc., Sketchbook is becoming more capable of finishing projects. So maybe changes will be in that direction, but I'm buying-to-own this time.

More than the subscription, I am puzzled as to why Autodesk is charging UK users fifty pound sterling and in the US only 65 US - on today's exchange rate the UK price should be forty three pound sterling - so effectively we (UK) are expected to pay fourteen percent more than US customers - why so?