Aztec Antics review: Grab some controllers, unleash local multiplayer!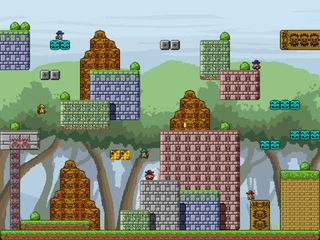 If you picked up the recently released MOGA Ace Power Controller for iPhone, you probably want games to play with it. Well, Aztec Antics from UK indie developer Bouncing Ball Limited is a classic arcade-style platformer that packs impressive controller support on both iPhone and iPad. With both a selection of single-player levels with which to chase high scores and an assortment of competitive multiplayer levels, this one should appeal to fans of retro games and/or local multiplayer.
We're looking for treasure
Aztec Antics is a classic arcade-style game in which players control a treasure hunter as he grabs coins and avoids danger. The levels are single-screen on iPad, but they scroll vertically a bit on iPhone. The style reminds me a lot of the original arcade Mario Bros, except you don't attack enemies from below in this one.
Enemies constantly spawn from the top of the screen and descend toward the bottom. Our hero can jump on their heads to defeat them and score some points, but it's tough because they move so quickly. At first you'll only have to fight off enraged boars, but other types appear as the level goes on: the Aztec mummy, Nagual the jaguar, and Quetzalcoatl the god of death.
The main goal other than staying alive is to grab as much treasure as possible. Coins randomly appear throughout the level, but only one coin at a time. Thus you'll grab a coin and then scramble to get the next one, and so on, until an enemy catches you or you fall into the pit at the bottom of the screen. Aztec Antics only gives players one life to work with.
Other than hunting high scores, collecting coins plays another important purpose. At the start of the game, only one level is unlocked. To gain access to the remaining four levels, you'll need lots of coins. Every fifty coins collected will open up a new level. You can't track how many coins you have from the main menu, and the level select doesn't have a visual indicator of which levels are locked or not. But when the game ends, it at least displays how many coins the player needs to get a new level.
Online leaderboards are an important component in any score-based game. Aztec Antics does not drop the bouncing ball there – it includes Game Center leaderboards and Achievements.
Controller antics
To move around in Aztec Antics, players can swipe left or right (basically an invisible virtual d-pad) on the left side of the screen. Tapping the right side of the screen jumps.
That's the basic control scheme, but Aztec Antics offers so many more control options.:
iPad players can use iPhones or iPads as touch-screen controllers using the Joypad app.
Aztec Antics supports the MOGA Ace Power controller.
iCade, GameDock, and iControlPad work too!
It's great that players who prefer the classic gaming experience that physical controllers and buttons bring have so many ways to enjoy this one.
Multiplayer mayhem
Just as the original Mario Bros. truly comes to life in multiplayer, so does Aztec Antics. You'll need a couple of physical controllers or devices running Joypad to take advantage of it, though. The game supports up to 6 simultaneous players on iOS using any combination of supported controllers.
In multiplayer mode, players race to reach the target score before everyone else. Jumping on another player's head will stun him or her, annoying your opponent and hopefully bringing you closer to that precious gold. Aztec Antics includes 10 Multiplayer-specific maps on top of the five single-player levels.
Upcoming expedition
Bouncing Ball is also hard at work on a sequel: Aztec Antics II that will come to iOS and even consoles like the Wii U. The art style has changed, but still retains a classic vibe. We'll have more Aztec Antics II details in the future.
Enter the jungle
Aztec Antics is a unique little platformer. Colorful and cute pixel art, great chiptunes music (which reminds me of "We Wish You a Merry Christmas"), and great control and multiplayer features all make this one worth a look.
Master your iPhone in minutes
iMore offers spot-on advice and guidance from our team of experts, with decades of Apple device experience to lean on. Learn more with iMore!
Paul started writing about games in 2003 with his first strategy guide (Bomberman Land 2) for GameFAQs. He continued writing guides while earning his B.A. in Literature. When Windows Phone launched in late 2010, the Xbox integration lead our hero to jump on board the platform. He joined Windows Phone Central as Games Editor at the beginning of 2011, going on to review over 125 mobile Xbox titles over the years. He now leads Windows Central's Xbox One coverage, personally specializing in developer interviews, indie games, controllers and accessories, and Twitch broadcasts. Paul loves games on all platforms; he goes where the games are. Although very busy with console coverage, he sometimes contributes gaming articles to iMore and Android Central.