Best apps to keep you safe at night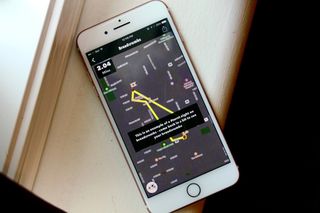 Sometimes it can be daunting to walk a dark area at night (especially when you're alone), or maybe you're just walking out to your car after class and want an extra little helping hand of security. Whether you're a man or a woman, having an app that helps with your personal sense of safety can be important, regardless of the situation.
Here are the best apps available to help keep you safe at night.
Companion
Why you can trust iMore Our expert reviewers spend hours testing and comparing products and services so you can choose the best for you. Find out more about how we test.
Companion is a security app that works with your phone number to effortlessly notify your contacts (or companions) in case anything happens to you via a live map that you set up and share with them.
This free app gives you options to notify your companions (who don't even need to have the app downloaded to get notifications from you) if you're feeling nervous, or you could use the app to directly call the police in an instant.
If you do run into any trouble, Companion will text a link to a GPS-enabled map that will allow the recipient to see where you are. As a bonus, you can even set notifications that you're going on a trip or that you're at home or wandering around, just in case your companions get worried about you.
Circle of 6
In 2011, Circle of 6 won the White House and HHS "Apps Against Abuse" Technology Challenge and the Avon Foundation for Women/Institute of Medicine "Ending Violence @Home" — and there's really no surprise as to why!
Circle of 6 was the very first safety app I ever downloaded while working at a super sketchy mall downtown, and I used it every single day while walking out to my car. The concept was simple enough that you didn't need to hit 1,000 buttons if you were in danger, and it made me feel safe enough that I used it constantly.
Circle of 6 works by letting you choose up to six trusted friends and sending them notifications if you're in a bad situation. You can pre-program SMS alert messages that will attach and send to your selected six along with your current location. The app can also connect you to 24-hour safety information hotlines and Sarleteen.com, which is an online sexual health resource.
Send Help
There are two words you can use to describe this app: direct and simple.
To use the app, you need to preset your alert message and the different types of alerts you would like to send — SMS, Facebook, email, Twitter, you name it! Then when you need help ASAP, you hit the big red SEND HELP! panic button, and that message and your location will be sent out to let people know that you're in immediate danger.
A fair warning, though: this app is for if you're REALLY really in immediate danger. Do not press the button and let your hundreds of social media followers and your dozens of phone contacts think you're in danger if you're just not super comfortable.
bSafe
If you're someone who does a lot of walking alone and wants a little extra bit of security, then check out the free-to-download app bSafe.
You can choose to link your Facebook account with bSafe or use your phone number to notify your contacts in case anything happens to you. One awesome feature that bSafe has is that when you activate the emergency alarm, it automatically records audio and video from your iPhone, which could be incredibly helpful if you go to the police.
While bSafe is free, there is a premium version that has some extra features like 24/7 access to professional security systems and help (the free version is pretty fantastic on its own, though).
Drunk Mode
Okay, admit it: you've had one too many drinks and now your drunk ass is trying to find its way home, but what if something happens to you? What if someone jumps you? What if you get mugged, attacked, or worse?
While Drunk Mode is currently only available in the U.S. and Canada, this safety app combines heavy drinking and bad decisions with staying safe and out of trouble (hard to imagine, hey?).
The app uses your location to help you find your friends on a live map and caters specifically towards people who are looking to go out and get bombed. Drunk Mode has features like:
The ability to stop drunk dialings: the call-blocker hides select phone contacts when you want to get drunk so you cannot drunk call these selected friends for up to 12 hours.
Find My Drunk: the app's friend finder allows you to track your drunk friends via GPS so you don't lose them when you are out partying.
Breadcrumbs: Drunk Mode shows you where you went last night after that crazy party or bar crawl!
Find a Safe Ride Home: Quickly find a ride home or walking directions to your friend's locations.
Hotspots: Find the best parties around you in select cities and colleges with heat maps that display in real time how busy an area is and the girl-to-guy ratio — kind of like what happens now on Snapchat maps!
What's your go-to safety app?
Is there an app that you feel secure and safe with that you use on a regular basis? Maybe there's a safety app you've heard of that does even more to protect you than the ones we've suggested?
Let us know how you get home safely and which apps are your top picks in the comments below and we'll be sure to check them out!
And please stay safe out there! ❤️
Get the best of iMore in your inbox, every day!
Cella writes for iMore on social and photography. She's a true crime enthusiast, bestselling horror author, lipstick collector, buzzkill, and Sicilian. Follow her on Twitter and Instagram: @hellorousseau
I use Carehood app. It's for neighborhood watch but it also has an alarm feature that lets you send four different types of alarms to the people in your Carehood. They instantly get a notification with my map position, type of emergency and optional text and photo so they can help.

My wife, son and I use RoadID. You open the app and input the contacts you want to send to, and start it. It sends them a message through email or text, your choice, with a link to a website that will have a map of your location. The map updates every minute or so with your location, and a line showing where you've been.
You can set it to send an alert to this people if you have been stationary for 5 minutes.
https://www.roadid.com/ecrumbs

Not sure why you guys deleted my post about RoadID. Weird, now it is there. Something weird going on with my computer I guess.

I didnt think you could have URL:s in comments. Carehood can be found here: http://carehood.com

I would never depend on an app to keep me safe. All it will do is let them know where to find my body. Maybe try a carry permit and getting training on a handgun. My family is too precious and important to me to think an app would keep me safe. The Glock "app" that's concealed at my side, in my opinion, will be more effective.

Amen! Ladies and men. Pepper spray and a firearm are your best defense. 10 minutes after you activate these apps, police will find a phone without an owner or your body.