Best Christmas Sweaters for Gamers 2022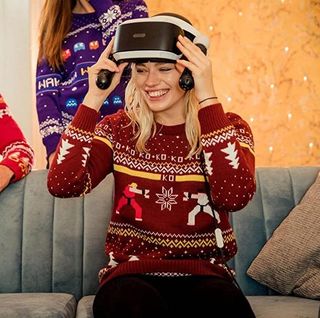 (Image credit: Numskull)
Christmas sweaters have become hugely popular, providing the perfect mix of festive fun and functional coziness during the winter months. Whether you're taking family photos or just want to show off your style during a holiday party, picking the best and most creative look can be challenging since there are so many options. We've put together a guide to the best Christmas sweaters for gamers so you can stay warm and share your passion.
Ghost of Christmas past

A Christmas Carol tells the story of a series of ghosts tormenting the miserly Ebenezer Scrooge into changing his ways. You can share a bit of that spooky fun with this hoodie depicting the original ghost Pokémon Gastly, Haunter, and Gengar with some festive star patterns.
(opens in new tab)
Merry Critmas RPG D20 Tabletop Gaming Ugly Christmas Sweater
Roll the dice

Give the gift of good dice luck with this sweater depicting the dice used for d20 tabletop RPGs like Dungeons & Dragons rolling their absolute best alongside festive reindeer and snowflakes. Pick it up for a friend, and this gift is sure to be a critical hit.
Mario magic

Power up your holiday apparel with this hoodie featuring a classic 8-bit Mario along with mushrooms, flowers, stars, and gold coins. Red and gold are classic festive colors, and the retro design is sure to appeal to the old school gamer in your life.
Classic tree

Retro gaming fans might also like this festive red and green sweater that turns the Duck Hunt guns from the original Nintendo Entertainment System into a tree topped with a star from Super Mario Bros. and decorated with ornaments representing Mega Man, Metroid and other games from the classic console.
Holiday vault

If your holiday celebrations tend to be a bit of a disaster, you can try to stay in good spirits with this hoodie dedicated to the humorous post-apocalyptic series. The design features red and green versions of the bottle caps used as currency in the games, a Santa-hat wearing Vault Boy, and snowflakes mixed with radiation symbols. It'll keep you cozy when venturing out during nuclear winter.
(opens in new tab)
Super Mario Knitted Christmas Jumper
Super stylish

This limited-edition, official Nintendo knitted sweater features embroidered images of Mario, Luigi, and Bowser wishing you happy holidays with stars, snowflakes, and bells providing some extra ornamentation. It's a great option if you're looking for some festive fun without something that's too Christmas-focused or if you just like the idea of heroes and their villains taking a break to celebrate together.
(opens in new tab)
Official Street Fighter Ken Vs. Ryu Kids Christmas Jumper/Ugly Sweater
Knockout style

Hopefully, you won't get into any big fights during your Christmas gathering, but you can come prepared with this sweater featuring Street Fighter stars Ken and Ryu duking it out with a giant snowflake in place of a Hadouken. It's also got Christmas trees, snow, and says KO, KO, KO instead of Ho, Ho, Ho.
(opens in new tab)
Classic Sonic Knitted Christmas Sweater
Five golden rings

Classic platformer fans will love this Sonic the Hedgehog sweater featuring the hero wishing you a Merry Christmas accompanied by trees, snowflakes, and the gold rings he's always collecting. Thankfully he's just got a smug smile on his face, so you don't need to weigh in on the big question of the Sonic movie: what type of teeth he has.
(opens in new tab)
Space Invaders Ugly Christmas Sweater
Space heater

Keep cozy with this knitted sweater celebrating the classic arcade game with snowflakes on the sleeves matching the colors of the titular aliens. It will provide all the warmth you need without the sweaty palms from actually holding a joystick and trying to shoot down wave after wave of bad guys.
(opens in new tab)
Loading Christmas Spirit Sweatshirt
It might take a while

If you're the sort that's not happy about Christmas decorations appearing right after Halloween, you can take your time to get into the holiday spirit. Load screens might be phasing out thanks to next-gen consoles, but this sweatshirt understands that gaming requires a lot of patience. It also pays tribute to classic games like Pac-Man, Super Mario Bros., and Space Invaders.
(opens in new tab)
Funny Gamer Video Game Ugly Christmas Sweatshirt
Tasty treat

If you can't get enough Christmas cookies, eggnog, or other seasonal flavors, embrace the spirit of Pac-Man and just try to eat it all while you have time. Any ghosts will have to run from you when you don this festive sweatshirt with snowflakes and Christmas trees adding some extra flair to the game characters.
Get cozy
An ugly Christmas sweater is a fun and silly way to get into the spirit of the season while also keeping yourself warm against the winter chill. If you're looking for the best Christmas sweaters for gamers, we recommend the Ugly Ghosts Hoodie featuring the ghost Pokémon from the original game. Adding just a little spookiness to your style is perfect for a dark winter night.
Tabletop gamers might love the Merry Critmas sweatshirt (opens in new tab), which should hopefully give you a bit of good dice luck to keep your characters safe the next time you play Dungeons & Dragons. We also really like the bright colors and fine detail on the Super Mario Knitted Christmas Jumper (opens in new tab). Whatever option you choose, you're sure to add some warmth and fun to any holiday celebration!
Samantha Nelson writes about gaming and electronics for iMore, Windows Central and Android Central while also covering nerd culture for publications including IGN and Polygon. She loves superheroes, RPGs, cooking, and spending time outside with her dog. You can follow her on Twitter @samanthanelson1.