Best iPad for students 2022
These are the iPads packing the necessary power and performance for students today.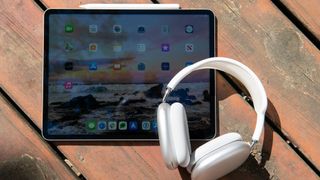 (Image credit: iMore/ Daniel Bader)
For a student, one of the most important and useful gadgets you can bring to college is an iPad. Add one to your arsenal and you've got a device that's more portable than the slimmest laptops, as powerful as the most impressive ultrabooks, and more convenient than almost anything else you'd care to compare it to. Combine it with a keyboard cover and you've got the ultimate student productivity tool. Apple's line of tablets, iPads, are some of the best tablets you'll find. They're a selection of ultra-portable devices that bring sumptuous screens, brilliant build, and peak performance in a range of different price points to serve any student well.
Of course, when faced with choosing the best iPad it can be tricky not to be overwhelmed with questions like: What model do I want? How big should my screen be? Do I need a cellular or WiFi model? What even is a smart connector anyway? There is an iPad for every student and worry not, we've outlined which is the best for everyone, and then which you might need for more specific requirements.
Our pick for the best iPad for students is the iPad Air 5. It's got all the power of its bigger, more expensive cousin, the iPad Pro, like a bigger display and M1 chip. Where it comes in clutch however is with its price point — it's almost a third cheaper than the Pro.
We'd also strongly recommend having a good look at the 2021 iPad 10.2-inch. It's got everything you need in a tablet, with a large display and support for the first-generation Apple Pencil and keyboard accessories. It does all this at an excellent price point, often as much as half the price of its siblings. If you're a student on a budget, then it could be the one. If you'd like to know the rest of our picks, then make sure you keep reading for the best iPads for students.
These are the best iPads for students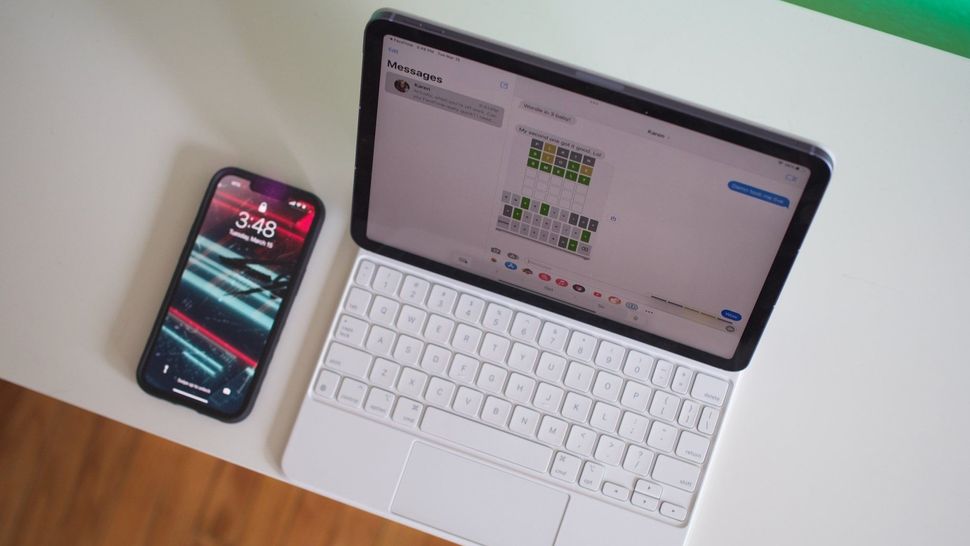 Best overall iPad for students
Specifications
Display:
10.9-inch Liquid Retina, 1640 x 2360
Front Camera:
12MP Ultrawide
Dimensions:
247.6 x 178.5 x 6.1mm
Reasons to buy
+
10.9-inch Liquid Retina Display
+
12MP front-facing camera with Center Stage
+
Smart Connector with Magic Keyboard support
Reasons to avoid
-
No Face ID
-
Only 64GB or 256GB storage options
Our review makes it clear that the iPad Air 5 is the best iPad for students — and for good reason. For just $599, you get almost all of the features of the iPad Pro at a few hundred dollars less. It also comes in a mid-range 10.9-inch size, making it perfect to take with you everywhere while offering enough screen space for whatever you need.
With 2360-by-1640 pixel resolution at 264 pixels per inch (PPI), everything's going to look great, from your digital books to handwritten notes to educational videos. The display features P3 wide color and True Tone, making everything look vibrant and the fingerprint-resistant oleophobic coating means fewer smudges from your fingers.
Inside, the iPad Air is now powered by the M1 chip — the same one that the top-end iPad Pro runs — meaning you'll have plenty of power for any tasks you need to complete in the classroom. Other great features include Apple Pencil 2 and Magic Keyboard support, a USB-C port with up to 10Gbs data transfer speeds, and a Center Stage-supporting front-facing camera which will be great for FaceTime calls with family back home. With the fifth-generation model, the iPad Air also gained 5G support for the first time, making it a great device to tote around everywhere.
Where the device saves money versus the Pro, is in the lack of ProMotion in the display, Touch ID instead of Face ID, and a less advanced rear camera setup. That being said, a lot of the iPad Pro bells and whistles are aimed at power users and may be overkill for a lot of students who just want a killer note-taking device.
The iPad Air 5 offers the perfect balance of powerful pro-level features and affordability.
Best value iPad for students
Specifications
Display:
8.3-inch Liquid Retina, 1488 x 2266
Front Camera:
12MP Ultrawide
Dimensions:
195.4 x 134.8 x 6.3mm
Weight:
293g (WiFi), 297g (WiFi + Cellular)
Reasons to buy
+
Redesigned body with 8.3-inch display and USB-C
+
Still retains Touch ID on top button
+
A15 Bionic
Reasons to avoid
-
No Face ID
-
Smaller screen than the other iPads
-
More expensive than previous generation
If the iPad Air 5 is a little too much, then you may want to consider the iPad mini 6 — as long as you don't mind having a smaller screen, that is. As our review points out, the iPad mini looks a lot like a smaller iPad Air and they share a few similarities feature-wise, too.
With iPad mini 6, you're getting an 8.3-inch Liquid Retina display in a newly redesigned body with flat edges, which means no more Home button! While there is no Home button, the iPad mini 6 still has a Touch ID sensor housed in the top button just like the iPad Air. Apple also eliminated the Lightning port and replaced it with USB-C for faster charging and data transfers. Its data speeds aren't quite as fast as those offered by the iPad Air 5 which uses a newer USB-C 3.1 Gen 2 port, but it's still enough for most folks.
You get the A15 Bionic chip in the iPad mini 6, which has a 6-core CPU, 5-core GPU, and 16-core Neural Engine. Though the A15 is what you'll also find in the iPhone 13 lineup, the one in the iPad mini 6 is slightly under-clocked. Still, it's 40% faster in terms of raw power and has 80% improved graphics over its predecessor. Plus, the iPad mini 6 comes in four beautiful colors: space gray, pink, purple, and Starlight.
Like the iPad Air and iPad Pro, the 2021 iPad mini can make use of the second-generation Apple Pencil, which magnetically attaches to the side of the device, though there's no Smart Connector on the back for attaching a keyboard accessory like its larger counterparts have. You get a 12MP rear camera but, possibly more importantly, the front camera has also been bumped up to 12MP with a larger field of view for Center Stage. And on the audio front, the iPad mini 6 comes equipped with a new set of landscape stereo speakers, making it a great device for watching movies or making video calls on.
And for the first time, the iPad mini has 5G connectivity, so you can stay productive anywhere, anytime. The only bad thing about the new iPad mini 6 is that it starts at $100 more than its predecessor, making it $499 for Wi-Fi-only models and $649 for Wi-Fi + Cellular. But still, it's a great combination of value and power if you don't mind the smaller screen size compared to the iPad Air 5 and iPad Pro models.
Best iPad for students on a budget
Specifications
Display:
10.2-inch Retina, 1620 x 2160
Front Camera:
12MP Ultrawide
Dimensions:
250.6 x 174.1 x 7.5mm
Weight:
487g (WiFi), 498g (WiFi + Cellular)
Reasons to buy
+
Most affordable iPad
+
10.2-inch display
+
12MP front-facing camera with Center Stage
Reasons to avoid
-
Uses older A13 chip
-
No Face ID and still has bezels
-
Only has 64GB or 256GB capacities
On a tight budget? You can't beat the ninth-generation iPad. In our review, we noted how there's a 10.2-inch retina display on the front that's plenty big enough for reading digital textbooks, taking notes during lectures, and sketching quick diagrams. Unfortunately, it lacks support for the latest, second-generation Apple Pencil, but it works just fine with the first-generation Apple Pencil. There's even a smart connector on the back so you can hook it up to extra accessories like Apple's smart keyboard, boosting your productivity.
Remember that the ninth-generation iPad won't come with some of the latest features of its newer brethren. There's still the older A13 bionic chip keeping things buzzing away under the hood, which is now a couple of generations behind. It should still be plenty for school work, however - unless you're looking to use your iPad for heavy photo or video editing. There are only 64GB or 256GB storage options available, so you may have to be more diligent in your data management, but go with iCloud or a similar cloud storage method and you should be fine. There is still a home button on the front of the device as well, with Touch ID built in. This button does bring larger bezels around the screen, however, so if you're looking for the most svelte iPad then this one might not be it. The 12MP camera on the front is Ultra Wide, with support for Center Stage, while the rear camera remains, alas, an 8MP shooter.
Most powerful iPad for students
Specifications
Display:
11-inch Liquid Retina, 1668 x 2388
Storage:
128GB, 256GB, 512GB, 1TB, 2TB
Rear Camera:
12MP Wide, 10MP Ultrawide, 3D LiDAR scanner
Front Camera:
12MP Ultrawide
Dimensions:
247.6 x 178.5 x 5.9mm
Weight:
466g (WiFi), 470g (WiFi + Cellular)
Reasons to buy
+
Comes in 11 or 12.9-inch sizes
+
Face ID
+
Has Apple's M1 chip
Reasons to avoid
-
Expensive
-
Only comes in two colors
If you have the money to spare, then you can't go wrong with the iPad Pro (2021). Our review points out that comes in both 11-inch and 12.9-inch varieties, so you can pick whichever size suits you the best. For example, if you want the power but in a more portable package, the 11-inch size is what you want. But if you want an iPad that replaces an actual laptop computer, then the 12.9-inch is the way to go. However, keep in mind that the 11-inch still uses the Liquid Retina display from last year, while the 12.9-inch has the new Liquid Retina XDR display, which is better for showcasing high dynamic range (HDR) content and more vibrant colors.
The iPad Pro (2021) also features a bezel-less design, so it makes the most of the screen size you choose. It utilizes Face ID for biometrics, and it has the latest M1 chip from Apple. This means you get a total of eight cores — four for performance and four for energy efficiency. You also get 8GB of RAM with the 128/256/512GB models or 16GB of RAM with the 1TB or 2TB version. If you need to move large files in and out of the iPad's storage regularly, you'll also benefit from the Thunderbolt / USB 4 port that the iPad Pro has with up to 40Gbs throughput.
The rear cameras (Wide and Ultra Wide) are 12MP, so you can take the best photos of documents, presentations, and other school necessities. There is also a 12MP camera on the front, so you can chat with schoolmates and brainstorm for group projects and have Center Stage keep you in the frame the whole time.
With the advent of iPadOS 16 in fall of 2022, the gulf between the iPad Pro and the others on this list widens further. The feature of iPadOS 16 that most folks are excited about, Stage Manager, only works on M1 iPads, such as the iPad Pro. Stage Manager organizes your apps and windows as tiny screenshots along the left side of your screen, allowing your iPad to work more like a Mac than ever before.
Of course, getting the Pro model means you'll have the pick of the best iPad Pro accessories to go with it including the Apple Pencil 2, Smart Keyboard, and Magic Keyboard.
The only real negative about the iPad Pro is that it isn't cheap and may be out of range for most students. But if you can afford it, it's the best iPad to get in terms of power and features.
Study better with the best iPad for students
The iPad lineup currently consists of four iPad models, and while they all have features that are great for students, the iPad Air 5 is the absolute number one. It's got the best bits from the Pro, like a bigger, edge-to-edge display and the powerful M1 chip, but comes in at a much more modest price that's within reach of plenty of students. It also boasts the latest version of iPadOS and will be capable of running the upcoming iPadOS 16 as well.
That new edge-to-edge display will give you plenty of space for taking notes and writing papers, and storage options up to 256GB will be plenty for your college needs. If you want to take handwritten notes, there's even support for the second-generation Apple Pencil. The smart connector will let you hook up a keyboard case, and M1 provides incredible amounts of power with lightning-fast USB-C, 5G support in the cellular models, and a Center Stage camera setup for those all-important face-time calls back home.
The other models also have their highlights for students — those looking to save some money should opt for the very budget-friendly iPad 10.2-inch, space savers should look to the iPad mini 6, and those who absolutely need the top-of-the-range device can go for the iPad Pro. There really is an iPad for everyone.