Best iPad for students in 2023: Leisure and learning in one tablet
Stay top of the class with the best iPad for students.
Quick Links
Quick list
1. Best overall
2. Best mid-range
3. Best on a budget
4. Best small form factor
5. Best medium powerhouse
6. Best big powerhouse
7. Q&A
iPads are fantastic tools for students, so buying one of the best iPads is potentially the best purchase you'll make during your studies. An iPad gives you the best of both worlds when it comes to day-to-day computing and entertainment. iPads are as powerful as some MacBooks these days and far more convenient than a pen and paper. That's why we think the iPad is the ultimate productivity tool for students.
Picking an iPad can be tricky as each model appeals to a different type of person. You'll likely have tonnes of questions that need answering before you make your purchase, but luckily, we've done all the research for you and picked the best iPads to suit your college needs.
Our pick for number one is the most recent iPad model, the iPad (2022). It's got a lovely redesigned chassis to go with its bigger screen and improved chip. It looks like its bigger cousin, the iPad Air, but comes in at a much lower price. You'll still be able to connect it to keyboard covers with the smart connector at the bottom, and the camera on the front is a new landscape model. That should make all those video calls a little easier to take.
Save big money on tech deals
Save big money on tech deals
Amazon Big Deal Days is coming...
Looking to save money with some pre-Black Friday tech deals? Amazon is holding a second 'Prime Day' style shopping event this month called Prime Big Deal Days across October 10 — 11. With savings to be had on Apple gear including iPads, MacBooks and Apple Watches, don't miss it! We'll be rounding up the best offers right here.
Quick list
Best overall
The tenth generation iPad hits the happiest medium in the whole iPad line. It's more powerful and modern than the 9th gen iPad, and priced lower than the iPad Air, but looks every bit the part of the 2023 iPad lineup. It's perfect for students with all the right smart accessories that you'll need as well.
Best mid-range
The iPad Air and its M1 chip is a potent portable touch screen device, and one that's perfect for students with its numerous attachments. It's often found at reduced prices now as well, as it comes up to the mid-point of its cycle. Slap a keyboard on and you might not even need a laptop.
Best on a budget
The iPad 9th gen, while a little older than the rest of its contemporaries, is still a very good tablet for the money. It's generally found under $300, and it's large screen will be perfect for writing papers. There's even Apple Pencil support so that you can take some notes during lectures.
Best small form factor
Perfect for when you want something that will slip into any bag, the iPad mini is a tiny powerhouse. It might be one of the older model iPads that you can buy at the moment, but its size makes it an excellent option for a student looking for something that takes up a little less space.
Best portable powerhouse
The iPad Pro 11-inch is the smaller of the two Pro models, but even then it's still a sizeable tablet. The iPad Pro is super powerful, and features a slicker screen than the other models with a higher refresh rate. It does cost more, but it could be a small laptop replacement if needed.
Best big screen powerhouse
The iPad Pro 12.9-inch is the top of the iPad tree, featuring the most powerful internals, and the biggest, shiniest screen. Its the aspirational iPad — although for some students, it could be the perfect all-in-one device when paired with some kind of keyboard accessory like Apple's magic keyboard.
Best overall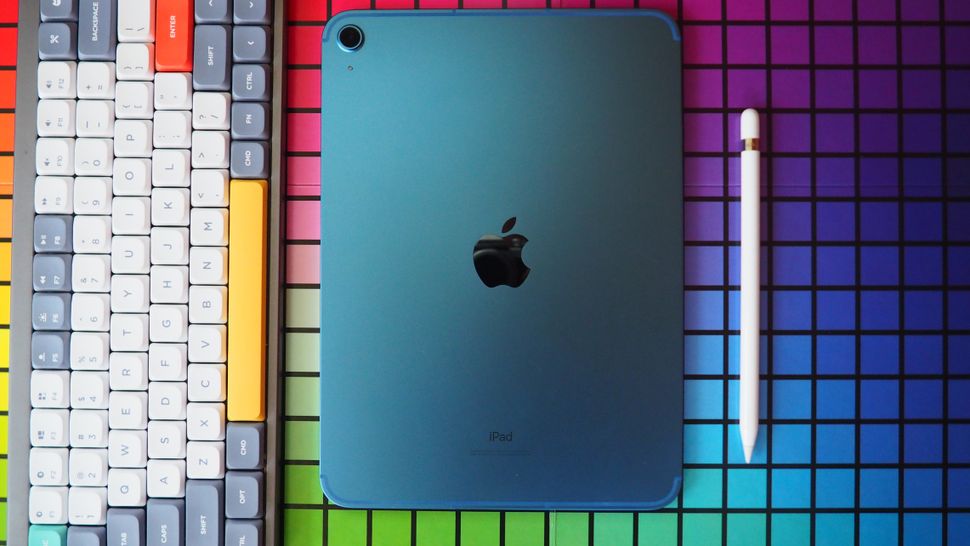 Specifications
Display:
10.9-inch Liquid Retina, 1640 x 2360
Front Camera:
12MP Ultrawide
Dimensions:
248.6 x 179.5 x 7mm
Reasons to buy
+
New 10.9-inch display
+
Redesign is gorgeous
+
A14 Bionic is till a solid chip
Reasons to avoid
-
Significant price increase over the iPad (2021)
-
No Face ID
-
No support for Apple Pencil 2
This is the latest new iPad model, and our review makes it clear how much we love this colorful tablet. We also reckon that it's going to be the best iPad for students, with all the features you could ever need for a great price. For $150 less than the iPad Air, the only thing you're really going to miss out on is the M1 chip and perhaps second-generation Apple pencil support. For $449, however, you're going to get everything you need out of an iPad, wanting for nothing.
The screen is a 10.9-inch Liquid Retina piece with a healthy 2360x1640 resolution. It'll make pretty much everything you do with it look great, and is fantastic for reading digital texts for school, taking notes during class, and, in the post-lockdown era, watching prerecorded lectures. It features true tone too, making everything look warm and rich, and there's a nice oleophobic coating over the top to stop fingerprints from making the surface of the screen an oily mess.
On the inside, there's now the A14 Bionic - which may not be the M1, but is plenty powerful enough for pretty much everything a student could be doing. There's a new Magic keyboard accessory, and you can hook up an Apple Pencil first-generation to take those handwritten notes. It charges over USB-C now, which also means you can hook in dongles to get more ports and even plug in external drives. Helpfully, the front camera has been shifted to the side of the device to make those weekly facetime calls in landscape mode a lot easier.
There have been some cost-cutting measures here - there's no lamination to the screen, so it can sound a little hollow when you're tapping around, and there's only Touch ID instead of Face ID. No matter what, you're getting an experience close to the iPad Air for a lot less money.
Best mid-range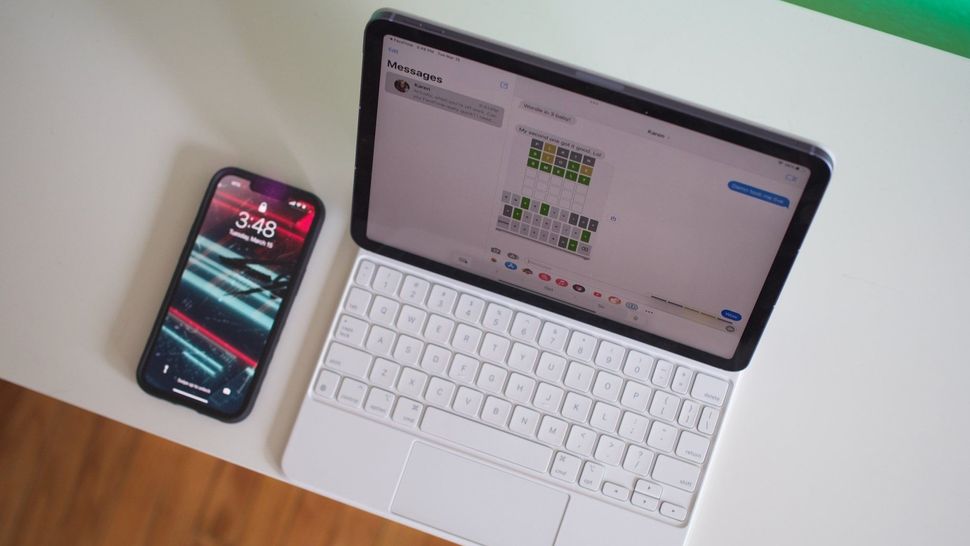 Specifications
Display:
10.9-inch Liquid Retina, 1640 x 2360
Front Camera:
12MP Ultrawide
Dimensions:
247.6 x 178.5 x 6.1mm
Reasons to buy
+
10.9-inch Liquid Retina Display
+
12MP front-facing camera with Center Stage
+
Smart Connector with Magic Keyboard support
Reasons to avoid
-
No Face ID
-
Only 64GB or 256GB storage options
It's undeniable that the iPad Air 5 is one of the best iPads of all time. It brought a new design to the line, with its bezel-less, edge-to-edge display and the M1 chip to a lower price point. It was also, for a while, the best iPad for students. Now, it has been dethroned by the new iPad 2022, but that doesn't mean that it's still not a great option for students who might need a little extra from their tablet.
The 2360x1640 display is very similar to the display on the new iPad 10th-gen, with great color reproduction and stellar display angles. It is glossy, so it will suffer in direct sunlight, but it is still great for work, research, and relaxation. It also features P3 and True Tone, so everything will look vibrant and colorful, while the oleophobic coating negates finger smudges.
The biggest thing is going to be that M1 chip. It's the same as you'll find in the far more expensive (and now outdated) iPad Pro, and it'll power everything more than you could ever need in a student tablet. That will mean that with the latest version of iPadOS, you'll be able to make use of stage manager, making the iPad a little more laptop-like. You'll also be able to use Apple Pencil 2, as well as the associated Magic Keyboard accessory that you can get separately. Opt for the 5G model, and you'll be able to use the internet on the go - but you'll also have to pay a fairly hefty premium.
The main differences between the Air and the new Pro are the lack of ProMotion on the display, no Face ID, and a less impressive rear camera setup. The new iPad Pros also feature M2, which is a fair bit more impressive compared to the M1 chip. These are by no means completely necessary for students, and you'll still be getting more power than the standard iPad 2022, so it's great for students who need something a little beefier.
Best on a budget
Specifications
Display:
10.2-inch Retina, 1620 x 2160
Front Camera:
12MP Ultrawide
Dimensions:
250.6 x 174.1 x 7.5mm
Weight:
487g (WiFi), 498g (WiFi + Cellular)
Reasons to buy
+
Most affordable iPad
+
10.2-inch display
+
12MP front-facing camera with Center Stage
Reasons to avoid
-
Uses older A13 chip
-
No Face ID and still has bezels
-
Only has 64GB or 256GB capacities
On a tighter budget? The 9th-generation iPad is still a solid tablet option for students. That 10.2-inch screen is still excellent for reading notes and textbooks, taking lecture notes, and sketching quick diagrams. There's support for Apple Pencil 1, and you'll find a smart connector on the back to connect it to accessories like Apple's smart keyboard, helping you be a little more productive.
It may not have the newest hardware inside, but the A13 Bionic chip keeps things buzzing away nicely under the hood, and the two 64GB or 256GB storage options should be plenty for most. For those who aren't a big fan of the new home screen-less iPads, then this is a great option too - it retains the touch ID home button of old, sat below the screen. The most svelte iPad this is not, however, with its large bezels around the screen. The 12MP camera on the front is Ultra Wide, with support for Center Stage, while the rear camera remains, alas, an 8MP shooter.
Best small form factor
Specifications
Display:
8.3-inch Liquid Retina, 1488 x 2266
Front Camera:
12MP Ultrawide
Dimensions:
195.4 x 134.8 x 6.3mm
Weight:
293g (WiFi), 297g (WiFi + Cellular)
Reasons to buy
+
Redesigned body with 8.3-inch display and USB-C
+
Still retains Touch ID on top button
+
A15 Bionic
Reasons to avoid
-
No Face ID
-
Smaller screen than the other iPads
-
More expensive than previous generation
If the rest of the iPad line is a little too big for you, then you should take a look at the iPad Mini 6. It looks an awful lot like a smaller iPad Air and shares a good few similarities and features with the new iPad 10th gen. If you need an iPad that will fit easily in any bag, then this is the one for you.
The iPad Mini features an 8.3-inch Liquid Retina display with a body that looks like a smaller version of the iPad Air or, more recently, the iPad 10th generation. There's no home button, instead relying on the touch screen for home screen navigation. This also means no Touch ID on the front - but worry not, for Apple has simply shifted it to the top edge on the power/lock button. There's also a USB-C charging port on the bottom, so if you've got a MacBook or your phone charges through USB-C, then you'll never have to worry about not having a cable. The data speeds offered by that port aren't quite as speedy as those on the iPad Air, but they'll be plenty speedy enough for most people.
The A15 Bionic in the iPad Mini 6 is a very powerful little chip, capable of some impressive performance. It's one thing to look at Apple's claims of "40% faster than the last model" with "80% more graphics performance", but it's also important to think about what this means for students and their workloads. Whatever happens, the iPad Mini is going to smash through pretty much all but the heaviest workloads, dealing with paper writing, video watching, and even some light photo editing.
Those photos you'll be editing could well be from the little 12MP rear camera, which is more than capable of taking some fantastic shots. The front camera is also 12MP and has a larger field of view for Center Stage, making those class meetings a little more visually appealing for everyone you're talking to. There's also support for Apple Pencil 2, so art students rejoice, and there are some really solid landscape speakers for when you fancy listening to some tunes or watching a spot of Severance.
The biggest issue with the iPad Mini 6 is the price - it now sits just between the iPad 10th-gen and the iPad Air, costing around $499 full price. It is frequently reduced, though, so make sure you check out the best iPad deals to find the best price for you.
Best portable powerhouse
Specifications
Display:
11-inch Liquid Retina, 1668 x 2388
Storage:
128GB, 256GB, 512GB, 1TB, 2TB
Rear Camera:
12MP Wide, 10MP Ultrawide, 3D LiDAR scanner
Front Camera:
12MP Ultrawide
Dimensions:
247.6 x 178.5 x 5.9mm
Weight:
466g (WiFi), 470g (WiFi + Cellular)
Reasons to buy
+
Comes in 11 or 12.9-inch sizes
+
Face ID
+
Has Apple's M2 chip
Reasons to avoid
-
Expensive
-
Only comes in two colors
If you have money to spare, then you can't go wrong with the iPad Pro (2022). It's available in two large sizes, in the form of an 11-inch version and the 12.9-inch option, so you can pick a size that's good for you. If you want lots and lots of power, then the 11-inch version is the option you want. If it's a full laptop replacement, then the much larger 12.9-inch is the one you wanna go with. Keep in mind that the iPad Pro 11-inch only has a Liquid Retina display, while the larger 12.9-inch variant has a Liquid Retina XDR display which will be better for HDR and is even more impressively colorful. Either way, you're going to get a display with ProMotion, which ups the response to 120HZ, smoothening your experience even further.
The iPad Pro (2022) has also got a pretty cool feature up its sleeve - an M2 chip. That chip is super duper impressive in testing, and for students, it's mostly going to be overkill - unless you're going to be doing loads and loads of video editing. There are loads of storage options, too, going all the way up to 2TB. For doing normal, everyday college or school work, this is a lot, but it's also going to last a long time, so you might not have to upgrade quite as much - spending more now may save you some money in the future.
The rear cameras remain the same as from the previous model, with wide and ultrawide options, so you can take photos of all your documents, presentations, and other school work. The camera on the front of the device features Center Stage, so you'll always be in the picture when you're chatting with coursemates or watching online lectures and remotely joining study groups.
The M2 chip will also let you play with one of the coolest new features of iPadOS 16 - Stage Manager. Stage manager only works on M-chip-equipped iPads, and organizes your apps and windows as tiny screenshots along the left side of the screen, becoming more like a Mac or laptop than ever.
You're also going to want some of the best iPad Pro accessories to with it, such as the Apple Pencil 2, smart keyboard, or Magic keyboard. The biggest drawback of the iPad Pro (2022) is the price - the iPad Pro (2022) 11-inch starts at $799, and the iPad Pro (2022) 12.9-inch will cost you upwards of $1099 - that's a lot to ask from any student.
Best big screen powerhouse
6. iPad Pro 12.9-inch
Specifications
Display:
12.9-inch Liquid Retina, 1668 x 2388
Storage:
128GB, 256GB, 512GB, 1TB, 2TB
Rear Camera:
12MP Wide, 10MP Ultrawide, 3D LiDAR scanner
Front Camera:
12MP Ultrawide
Dimensions:
280.6 x 214.9 x 6.4mm
Weight:
682g (WiFi), 685g (WiFi + Cellular)
Reasons to buy
+
It's big!
+
Very big
+
Great as a laptop replacement
Reasons to avoid
-
It's expensive
-
Perhaps overkill for a student
The iPad Pro 12.9-inch is the no holds bared iPad. It's big, with the largest screen of the whole range, powerful, with the laptop grade M2 chip, and portable with a very slim chassis. For those looking for the best of the best, then the iPad Pro 12.9-inch is, in essence, the last word it tablet computing. Not much comes close to what many might consider a very solid laptop replacement when you equip it with a magic keyboard accessory.
The main upgrade from the previous version was the M2 chip on the inside — otherwise, the iPad Pro 12.9 from 2022 is much the same as the last version. It's also basically just an inflated 11.9-inch iPad Pro, so many of the same strengths and weaknesses apply to this iPad too.
Q&A
Study better with the best iPad for students
You can always trust iMore. Our team of Apple experts have years of experience testing all kinds of tech and gadgets, so you can be sure our recommendations and criticisms are accurate and helpful. Find out more about how we test.
Every single iPad has something for a student, but our pick is the iPad (2022). It's got almost all of the best features of the line for a great price, such as the new screen and form factor, along with some great colors. It may not be the powerhouse of the iPad Pro or the iPad Air, but you'll get everything you need.
The new design and edge-to-edge display give you tonnes of room for reading and taking notes, and the storage options give you plenty of room for all your work. Support for Apple Pencil lets you take handwritten notes, and the smart connector will let you hook up a keyboard case. The chip may not be cutting-edge, but it is plenty for almost everyone.
The rest of the range has highlights for students too. Students looking to save some money will do well with the budget-friendly iPad 10.2 (9th gen), and space savers will find plenty to love with the iPad Mini 6. Those who want a little more power will find exactly what they want in the iPad Air, while students who need the most power will be very happy with the iPad Pro. There really is an iPad for everyone.
You can also pick up an iPad with good knowledge that we're not going to see any updates at Apple's event on September 12. That event will be aimed at the iPhone 15 and updates to the Apple Watch.
Master your iPhone in minutes
iMore offers spot-on advice and guidance from our team of experts, with decades of Apple device experience to lean on. Learn more with iMore!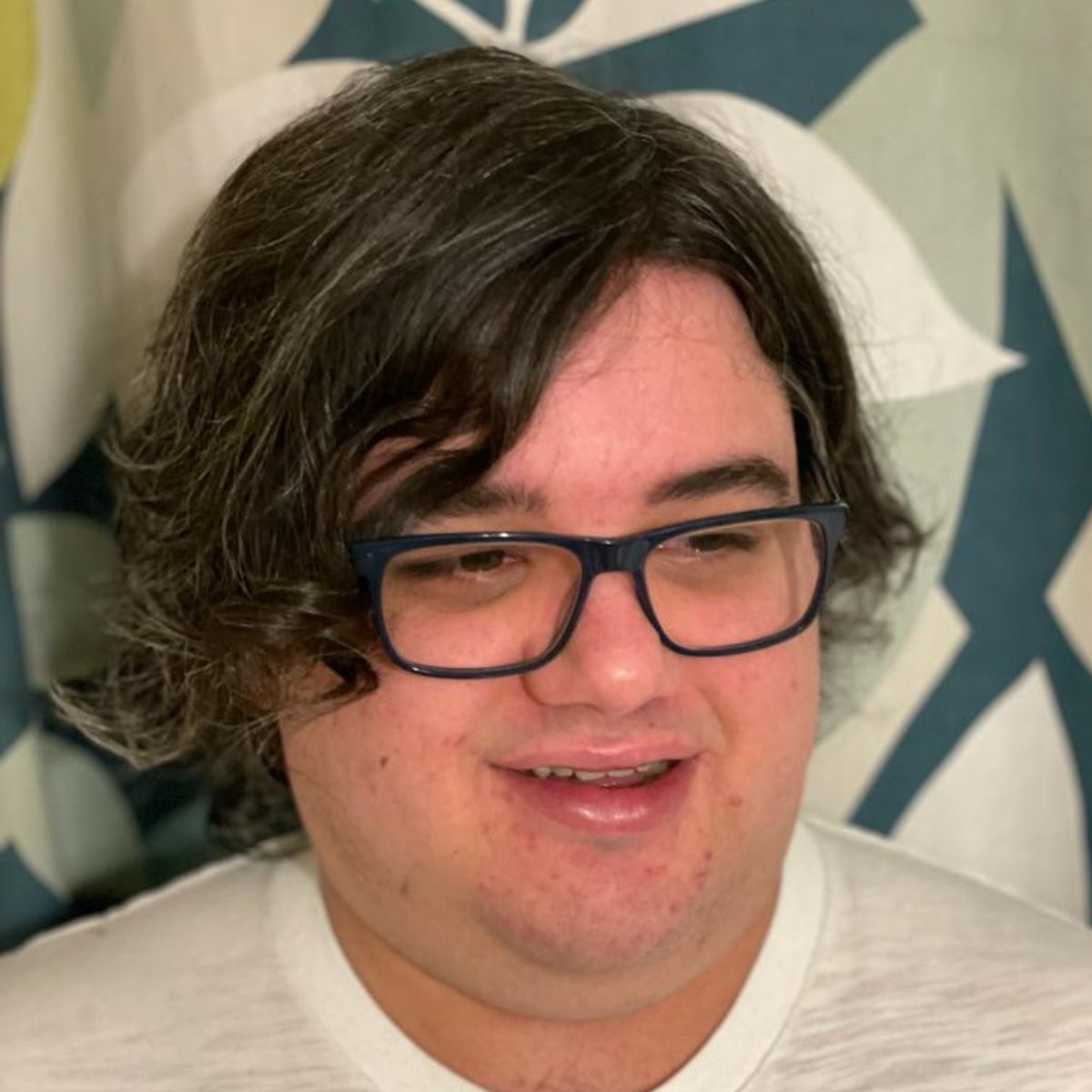 As iMore's Senior Staff writer, Tammy uses her background in audio and Masters in screenwriting to pen engaging product reviews and informative buying guides. The resident audiophile (or audio weirdo), she's got an eye for detail and a love of top-quality sound. Apple is her bread and butter, with attention on HomeKit and Apple iPhone and Mac hardware. You won't find her far away from a keyboard even outside of working at iMore – in her spare time, she spends her free time writing feature-length and TV screenplays. Also known to enjoy driving digital cars around virtual circuits, to varying degrees of success. Just don't ask her about AirPods Max - you probably won't like her answer.