Best Digital Kitchen Scales in 2022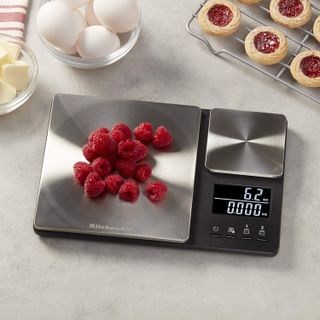 (Image credit: KitchenAid)
A decent digital scale is a wise investment for more ambitious home cooks, and you needn't spend a fortune to get one. We recommend getting a super-smart scale if you can afford it. For this reason, our best overall choice is the Nutri Fit Smart Digital Kitchen Food Scale (opens in new tab). It has Bluetooth connectivity and the incredibly useful ability to hook up to the official companion app to track the nutritional data of your food. If you are looking for a scale that does it all, we have quite a few options to consider.
Best Overall: Nutri Fit Smart Digital Kitchen Food Scale
With an affordable price tag, this scale gets our top slot for its great functionality for the money. On the scale specs side of things, it can measure up to 11pounds (5 kilograms) in 0.1 ounces or 1 gram increments. You can reset the scale to zero weight to either measure multiple items (useful if you're baking). Also, you can use the tare feature to take away the weight of the container.
It has sleek silver looks, with a single smooth stainless steel surface for easy cleaning, simple-to-use controls, and a nice, clear LCD display. The main selling point is its smart abilities. Its Bluetooth connectivity allows you to wirelessly send measurements from the smart scale to the Senssun HealthFood app on your Apple or Android device. The app analyzes nine nutrients from a selection of around 2,000 food items and creates a food journal that you can review in daily, weekly, and monthly chunks.
Nutri Fit Smart Digital Kitchen Food Scale
Not your grandma's scales
Reasons to buy
+
Built-in kitchen timer
+
Easy clean glass surface
+
Connects to the Senssun HealthFood app
This is ideal for connected cooks that want to monitor the nutritional intake of what they are cooking and eating.
Best Waterproof: Nicewell Digital Food Scale
This sleek scale from Nicewell can weigh up to 22 pounds, or 10 kilograms, and offers excellent precision. They can register weight in 0.1 ounces or 1 gram increments. The weighing platform is large — 9-inches by 6.3-inches, so it is ideal for larger recipe quantities. The tempered glass surface not only looks good but it very practical. The weighing platform is waterproof, so you can run the surface under your kitchen faucet.
This battery-powered option has a very useful built-in five-unit conversion that you can switch between using the touch-sensitive buttons. It boasts a handy tare function and powers off automatically after 120 seconds.
Nicewell Digital Food Scale
Aqua go
Reasons to buy
+
Waterproof weighing surface
+
Tare functionality
+
Large surface
Reasons to avoid
-
Small LCD display
-
No kitchen timer
If the ability to rinse the weighing surface in the sink appeals, this offers culinary chic with fully-featured functionality.
Best Slimline Design: Ozeri Ultra Thin Professional Digital Kitchen Food Scale
The Ozeri option offers an ultra-thin design at only 11millimeter thick; at less than half an inch deep, it's one of the slimmest on the market. This makes it easy to find a cupboard or drawer to slip it into.
With its four high precision sensors, it can measure from 0.05 ounces to 11 pounds, complete with tare functionality at the press of a button. You can operate this handy little scale with two buttons that give an audible click when you press them. The LCD screen is large and easy-to-read, especially as it boasts a wide viewing angle.
Ozeri Ultra Thin Professional Digital Kitchen Food Scale
Skinny winner
Reasons to buy
+
Very slim
+
Enhanced viewing angle display
+
Hygienic stainless steel
Reasons to avoid
-
No kitchen timer
-
Not AA/AAA batteries
A sleek option that will look good and function well in modern kitchens; this is an affordable choice for expert cooks.
Best for Special Diets: Etekcity Smart Digital Kitchen Scale
Another Bluetooth connected device, Etekcity's smart scale has a companion app called VeSync. You can control the scales through it to tare, convert units, and adjust the time. This connectivity also means you can sync nutrition information with Apple and Android devices. You can also share data such as calories, vitamins, minerals, carbs, and protein with Fitbits and the Apple Health app. The VeSync app can create a food diary.
The scale has extensive food data built-in with 8,000 foodstuffs from the USDA food database. There's also the ability to add your own custom food types.
Etekcity Smart Digital Kitchen Scale
Calorie counter
Reasons to buy
+
Nutritional calculator
+
Syncs with Fitbit and Apple Health
+
Bluetooth control via the VeSync app
Reasons to avoid
-
Can't weigh less than 3 grams
-
No barcode scanner
This award-winning set of scales offers a real solution for anyone looking to drill down on their diet.
Best for Easy Cleaning: OXO Good Grips Food Scale
OXO's option offers all that you'd expect from a decent digital kitchen scale. It has tare functionality for disregarding mixing bowls or adding additional ingredients, unit conversion to measure in ounces, pounds, grams or kilograms, and the ability to measure up to 11 pounds.
It has a few more tricks, though. The smudge and fingerprint resistant stainless steel platform can be removed entirely for super convenient cleaning. It's great for anyone who wouldn't be happy with just wiping a surface down. It also boasts a pullout display. This nifty trick means if you're using oversized mixing bowls or plates, you can still read the digital display.
OXO Good Grips Food Scale
Detachable design
Reasons to buy
+
Pull out display
+
Removable platform for easy cleaning
+
Optional display backlight
Reasons to avoid
-
No kitchen timer
-
Relatively high price
The pullout display and removable weighing platform set the OXO Good Grips Food scale apart from more basic competitors.
Best Compact Design: Joseph Joseph TriScale
This unique digital kitchen scale opens up to provide three arms that work like a weighing platform for bowls and plates. Folded up, it measures 4.5-by-14.9-by-2.1 centimeters. When it's closed, the clever design means the unit's arms protect the screen and controls, meaning you can literally chuck it in a kitchen drawer.
Despite its unusual design, it is a fully functional scale, weighing in grams, pounds, ounces, fluid ounces, and milliliters up to 11 pounds or ounces and 5,000 milliliters. Additionally, there's an LCD display, touch-sensitive controls, auto power-off, and it boasts a wipe-clean finish.
Joseph Joseph TriScale
Tri-tastic
Reasons to buy
+
Folds up for storage
+
11lb capacity despite small size
+
Multiple unit measurements
Reasons to avoid
-
No flat surface for weighing
-
No kitchen timer
If you're short on kitchen space, this innovative fancy folder offers full-size functionality in a compact package.
On balance
We've highlighted a variety of models, and we're sure you'll find one to suit your culinary needs. Whether you need space, easy measuring, or a way to keep track of your diet, there's a scale for you here.
You need to consider what functionality is going to be most useful to you daily. For example, if you weigh a lot of meat and fish, for hygiene reasons, a scale that comes apart for easy cleaning might be perfect for you.
Our best pick, though, is the Nutri Fit Smart Digital Kitchen Food Scale (opens in new tab). It's up-to-date with connected functionality and a companion app, yet offers all you could want from a digital scale. For those looking to get the most out of their digital scale, this is the one to pick.