Best HomeKit smoke and CO detectors 2022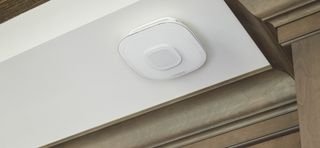 (Image credit: First Alert)
It's essential to have smoke and carbon monoxide detectors in every room of your home, just for extra peace of mind. So, if you're all-in with the HomeKit ecosystem, you should look into the best HomeKit smoke detectors. That way you can get timely notifications and create automation with accessories like HomeKit light bulbs, which can turn on when trouble arises. Here are the best HomeKit smoke and CO detectors available right now.
First Alert OneLink Safe & Sound - Smart Hardwired Smoke + Carbon Monoxide Alarm
Sounds like safety

The OneLink Safe and Sound is a unique combination of a smoke and carbon monoxide detector, AirPlay 2 speaker, and voice assistant with Alexa built right in. This hybrid accessory connects to your existing wiring, and its interconnect feature extends smart notification coverage to your smoke detectors.
OneLink Smoke Detector and Carbon Monoxide Detector | Battery Powered
Easy installation

This detector from First Alert brings portability to the traditional safety monitoring form factor. This monitor runs solely on batteries for up to five years, allowing placement almost anywhere in your home without worrying about having existing wiring.
OneLink by FIRST ALERT Smoke Detector and Carbon Monoxide Detector | Hardwired
Wired up

Like its battery-powered counterpart, the OneLink Hardwired Smoke and Carbon Monoxide Detector brings smarts with a classic design. In case of emergency, this OneLink detector can send notifications directly through HomeKit, and a built-in 10-year backup battery provides peace of mind even when the power goes out.
(opens in new tab)
Bosch Smart Home Smoke Detector with app function (compatible with Apple Homekit)
Only in Europe

This smart solution from Bosch offers affordable smoke detection that installs in seconds thanks to a peel-and-stick design. There are a few downsides, though, as it is only available in Europe and requires a Bosch Smart Home Controller for HomeKit integration.
(opens in new tab)
Netatmo Smart Smoke Alarm - self-testing, no hub necessary
Loud and proud

Another European-only option is the Netatmo Smart Smoke Alarm which works right out of the box with HomeKit. In addition to Bluetooth, Netatmo's detector supports Wi-Fi enabling timely notifications, and an 85-decibel siren ensures that everyone in the home is aware of all of the action.
(opens in new tab)
Bosch Smart Home Smoke Detector Twinguard with air quality measurement
Complete home monitoring

Bosch's other European-only HomeKit smoke detector takes things up a notch by mixing in additional sensors for air quality, temperature, and humidity. With the Bosch app, you can view air quality trends and more, and of course, with HomeKit, you can create automation with other smart home accessories.
Safety first with the best HomeKit smoke detectors
The best HomeKit smoke detectors allow you to get notifications when a dangerous situation occurs and so much more. HomeKit smoke and CO detectors integrate with other accessories to automatically turn on your smart light bulbs when smoke is in the air, which can help guide you and your family to safety.
If you are looking for the smartest and best HomeKit smoke detector around, look no further than the OneLink Safe and Sound. This feature-rich accessory includes a speaker, Amazon's Alexa, and an interconnectivity function that extends its smart capabilities to all of your existing smoke and CO detectors.
Do you need to add a smoke and CO detector to a room without existing wiring? Then the OneLink Battery-Powered Smoke and CO Detector is your best bet. This unit looks just like a typical smoke detector, but it comes with replaceable batteries that last up to five years and can mount just about anywhere. If you don't mind doing a little bit of the hardwiring yourself, then the Hardwire version is also a great option.
Christopher spends most of his time writing and dreaming about all things HomeKit. If you wish to join him on his quest to automate everything, you can follow him on Twitter at @itschrisclose.
Get the best of iMore in in your inbox, every day!
Thank you for signing up to iMore. You will receive a verification email shortly.
There was a problem. Please refresh the page and try again.