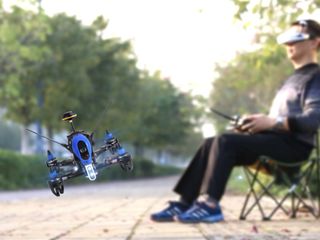 (Image credit: Walkera)
Drone racing is one of the fastest-growing sports, and it's a fun hobby or pet project to pick up. While we love the Mavic Air 2 for learning skills and snapping pictures, it's a tad heavy for racing. Drone racing requires an investment of time and equipment but has a relatively low cost of entry. Ready to get started? My top pick is the Walkera F210 3D (opens in new tab), but it's not the only drone I recommend. This list will guide you to the best racing drones for your skill level and budget.
Best Overall: Walkera F210 3D
Why you can trust iMore Our expert reviewers spend hours testing and comparing products and services so you can choose the best for you. Find out more about how we test.
Ready-to-fly quadcopters have opened up the world of drone racing to the masses. No longer do you have to build your own aircraft to participate in the sport. Today's pilots can invest in a fun-to-fly drone that's ready to go right out of the box. The Walkera F210 3D is one such racing drone, and it's also our best overall pick this year. If you don't have the time or desire to build your gear, this pre-assembled quadcopter should be on your shortlist of possible aircraft choices.
Walkera has fine-tuned the receiver on this model to deliver maximum speed and minimum response time. In conjunction with a bow body design, an antenna that bends both ways, and a 13-ounce lightweight but sturdy carbon fiber body, the F210 3D will bring your A-game to the field. The center of gravity on the F210 3D is in the middle of the aircraft, making your flights more stable and your turns more agile. The Walkera also flies safer. They've bumped up protection over the motor so, even in the event of a crash, you won't lose your aircraft's most valuable asset. The battery on this model is a 4S, so it's capable of higher top speeds than previous generations and much of the competition.
When switched into 2D aerobatic mode, the F210 3D performs flips, rolls, and other acrobatics. The switch is seamless, and it doesn't stutter with performance, or with moving in and out of dives. When something does break, and it will, fixes are easy with included hex keys and plug-in style connections that require no soldering. My one beef: camera resolution is low. If that seems an odd oversight, it's because it is. The analog camera gets the job done, but there's room for improvement and a clearer picture. If that doesn't bother you, this is one of the best racing drone for your money today.
Walkera F210 3D
A tough little racer and fun acrobatics drone
Reasons to buy
+
Covered motor
+
Agile turning radius
+
Good for beginners to experts
+
Fun acrobatic modes
+
Works straight out of the box
It comes with a long-lasting battery, hex keys, and motor protection. It also rocks at flips, rolls, and races.
Best Value: Ryze Tech Tello
Getting into drone racing doesn't have to set you back an entire paycheck. The Ryze Tech Tello is proof of that, and it took a place on our list of the best drones this year. Our best value pick flies nimbly indoors or out and is one of the best racing drones on the market for beginners or those who don't want to break the bank.
First, let's touch on the many goodies included in the box. This is a fully packed drone with two antennas that work in tandem to make video transmission stable. The high-capacity battery lasts 13 minutes. You also get four propellers, propeller guards, a micro USB cable, and a propeller removal tool. DJI powers the flight controller in this model, so you know you can perform cool tricks with this mini drone as well as whiz through the sky. The camera is our only complaint. It shoots photos at only 5MP and videos at HD720.
If you're in it to win it and don't care about flight video, this rock-solid racing drone from Ryze Tech is a gem in both performance and price. The Tello is a lightning-fast quadcopter with quiet motors and excellent wind resistance that can also perform flips, dives, and other trippy moves. And with included propeller guards, you can practice your skills indoors without fear of shearing off propellers or damaging your favorite lampshade.
Ryze Tech Tello
A big kit with a little price tag
Reasons to buy
+
High power quiet motors
+
Fast
+
Good wind resistance
+
Affordable
+
Works indoors or out
You'll get a lot for your money with the Ryze Tech Tello. Motors are quiet, it's fast, and it comes with a pleasing price tag.
Best Pocket Drone: ImmersionRC Vortex 150 Mini
The Immersion RC Vortex 150 Mini ARF Racing Quad is a fantastic choice as a first quadcopter for those new to the world of drone racing. Setup is easy as can be! You install a receiver, bind it to your radio, tune to the correct channel, and you're good to go. Beginners quickly learn how to fly in angle, horizon, and acro mode as they steer around objects and build up speed.
The Vortex 150 Mini is nimble and easy to control. At just three inches, it weaves in and out of branches, dodges objects, and glides through the air with grace. Even when crashes happen (and they will), the Vortex 150 Mini is sturdy enough to get right back up in the air. There is an onboard camera, and it takes superb shots in broad daylight and on lowlight flights.
If I have to nitpick, the manual is lacking proper instructions. There's excellent forum support online, and that's helpful, but I'd prefer to get answers straight from the source. This tiny quadcopter comes with everything you need for your maiden journey and is a favorite choice for beginners and those with a few hours of airtime under their belts.
ImmersionRC Vortex 150 Mini
A tiny quadcopter perfect for beginners
Reasons to buy
+
Excellent camera
+
Small and nimble
+
Built tough
+
Easy to control
Reasons to avoid
-
Instructions are poorly written
With an excellent camera, small size, and tough build, this is a solid quadcopter that's perfect for beginners and enthusiasts.
Best for All Skill Levels: EMAX Tinyhawk Freestyle BNF
EMAX's Tinyhawk Freestyle BNF is a micro outdoor racing drone designed with beginners and experienced fliers in mind. A brush motor paired with a 2.5-inch propeller system gives pilots full control over thrusts, maneuvers, and flight time. The onboard CMOS camera is also a plus!
The Tinyhawk Freestyle BNF has dual battery connectors, so two batteries can be employed simultaneously to increase power output and flight times. The externals on the EMAX are a combo of aerospace-grade carbon fiber materials that are both lightweight and durable.
This is a punchy little model that flies like a full-size drone. It rips through the air, can take tight corners, and is just all-out fun for pilots of any age or skill level. Thanks to the self-leveling features, beginners can take this out without fear of instantly crashing. My only issue with this model is the video transmitter range. It's short. You'll get about 50 feet of range before receiving an RSSI warning. If you fly open fields, take note of that. If you fly smaller courses, this is a stellar outdoor racing drone that works for all skill levels.
EMAX Tinyhawk Freestyle BNF
So much fun
Reasons to buy
+
Onboard camera
+
So fast
+
Lightweight and durable
+
Operates like a full-size model
It has a short-range, but the EMAX comes with dual batteries and a sturdy build that's perfect for all skill levels.
Best Build: ARRIS X-Speed 280 V2
If the thrill of racing for you is all about getting in the sky and not tediously putting together your aircraft, this is the best racing drone for you. The ARRIS X-Speed 280 V2 is a ready-to-fly quadcopter built for speed and longevity.
This updated model is constructed of two-millimeter fiber composite sheets to keep weight down. There's a pre-assembled Foxeer 5.8GHz antenna included. It's micro-sized but big on putting out a clear signal to your receiver, giving you a longer range.
The motors on the X-Speed 280 V2 are fast! Combined with the sleek body shape, it soars. What's missing? There are no LED lights, making this aircraft one that's nearly impossible to fly safely at night. If you're a daytime flyer and want an RTF quadcopter that's fast and fun, put this in your cart now. You won't regret it.
ARRIS X-Speed 280 V2
Just right for experts
Reasons to buy
+
So fast!
+
Tough build
+
RTF
+
Excellent craft for advanced pilots
Reasons to avoid
-
No LED lights for night flights
It's missing LED lights for night racing, but it's fast, has excellent range, and a tough build.
Bottom line
If I have to pick one racing to drone to invest in, it would be the Walkera F210 3D Edition (opens in new tab). This quadcopter has a little more oomph than others, works well for everything from obstacle courses to aerobatics to races, and it arrives on your doorstep ready to fly.
The F210 3D is a tough little drone that can withstand the occasional tumbles. Its carbon fiber body is a little thicker than the competition, and it has a protective cover for the engine, so accidents needn't be fatal to your craft. It's also lightweight, comes equipped with a long-lasting 4S battery, and has excellent reception through trees, around walls, and over obstacles.
There's room for improvement with the camera on the F210 3D. It comes with an analog camera that is comparable to TVs before the introduction of HD. The picture is there, but it can be smeary-looking. You can upgrade to an HD transmitter and HD goggles if you have nothing better to do with your money, but for most of us, that pricey option is out of reach. If you want a drone that satisfies your need for speed, maneuvers around corners as smoothly as your car, and can perform rolls and flips, the Walkera F210 3D is a ready-to-fly copter that's loads of fun.