Big Huge Games returns with upcoming iPhone and iPad strategy game DomiNations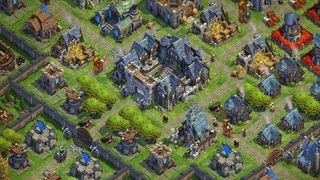 Big Huge Games, best know for creating the acclaimed PC strategy game Rise of Nations several years ago, has been reformed by its original co-founders and will release its first game, DomiNations, for the iPhone and iPad sometime in 2015.
The game will be published by Nexon, which describes it as a "epic strategic combat game of advancement, exploration and conquest " It added, "In DomiNations, players can explore, advance and grow their civilizations while conquering the world through single-player campaign and cooperative gameplay modes."
Like the new Big Huge Games, the original version was founded by Brian Reynolds and Tim Train. It sounds like DomiNations will play much like Rise of Nations but with a free-to-play business model. What is your first impression of DomiNations?
Source: Nexon
I have been writing professionally about technology and gaming news for 14 years.
I've played RON Thrones and Patriots to death, absolutley loved the game. I'm worried about this though. It has a look of Star Wars Commander where you have no control of your troops once they're released. I get very frustrated by that model as it feels like your playing more by luck of the draw rather than in an RTS situation. If they make it fremium as well I'm going to puke. I would rather pay 10 or 20 dollars for a quality game and be done with it. I know that fremium is targeted at the casual user and more profitable but I would rather see the hardcore games stay on the premium side of things.

I would pay $20 for this awesome looking game. I have been looking for a real strategy game for my iPad. I have always wished there would be a port of company of heroes to the iPad.

People. STAAAAHHHHPP! These are not strategy games. Not even by a long shot . It's just another clash of clans clone. Utter trash Sent from the iMore App
Get the best of iMore in in your inbox, every day!
Thank you for signing up to iMore. You will receive a verification email shortly.
There was a problem. Please refresh the page and try again.