Bose launches a new SoundDock system for devices with Lightning connectors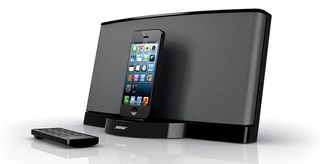 Bose has started to offer a new version of its hugely popular SoundDock music system specifically for devices that use the Lightning dock connector. The SoundDock Series III digital music system, to give it its full title is a premium sound system and a welcome addition as devices with Lightning dock connectors are very thin on the ground at the moment.
Of course you can still use the Bose SoundDock with other devices as it has a 3.5mm AUX input too. If you like the look of the Bose SoundDock and you fancy picking one up, you will have to find $249.95 for the privilege. Sure it is not exactly cheap but from my experience of Bose products, the sound quality is normally pretty damned awesome and worth paying the premium for. If you order one, shipping is slated as 7-10 business days; so you may even get it in time for Christmas.
Source: Bose (opens in new tab)
UK editor at iMore, mobile technology lover and air conditioning design engineer.
I have had two iHome systems for my iPod, both of which lasted no more than a year before dying. I replaced the last one with a Bose Sound Dock. It has been wonderful, though twice the price of the iHome units, if my experience with Bose pans out, it will out last them by several years. It is simple and easy to use, has great sound, and with an adapter is capable of taking the new iPhone. I am sure that if one does not already exist an adapter will be designed to allow the use of a iPod with the new system. Bose quality is definitely worth the price.

This is cool for people that don't have a Bose system and has just purchased a newer Apple device. But for people like me who has two of these Bose sound docks and three other docking stations just get the adaptor.
Get the best of iMore in in your inbox, every day!
Thank you for signing up to iMore. You will receive a verification email shortly.
There was a problem. Please refresh the page and try again.