BrydgeAir keyboard for iPad Air 2 review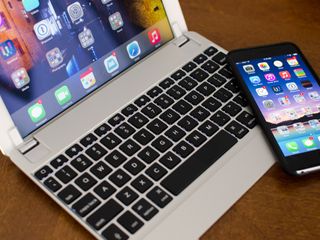 Compatible with both generations of the iPad Air, the BrydgeAir keyboard provides hinges with removable rubber gaskets to fit each model. If you have an iPad Air 2, you'll just remove the iPad Air ones and replace them with the iPad Air 2 ones.
Sliding your iPad Air into the BrydgeAir's hinges is easy enough. You can then adjust for multiple viewing angles and close the hinge completely to transport your iPad and to protect the screen.
Around the front of the BrydgeAir keyboard case is the power, keyboard pair, and speaker button. The back of the BrydgeAir case has dedicated speakers you can use built right into the case. As nice of an idea as that is, the iPad Air 2's built-in speakers offer much better sound quality. The BrydgeAir's speakers sound very flat to me. In other words, I wouldn't consider the speakers a selling point.
The keyboard layout on the BrydgeAir is similar to what you'd find on a MacBook Air. The main difference is the top row of keys that are specific to iOS functions. There are dedicated buttons to turn the volume up and down, lock your iPad, use the Home button, adjust brightness, control music, and more. In the bottom row of keys you also have a dedicated button for Siri too.
As far as battery life goes, I've been running on a full charge for about a week now with about 1 to 2 hours of use a day. BrydgeAir claims up to three months of battery life on a single charge, depending on how much you utilize the backlit key and speaker features.
The backslash key on the keyboard will flash blue slowly if the battery is running low. When plugged in the key will show solid red to indicate charging. While that's sufficient, I do wish there was a way to check battery percentage more specifically. Most keyboard cases do this by integrating a dedicated battery button which pulses a set number of times to indicate a battery range. It isn't a deal breaker for me but anyone who uses keyboard cases heavily may get nervous not knowing where they stand battery wise at any given time.
The good
Thin profile when closed
Feels extremely high quality
Easy enough to remove and replace iPad
Great keyboard layout similar to what you'd find on a Mac keyboard
Backlit keys
Dedicated row of iOS specific buttons
The bad
Internal speaker is not great quality
Hinges sit a little closer to the actual screen than I would like
No rear protection for the iPad
Not the best battery monitoring system
Higher price tag than many competing keyboards
The bottom line
I've been typing for a few days on the BrydgeAir keyboard case, including this review, and I type just as fast as I can on my Mac's keyboard. The layout really is one of the best I've used to date. I do however wish the internal speaker and battery monitoring system were better.
These two issues aside, the backlit keyboard and high quality construction makes the BrydgeAir feel much more substantial than many other cover type cases, which can often feel cheap and flimsy. So if you want a case that matches the build quality of your iPad Air 2, the BrydgeAir keyboard case is a solid choice.
iMore senior editor from 2011 to 2015.
I contemplated buying one.. But just didn't like the fact it won't protect my back. I already gotta Smart Case and just wanted a nice keyboard to add with it. I went with the Keys To Go by Logitech...

I say, If you're going to spend $169, spend LESS and get a better setup.. You might want to look at Belkin's QODE Ultimate Pro Keyboard case for $149, it is by far the best on the market.. LOVE mine.. flexible. Detectable like this one, but includes a detachable cover for the back of iPad.. Supports landscape AND portrait. Oh, and it can switch between your tablet and Smartphone.. and sound flow is cool too, the cover on the iPad has directional cavities on the bottom over speakers to direct the sound forward.. Love that.. Not seen Ally do a review on it yet.. https://www.imore.com/e?link=https2F2Fc...

Hey, thanks for the heads up on that case! Questions: does it have a dedicated Home key? A "Siri" Key? Also, how's the responsiveness of the keys--does it feel like a Mac keyboard?
Thanks!

yes, dedicated home key and siri key.. Layout of the keyboard in link here... http://cache-www.belkin.com/resources/img/overview/F5L176/UltimatePro_Ke... It's fairly responsive, though it's 'sleep' mode is more aggressive than I like.. you let it sit for 3-4 minutes and it has to wake up and reconnect to the iPad .. only takes 5-6 seconds.. but can get a little annoying if you work in short spurts. Past that, the keyboard itself is a good feel and very responsive. Initial release had some bugs with connectivity, but latest iOS update seems to have solved that.. rock solid now.

Hey, thanks! My wife is in the market for a keyboard case, and I'll pass the info on to her.

I never include Belkin cases because they keep changing the keyboard layout. The semicolon key is by the space bar, WTF? Keyboards are muscle memory and messing with default layouts is a big no no in my book.

I'm eying this one because I have to be able to switch between laptop mode and hand held mode (hand-e-holder) in seconds for presentations. So I can't have the back covered. I have a thick soft sleeve for transport, so protection is not a problem.
I was looking at a comparable ZAGG, but that one doesn't work without a back cover, needed to slot the iPad into the hinge. That hinge is a bit flimsy too. The ZAGG has multi-colour back lighting which I like very much, but sturdyness trumps all for me.
Having said all this, if the Logitech keyboard/cover would have had back lighting, I would not have hesitated and got me that one. But I do presentations in a planetarium* and need to be able to see my keys in the dark. * iPad projection via Apple TV onto a half dome screen. Works fabulously. Even Keynote presentations based on a dome template are no problem.

I'd recommend one of the Zagg products for that, or CLamcase... the keyboard folds completely back for tablet mode... no need to even remove it.

Yes, but that precludes the hand-e-holder with which I can have the iPad in one hand without the effort of holding it in my hand.
I have looked closely at all the unpacking videos of all the solutions, but at this stage the BrydgeAir seems the best option for me. Actually, ZAGG had the solution I want, but they discontinued it. Pity.......
Thank you for signing up to iMore. You will receive a verification email shortly.
There was a problem. Please refresh the page and try again.