Candy Crush Soda Saga comes to the iPhone and iPad — Are you going to play?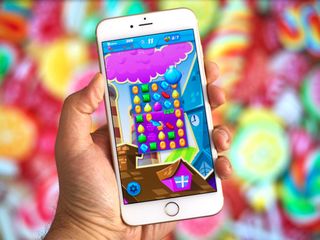 The highly addictive Candy Crush game from King has now spawned a sibling title, Candy Crush Soda Saga. First released as a Facebook game, it is now available worldwide for the iPhone and iPad.
Candy Crush Soda Saga has 135 levels and includes a new character, Kimmy, who joins the original game's Tiffi and Mr. Toffee. Here are Candy Crush Soda Saga's five game modes:
Soda - Players are tasked to fill the board with fizzy purple soda
Soda Bears - Gamers must release the floating bears in soda
Frosting - Fight to crush the ice to free the bears
Honey - Release the bears stuck in the honey
Chocolate - Remove all the chocolate from the board
While the game is free to download and play, be aware there are in-app purchases. A lot of them.
Free with in-app purchases - Download now

(opens in new tab)
I have been writing professionally about technology and gaming news for 14 years.
"&at=10l3Vy&ct=d_im" Interesting link...

I've been playing it on FB. It's pretty fun.

I am so sick of IAP that I would say no. Rovio has practically committed suicide with that method and others will follow suit. I would rather pay up front and be left alone after that.

I just counted. <20 of the top 200 grossing apps are paid. I am sick of free to play as well. Especially the ones that play phycological warfare on its players to earn money. But they are the top grossing apps. Paid apps shoot up the charts and die in a day. But F2P apps stay there for much longer.

I get that but I have no idea who these people are paying all this money. The new ROVIO transformers game has all the makings of a great game but it is impossible to play without watching ads all the time or purchasing coins. If you look at the game, you could spend thousands of dollars to complete this game. They also make it so frustrating to advance. They do this by making you wait in between levels, and I mean wait for HOURS to be able to play for more than 5 minutes, only to have to wait again, or, buy a few coins, play for 10 mins and then wait again. Asphalt8 is a great game and you can play it without buying anything if you wish but at least you can advance by earning points reasonably. The problem is some of the cars in that game cost a lot of money. I'm talking 2 cars for $99. If you wanted to buy all of the cars in that game you would spend thousands of dollars and you can't get some of the cars unless you buy them which means there are levels you will never be able to play. I get the P2P point, but who is going to spend "THOUSANDS" of dollars on a game? Charge me $10 or $20 and then go away. The Lego Star Wars people did it right. Buy a few coins at a time or pay $10 and the whole game is yours. I'll ask again. Who in their right & lets assume SANE mind would pay thousands of dollars to play a game? Not me, thats for sure. and you can't tell me that the number of people who do would make up for the rest that would gladly pay for the whole game without ads and IAP.

Good question. I would like to meet these people as well.

Somebody needs to make a pick and play match 3 puzzle that is free and no IAPs. Just as charity or marketing/advertisement. So that these F2P will just go off the top grossing charts and there will be peace on earth.

And it would be a match-3 like this or Bejeweled and not like those that they say they are but they use finger dragging to make lines. Sent from the iMore App

This is what changed the whole thing with CCSS. It seems migration to iOS is necessary for a game to rise. And this is what made us include CCSS in our http://www.walkthrugames.com support sections
Thank you for signing up to iMore. You will receive a verification email shortly.
There was a problem. Please refresh the page and try again.