CarPlay for iOS 13 review on a big screen: The difference is incredible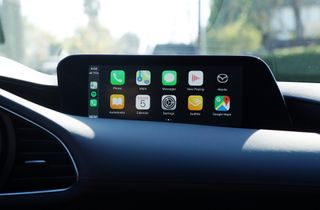 The user interface changes in CarPlay are some of the biggest changes not talked much about in iOS 13. CarPlay received the first major overhaul Apple has implemented in years and it makes it much more useful while driving. It now offers support for two displays, ends the annoying phone-to-display syncing, and introduces a new Dashboard that is an all-in-one hub for maps, music and more.
The first two features round out the CarPlay experience, but the last one radically changes it and improves it. It also makes another aspect of the user interface clear: CarPlay is now tailor-made for big displays.
When Apple unveiled CarPlay in 2014, it did so with a wide spectrum of vehicles in mind. At the time, however, most cars came with economical displays that were just big enough to offer a solid touchscreen interface. That's not the case now. As most cars have received major tech improvements, their infotainment displays have drastically grown in size.
The CarPlay of yesterday worked better on smaller displays with its row of icons and one-app-at-a-time interface. The CarPlay of iOS 13 is ready for the large displays and turns your car into a sleek multi-tasking surrogate for your iPhone.
At least I thought so when Apple announced the CarPlay revamp during WWDC 2019, but I wanted to put it to the test. So once iOS 13 was rolled out, I began using CarPlay on the 6.5-inch square infotainment display of my 2016 Volkswagen GTI. Then I reached out to Mazda to see if they would let me borrow one of their new 2019 Mazda3s because it comes with an ultra-wide 8.8-inch display. This size falls into the sweet spot of displays that the new CarPlay design is aimed at.
I tested both out for about a week and my suspicions were confirmed immediately: CarPlay works much better on bigger displays.
Image 1 of 6
For reference, the display in the GTI is touch-only while the Mazda3 has a scroll wheel you use to get around. Both worked perfectly well, though touch controls are my preference.
Let me talk about the experience in my personal car first. The 6.5-inch display on my car sounds big, but it really isn't. It is more of a boxy design that isn't conducive to the new Dashboard mode. You can still use it—Apple made sure iOS 13's CarPlay is still usable on any display—but it's a cramped experience, to say the least.
When you have Maps guiding you and music playing, each card is particularly small. The Maps view only shows you the ETA, not the remaining miles or the time it'll take you to get to your destination meanwhile the controls for the music app are tiny. This is offset by the fact that most steering wheels offer rewind and forward controls, but it is still an awkward experience.
It only gets worse when a third panel shows up — a reminder or calendar event, for example.
That is not the experience I got with the Mazda3. Its 8.8-inch ultra-wide display was amazing. Aside from apps offering much more content to look at — Apple Maps offers way more of your surrounding area and Spotify displays big and beautiful artwork — the Dashboard is where it truly shines.
The Maps view is big and expansive, displaying ETA, miles to location and minutes to location, while the music card offers big and easy to press buttons, no matter how many other apps show up in the Dashboard. Additionally, on the home screen, it displays two rows of five icons instead of two rows of four icons. A minor detail that will come in handy if you use a lot of CarPlay apps.
When Apple redesigned CarPlay for iOS 13, it knew it had to fit in the big displays that cars offer now and will offer moving forward. Its answer to this via the Dashboard was masterful, and using it on an expansive display was a joy.
Image 1 of 10
CarPlay will still work on smaller displays like the one in my GTI, but that's just functionality. CarPlay on an ultra-wide display was an experience that made driving that much better.
Unfortunately, I had to return the 2019 Mazda3. In returning to my car, I must commend Apple for making a new CarPlay that still works on the smaller display of my car. It's not the same effect, but I can still get the CarPlay experience and I'll take that over a stock infotainment system anytime.
Master your iPhone in minutes
iMore offers spot-on advice and guidance from our team of experts, with decades of Apple device experience to lean on. Learn more with iMore!