Catch Notes for iPhone and iPad review: Organize all your ideas, notes, and reminders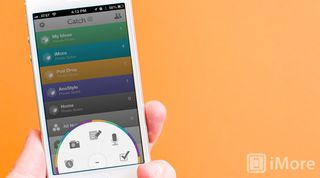 If you're looking for a fresh take on a get things done app, Catch Notes for iPhone and iPad does just that. Not only does Catch Notes combine reminders, notes, ideas, and checklists into one app, it does it with a great interface while also supporting many common task types. Whether you want to upload photos, take free hand notes, or be reminded to do something, Catch Notes can do it all within one singular app.
Catch Notes starts by allowing you to create spaces for better organizing your data. By default, you can create up to five spaces for free. After that, you can buy additional spaces as an in-app purchase. For most users, five spaces will be plenty to at least get started. These areas can be used in any manner you'd like. For instance, you can have one space for work and another for home. You can also choose to re-order them by simply dragging them in the main list in any order you'd like. If you consistently work on several projects at one time that you'd like to keep separate, you may have a need for more spaces.
Once you have set up your spaces and organized Catch notes the way you'd like, you can start adding notes and other types of content into any space you'd like. Along the bottom of Catch Notes, tap on the "+" sign to start creating and adding content. Supported media types include standard text notes, reminders (with notifications), photos, audio notes, and checklists. You can create as many of these items as you'd like within any space. For people attempting to organize many projects, you can create several checklists within a space for as many projects as you'd like. Catch Notes also supports hashtags which makes searching for notes easier. Just tag them however you'd like. Catch Notes will start aggregating tags you use frequently as you type them for quicker tagging.
You can share spaces with other Catch Notes users as well. This way you can collaborate on projects or group tasks easier and without having to email or compare notes. If you do need to share something with someone that isn't using Catch Notes, you can always do so by emailing any note you have stored. You can also attach photos to existing notes by either snapping a new picture or using one that already exists in your camera roll.
The good
Easy to set up and start using in a matter of seconds
The initial five space allotment will be plenty for most users
Notifications work well eliminate the need for a reminders app on top of a task management app
Great interface that's not only clean, but has a sensible workflow
Native sync at no additional cost, which is great if you want to use both the iPhone and iPad version
The bad
No way to change notification tone
It'd be nice to see more share options, such as to other apps or via other delivery methods other than email
The bottom line
Catch Notes is very reminiscent Evernote with the added ability for reminders. The only down side is that Catch Notes doesn't have a Mac counterpart at this time. For most users that have a need to manage multiple projects or notes, they'll most likely want the ability from their Mac as well. If that sounds like you, a productivity suite such as Things is probably a better option.
If you aren't a Mac user or don't care about having a desktop client, Catch Notes makes a great alternative to some of the more expensive get things done apps out there. Considering you can get started at no cost to you, there's nothing to lose by at least giving it a try.
Get the best of iMore in in your inbox, every day!
iMore senior editor from 2011 to 2015.
my go to note app for a while now. I use it much more than evernote actually. I'm far from a huge note taker on my phone. And since i don't use notifications or share the cons are not an issue for me. I like it.

This appears to be a very cool app for note taking. My favorite note app is Evernote.

I also downloaded, tried and attempt to come up with my conclusion about this app. I really like the UI design and aesthetics. But 2 major downfall is that the reminder doesn't always go off (something wrong with local notification) and sharing sync slow across to counterparts. Does anybody experience that? I eventually have up otherwise I was gonna use it instead of stock iPhone note app. (P.s: complete agree this reminds me Evernote but this UI is much more attractive )

I didn't experience an issue with local notifications.

Better than Evernote in my opinion. More off the bat storage, locations for every note etc. The only thing I like more about Evernote is the ability to share notes via url links with anyone whether they have any account or not.

Allyson - does this have a snooze feature? That's a make it or break it for me...

Awesome app but one thing will keep me from using it - I need to be able to re-order items on the to do list.

If you want to use it on the desktop go to the Catch website and log in.

Catch is very visually appealing, but pales in comparison to Evernote when it comes to capabilities. Like Springpad, no desktop app means no offline mode for computers. The tagging concept is nice, but Evernote has tags too and it's much more in sync with how other apps do tagging. They both have shared Spaces/Notebooks. Catch has a space cap; Evernote has a monthly upload cap. That means with Evernote you never have to remove things, which is KEY for remembering and storing items. When comparing the $5/mo plans (because they both have them, and that's Evernote's highest cost outside of Evernote Business while Catch still has an even more expensive one), Catch really falls behind. Catch's 50 spaces vs. Evernote's 250. Catch's 2.5 gig space cap vs. Evernote's 1 gig/month upload. Catch can attach Office docs, but Evernote can attach and SEARCH them. Add in Evernote's cross-platform support, amazing OCR, Note Version History, Saved Searches, and 3rd party support, and it's really no comparison. I do really, REALLY wish Evernote had reminders for notes, though my todo list is happily stored in Things because I'm dependent on its organizational tools. Other than the reminders bit, Evernote way outperforms even Catch's Premier plan that will set you back 3x the amount of Evernote Premium.

Exacly. Also, it's just a matter of time before Evernote adds reminders, I would think.

good lord you do a lot with your note taking apps. In a year and a half i'm made all of 17 notes. And 4 are duplicates i need to delete. lol. My notes are like, the name of a book i hard on the radio that i want to read and like i took a picture of a watch battery so i'd have it at the grocery store. I guess i'm pretty plain.

This app actually looks super cool...

Since when should I have to pay to keep my own shit on my own device? Seems like a pretty crappy way to cheat people to me.

You don't have to pay for anything. You don't have to use the app. For those that do use the app they give you a more than fair opportunity to use it for free. If you want more you can pay for it. Which again, is fair, considering all of the time that probably went into it. I don't know why it's such a hardship for some people to spend $2 on a smartphone app, apparently they think everyone should work for free.

you don't have to pay a dime to use the app. You're doing it wrong.

Loving this app. Thanks Allyson!

Evernote just added reminders with the recent update - very handy and the best notes app out there imho.
Thank you for signing up to iMore. You will receive a verification email shortly.
There was a problem. Please refresh the page and try again.