Celebrate International Women's Day in style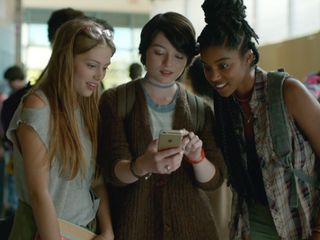 International Women's Day isn't technically a holiday, but if you want to spend the day celebrating in style, there are a few different activities, toys, and tech you can check out!
Here's how to celebrate #IWD2018 in style!
Girls' night out!
Nothing says fun times with gal pals like a classic girls' night out! So put on your favorite shade of lipstick, grab those heels that you bought that are way too tall to walk in, pick up your BFFs, and start celebratin' in style.
One of the first things you can do to get your girls' night out started is to hail a Lyft or an Uber to get to your location in a timely fashion. To pick the perfect place to eat, check out your local foodie Instagram accounts (you know which ones I'm talkin' about) for some great ideas, and then hop on over to Yelp to see if that amazing looking flatbread pizza is even worth the Lyft ride.
But who says girls' night needs to be, well, out?! You can always cuddle in on the couch with your fave gal pals, turn on your perfect romantic comedy (or gore-tastic slasher flick if you're chilling with my group of friends), order in from your local food delivery service (mine is Skip the Dishes here in Winnipeg!), drink a few bottles of wine, and have a good ol' fashioned sleepover!
(BTW, bonus points if you all have matching PJs).
Period pains: B-GONE
You know what really cramps my style? Period cramps. Because they suck. So hard. And you know what's worse than period cramps? Period cramps on International Women's day, so banish your monstrous menstruation maladies with this li'l device called Livia!
What exactly is Livia? Well the product totes itself as a sort of on-off switch for period pains that works without the use of drugs or pills: simply clip the little Livia onto the belt of your pants (it's small enough to fit in the palm of your hand), turn it on, and feel the pain fade away. How? Well, here's a doctor that explains it better than I ever could…
The product has been approved by both the FDA and Health Canada and has been featured and praised in publications like BuzzFeed, Cosmopolitan, Teen Vogue, NYLON, Shape, Wareable, Women's Health, and so many more.
Not only is the Livia a super useful product to prevent period pain, but it's also discreet and kind of adorable. You can pick up skins for your livia in different textures like wood, fractal dot, water, flower, pillow, and classic for around $12 a pop in a ton of fun colors, while the Livia itself costs $158
So say goodbye to period pains this International Women's day. Your uterus will surely thank you.
Smart-ify your bra
A lot of people complain and joke about all these everyday devices turning 'smart' (think smart doorbells, smart fridges, smart pencils, etc.), but one thing that should be smart is your bra.
Enter the VITALI Smart Bra that tracks your breathing, your heart rate, and keeps your gals secure and in-place as you go on that early-morning jog (just typing that made me tired).
The bra works in tandem with the My VITALI app, which allows you to monitor and track your vitals as you're working out or even just chilling at home. If your heart rate goes up because of stress, your VITALI will let you know and help you personalize your goals for a more mindful rest and cooldown.
The bra comes in two different styles and five different sizes (think S-XXL, not 34C) and will cost you around $150. Don't worry about getting your VITALI wet either: the sensors in the bra are water resistant and the bra is fully washable once you remove the GEM tracker.
Not only is this product great for women who are looking to get a little more out of their over-the-shoulder-boulder-holders, but the company was started and is run by a super kick-ass lady who designed the VITALI to make women's lives easier:
Date the night away!
Sometimes it's nice to hang out with the gals, but other times it's nice to get wined, dined, and romanced by a very lucky guy or lady!
Downloading an app like Tinder is a great way to meet new people and find someone close by to go out with, but when I was single I prefered to use Bumble as women are the ones to make the first move, therefore alleviating any unwanted creeps that'll just DM you "Netflix and chill lol" over and over again.
Or maybe you're someone who's a little bit more… adventurous (IDK if that's the right word)? A friend of mine has recently been using Seeking Arrangements to meet her dream man and she's been having a ton of fun with the app. What's the difference between this and your classic dating app? Well, Seeking Arrangements aims to match up sugar daddies with their ideal sugar babies.
Whether your agree with dating apps or not, there are plenty of ways to connect with people online! Join up with a dating site! Message your high school crush on Instagram (literally how my boyfriend and I got together…)! Get creative with your dating life and there will never be a dull moment.
Side note: You can also use apps like Tinder to meet friends! It doesn't have to be all about dating if you don't want it to be. Maybe you'll meet your bestest gal pal on one of these apps!
Your pelvic floor's new BFF
As women, one thing that we sometimes neglect is our own personal health. Whether you're a mom of 4, a 24-year-old with abboyfriend, a newly married dame or an elderly woman with a couple of grandchildren, we're always focused on other people and things rather than taking time for ourselves.
Pelvic health is something that's overlooked, but it actually affects quite a bit when you stop and look at it. Bladder control is a big issue for a lot of women, whether it's from having children, getting older, or experiencing other normal issues in your day-to-day life.
While women have been doing kegle exercises for hundreds of years, the doctor-approved, award-winning Elvie is designed to run a fun, five-minute workout for your pelvic floor that's guaranteed to show you results in less than 4 weeks. All you need to do is gently insert the Elvie, connect it to the app, and begin tracking your kegle progress.
The best part of the Elvie? Well, this ain't your nana's kegle trainer, that's for sure: The app is designed with six different 'games' that you can play to strengthen your pelvic floor. Without getting too much into it, the games' names are strength, life, pulse, hold, speed, and step.
The only issue with the Elvie? The daunting, nearly $200 price-tag, but keep in mind that this device is an investment towards better health. Oh, and did we mention the study that suggests that women with greater pelvic floor muscle strength reportedly have better sex? So, y'know… just sayin'...
How are you celebrating the women in your life this March 8th?
Is there maybe a tradition or an event you and your friends do on International Women's Day every year? Maybe there's a particular woman-owned brand or product you're absolutely Lady Gaga over?
Let me know how you celebrate and experience International Women's Day in the comments below!
Master your iPhone in minutes
iMore offers spot-on advice and guidance from our team of experts, with decades of Apple device experience to lean on. Learn more with iMore!
Cella writes for iMore on social and photography. She's a true crime enthusiast, bestselling horror author, lipstick collector, buzzkill, and Sicilian. Follow her on Twitter and Instagram: @hellorousseau