How to download TikTok videos on iPhone
Nuggets of comedy gold saved right to your iPhone.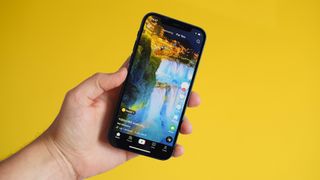 (Image credit: Andrew Williams)
TikTok is home to some of the funniest short-form content out there. At its best, TikToks can make the average TV show writer's room seem like a crematorium.
However, TikTok moves at a million miles an hour. And because it's governed by an algorithm designed to keep you constantly engaged and entertained, finding content you've already seen and loved can be tricky.
Saving clips to your iPhone just after you've seen a TikTok is one of the best ways to keep them for a later re-watch. After all, your favorite creators might decide to delete old content off their account for any number of reasons, or leave TikTok completely one day.
Before you get started, though, a few points on what you can do with these downloaded TikToks. It's not ethically sound to start downloading someone's creations and start posting them on your own account, posing like you made their content.
This is likely to constitute a copyright violation and, well, we're simply big fans of creativity and the effort people put into making original content here at iMore. Of course, there is a whole genre of content that hinges on other people's videos, the reaction video. You'll want a downloaded version of the original to make one of these reactions. So let's get to it. Here's how to download TikTok videos on your iPhone.
How to download TikTok videos on your iPhone
Find a TikTok video you want to save
Long-press the screen somewhere towards the center and away from the interface buttons
Tap Save Video in the Share menu
Tap More in the Share To pop-up
Tap Save Video, or Save to Files if you want to specify a save location
Close TikTok
Open Photos
Select Albums in the bottom nav bar
Select Videos under the Media Types header
In this folder, you will now find the TikToks we've saved. They are stored as H.264 files, so are similar to completely ordinary videos you might take with your iPhone.
Why can't I download a video?
With some TikToks, you will find the Save Video option is not there. This is because the creator has disabled downloads in their posting options.
This is a Privacy setting, one designed to stop people sharing your content quite as readily outside of TikTok. And to make it harder for them to start reposting it as their own.
Based on our anecdotal experience, it's often the aggregator accounts that do this. These are TikTok accounts that repost other people's content, often without having any real right to do so.
Stop people from downloading videos from your TikTok account
Tap Profile in the nav bar at the bottom of the screen
Tap the three-line Settings button at the top-right of the profile screen
Select Settings and Privacy
Select Privacy
Scroll down
Tap Downloads
Toggle the Video Downloads slider to Off
Using an app to download TikTok videos on iPhone
You can also use an app to download TikTok videos to your iPhone. But what can they add when TikTok makes it so easy to save your faves already?
Some apps make the process marginally faster. Sort of, anyway, by having a TikTok search function of their own. Others let you add your own captions to a video, a super-simple form of video editing.
Some also provide watermark removal. We find this a bit of an eyebrow-raiser in most situations, as the watermark is there to tell you the name of the account that made the video.
Why are you looking to remove it unless you want to claim that content as your own? That's no bueno, folks, much as it is absurdly common in social networking sites like Instagram and TikTok.
How to make a reaction video on TikTok
Do you want to download TikToks in order to get in on the reactions trend?
You ideally want to get ahold of some video editing software. While off-screen reactions can work pretty well in some situations, the classic approach is to have a side-by-side picture-in-picture effect.
Some beginner-friendly video editing apps have profiles for such a layout, like Filmora. This is not a free app, but there is a free version with limited features and a watermark on videos produced.
You can also get similar results from the free version of DaVinci Resolve, a feature-limited tier of one of the most popular professional-grade video editing apps. That's for Macs, though, not iPhones.
You can also get this split-screen effect in trusty old iMovie, the free video editor available for iPhone, iPad, and Mac. It's found in the Overlay menu within iMovie.
Download TikToks on iPhone, easily
Downloading TikToks is as easy as can be on iPhone, and there's no need to download any more apps to get access to your favorite videos directly on your iPhone.
TikTok is an absolute blast, and it is one of the best apps on the iPhone because of how easy it is to use and enjoy. If you use TikTok regularly and want to share your favorite accounts, let us know by joining the iMore forums and leaving a comment below!
Master your iPhone in minutes
iMore offers spot-on advice and guidance from our team of experts, with decades of Apple device experience to lean on. Learn more with iMore!