Check out the Oaxis InkCase for the iPhone 7 Plus on Kickstarter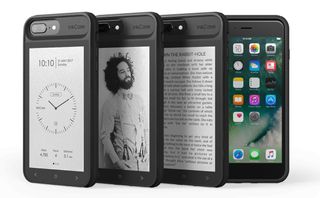 Most people will agree that putting a case on their iPhone 7 Plus is a no-brainer. Until science is able to build them out of the same secret formula used for Captain America's shield, it's wise to try and protect them. At least a little bit. The new Oaxis InkCase lets you keep your iPhone safe and has an awesome E-ink second screen on the back.
The quick and dirty details:
This Kickstarter is only for the iPhone 7 Plus InkCase. Other smart cases and InkCase products for the iPhone 6 and 7, as well as cool gear like direct-contact speakers and kids' smart watches, are available at the Oaxis website.
Early birds can get in for $89. The case will retail for $159 once the Kickstarter slots are filled.
The cases are scheduled to ship in July 2017. That's like next week.
All the details can be found at the InkCase iPhone 7 Plus Kickstarter page.
InkScape cases are pretty cool. You have a full-size (5.2-inch for the iPhone 7 Plus) E-ink display on the back of your phone, embedded in an impact-absorbing micro-weave case. You connect the InkCase to your phone wirelessly, and you can do things like reading eBooks ('natch), checking your calendar or even taking selfies with the high-resolution rear camera.
And none of this sucks away at your phone's battery: the InkCase has its own. Because E-ink displays aren't power hungry like the big full-color screens used for our phones, you'll get about 5 days of battery life from it. To top up, use the provided magnet cable with a wall charger.
They're built tough and let you do even more with your phone. That's a winning combo, and we're glad to see one for the iPhone 7 Plus!
Get more iMore in your inbox!
Our news, reviews, opinions, and easy to follow guides can turn any iPhone owner into an Apple aficionado
I'm an RHCE and Electrical Engineer who loves gadgets of all kinds. You'll find my writings across Mobile Nations and you can hit me on Twitter if you want to say hey.
Seems like a gag product. I'm actually still confused if it's real. Maybe just a cheesy commercial. Not sure

I don't see the purpose in this. Is it such a problem to read items on your phone's screen that you need a second one? And the back screen looks like a 15 year old Kindle. Who actually displays the back of their phone with a photo (black and white to boot)? Not to mention you'd have to charge the case, I assume. This whole thing is just a waste of money. It's a case, you don't need bells and whistles - just protect the phone.

I think it's to basically be that YottaPhone. I'd imagine it plugs in to your lightning port and charges itself over lightning as well as your phone. I think the upshot is it can display notifications instead of you waking your phone screen up for it. Could cut down on battery. Could also be easier in high light areas since e-Ink is easier to read in full daylight, your iPhone has to brighten up to compete. It won't replace needing to wake your phone to respond, but it will replace opening it to read.