Comic: iOS 12- A Hypothetical Android User's Review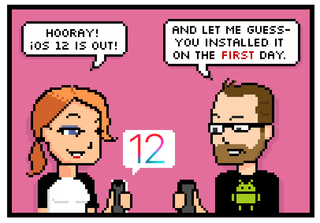 Read more comics from The Pixel Project.
Get the best of iMore in in your inbox, every day!
Pixel lover and cartoonist. Still have my original Apple IIgs. See more at clango.org or follow him on Twitter @rstevens.
I logged in just to say how cringy this is.

This is why I buy Pixel. Or at least ones that have an updating track record. Or something I can sideload Lineage on.

If I went back to Android I'd go for the Pixel or one of the phones with stock Android, they used to do Google Play edition devices but I'm not sure what happened to them

I logged in to comment too. Lol so true.

I usually never comment on these, but this is SO true... LOL

So hilarious because it's true! :p

This is so bad it makes me sad for the green house gases it took to produce it and then host this web page.
Thank you for signing up to iMore. You will receive a verification email shortly.
There was a problem. Please refresh the page and try again.