Comic: The Real Power Behind Siri Shortcuts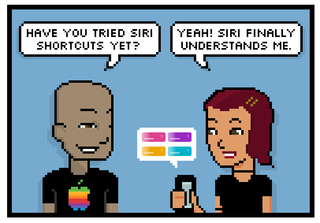 Read more comics from The Pixel Project.
Get the best of iMore in in your inbox, every day!
Pixel lover and cartoonist. Still have my original Apple IIgs. See more at clango.org or follow him on Twitter @rstevens.
I have seen people are trying to update their iOS to 11.4 but people are rushing for beta version instead of public, in a forum after discussion I have seen people trying to question regarding the update, but 11.4 beta version will charge $99 a year where else if anyone use public beta version of iOS11.4 then it will be free of cost, I have provided information in this public restricted forum https://gadgetsay.com/forum/apple-forum/need-help-with-iphone-battery-li...

I'm struggling to understand this comment, but 11.4 is the latest stable release of iOS. iOS 12 is currently in beta, and there are 2 methods of accessing it: 1. Public Beta. Anyone can sign up to the Public Beta for free, there is no cost. 2. Developer Beta. The developer beta provides a more updated version of the iOS 12 beta than the Public Beta provides, however this is designed solely for developers, and to gain access to this version you will require a developer license, which is $99 a year. Basically, if you want to try out iOS 12, you should get the Public Beta.

So shortcuts are just Automator by another name?

Shortcuts is actually Workflow by another name, which is similar to Automator but has a much more user-friendly UI and links with Siri. The only people I've seen who use Automator on the Mac are power-users, because the average user will find Automator a bit overwhelming. The idea behind Shortcuts is that it will expand the targeted audience to your average iPhone user. Also Shortcuts won't be available for macOS Mojave, but I have a feeling at some point they'll develop a Mac version which will become the successor to Automator.
Thank you for signing up to iMore. You will receive a verification email shortly.
There was a problem. Please refresh the page and try again.