Comic: The Unbearable Speediness of iOS 12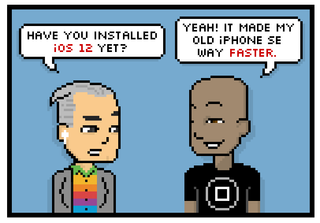 Read more comics from The Pixel Project.
Get the best of iMore in in your inbox, every day!
Pixel lover and cartoonist. Still have my original Apple IIgs. See more at clango.org or follow him on Twitter @rstevens.
Ha! I haven't noticed the speed up on my iPhone 7 yet (not like the speed up from my 6 to my 7 anyway) but it certainly hasn't been running any slower!
I had been planning to skip the 7s and go for an 8, but Apple tricked me and jumped directly to the 8! The only reason I'm not going after the X yet is because it has exactly the same CPU as the 8. Why pay a premium price for that? Oh, the 'speaker' button on the phone now confusingly says 'audio' and instead of a speaker with sound waves coming out of it, the icon shows a speaker with a sine wave coming out of it!

I found that it seems smoother and a little bit faster on my 7 Plus. The animations are definitely smoother anyway.

I'm an SE fan, and in lieu of an SE 2, the speed increase has been welcome. Even better that I didn't have to pay for it :)
Now if only they could improve the camera via update...(steal Google Pixel's secret post-processing sauce?)
Thank you for signing up to iMore. You will receive a verification email shortly.
There was a problem. Please refresh the page and try again.