Creating email harmony with Mailbox for iOS and Airmail for Mac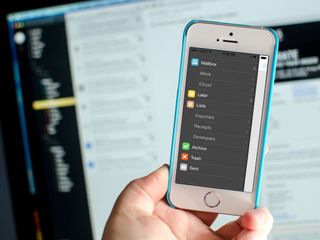 I've been on the hunt for the perfect cross-platform email setup ever since Mavericks made the native Mail app so awkward and unreliable. I've looked at the best alternative mail apps for Mac and done the same for both iPhone and iPad. As it turns out, Mailbox and Airmail play rather nicely together... with a little help.
I've been using Airmail on and off since its release. Mavericks sealed Airmail's fate as my go-to Mail app when Mac Mail decided to eat my iMore account. I'm not talking a few emails here and there missing. I mean everything was gone. There was nothing left on Gmail's servers either. I didn't know whether to laugh or cry. So at that point I shut down Mac Mail and launched Airmail. Since then, I've been terrified to even open Mac Mail.
Where iOS is concerned, I can't say I've ever had a bad experience. I've just come across small annoyances that add up to large ones. My main being that I have to choose Archive or Delete, I can't just have both. Sure I can move items into my archive folder or trash but that's messy and complicated. Swipe gestures both ways would solve this but alas, Apple says no. So that led me on the quest to find a better alternative for iOS as well.
I knew Airmail was my choice where OS X was concerned. There's just too many features to pass it up. I've never found an email app for the Mac that I like more than Airmail. For Gmail users there are keyboard and swipe options for archive or delete, lots of custom folder mapping features, alias support, and most important to me, a send and archive option. It's also been the most accurate when it comes to syncing content inside folders. You can even rescan and build folders in the settings menu which has always immediately cleared up any discrepancies I've encountered.
I tried pretty much every mail app available for iPhone and iPad and always found myself coming back to Mailbox. It may not have as many options as its competition but my main goal is to triage mail as quickly and effortlessly as possible. With Mailbox I found myself being able to clear my inbox, compose messages, and reply to things in fewer taps and swipes than other mail apps. Eventually, that combined with the reliability of Mailbox's push notifications were what made me settle on it.
Now it was time to create a uniform workflow....
I started by launching Mailbox on my iPhone and thinking about what lists I needed. I knew I didn't want to get into a folder situation again where organizing them all took more time than actually reading emails did. So I created a few basic lists such as Receipts, Important, and Travel. You can always add lists whenever you'd like but my goal was to not make them extensive. I save things until they can be archived these days, that's it. To finish setup on my iPhone and iPad I disabled all notifications for the stock Mail app and enabled them for Mailbox. The only thing I left on were the sounds for VIP contacts. That way I knew if someone important was emailing. Mailbox chimes in too but it's a slight annoyance I'm willing to deal with, at least for now. In a future Mailbox update I'd really like to see more notification options especially for VIP contacts.
Next I cleared up both my iCloud and iMore accounts on the desktop by hiding folders in Airmail. If I couldn't see them in Mailbox they were no good to me anymore. Hiding them ensured all my folders are still there if I need to refer to something but they aren't distracting me and cluttering up my new workflow.
I also tweaked some Airmail settings and preferences to my liking, which may be different for everyone, but this mainly consisted of the following:
Hiding anything that Mailbox didn't require
Enabling Send and Archive
Making sure the Delete key archived mail while Command + Delete trashed messages
Tweak folder mapping to match what Mailbox recommends for desktop clients
The last step is the most imperative and the one I paid the most attention to. The Orchestra website gives a very good overview of the perfect mail setup so desktop mail plays nice with Mailbox for iOS. It will generally apply to any desktop mail app, including Airmail. The support article can be found here:
Using Mailbox with Gmail and iCloud on the desktop and on the web
The link contains a nice chart that lays out how you should map folders in both places. I simply made sure iCloud was set up correctly on the web and then mapped them all in Airmail's settings the way Mailbox suggested.
I repeated these steps on both my iMac and my Macbook Air so both versions of Airmail looked the exact same. Once that was done, I tested my workflow to make sure things filed and behaved as I wanted. My only annoyance with this setup is that I can't delegate items for later as easily in Airmail as I can in Mailbox. For now my solution is to just deal with them on my iPhone or iPad when I can. If I'm in Airmail, I leave them in my inbox until I switch devices. It's not an ideal solution but it's one I'm willing to live with until I have a native Mailbox client for Mac. Perhaps there's a way to use Airmail's todo options but I haven't quite figured that out yet.
Other than that, messages re-appear in all my inboxes when Mailbox puts them there, I can manage and view my lists across OS X and iOS and they're perfectly in sync. The whole setup took me an hour or two to tweak and get perfect. Almost three weeks later, I'm happy with this setup and I've found myself handling email a lot more efficiently than I ever have.
Your thoughts?
My setup won't suit everyone but it's the closest I've come to achieving complete email harmony outside of using stock Mail apps. If you've tweaked and toyed with email because you don't like the native options OS X and iOS provide, let me know in the comments what you're currently using and why!
Get more iMore in your inbox!
Our news, reviews, opinions, and easy to follow guides can turn any iPhone owner into an Apple aficionado
iMore senior editor from 2011 to 2015.
Great post. I was already using this set up and I am glad to find it's seemingly the best Mailbox + Desktop combo at the moment.
Out of curiosity have you managed to get the notification actions to work as they should? After changing from banners to alerts they now allow archive, but the reply and archive never works, only giving close or reply.

I'm aware this is really old, but did you ever find a solution to this problem?

Allyson, You can get best of both worlds if you use Sandbox. Will allow you to manage your read later email in Airmail while also managing in mailbox. Best part is that it doesn't limit you to the Mailbox app if something better comes along. Check out this post: http://blog.sanebox.com/post/48673547948/sanebox-mailbox-bestofbothworld...

I'll check it out. Thanks!! Sent from the iMore App

Thanks and I will be checking into this too!

Thanks for offering a platform solution. I don't get it that the others developers don't see the opportunity to make a universal app and a Mac OSX app. Sent from the iMore App

I've been using Sparrow on desktop and iphone. The only drawback, of course, is that Sparrow doesn't have push on the iphone. Might give this a shot.

I've been using Mailbox for ages (switched from Sparrow) and Airmail since it was released. I'm hoping for Mailbox OSX which I'm told is being worked on!! Airmail though has great features - especially adding emails to Evernote and tons of advanced features (Markdown and HTML). I have tens of disparate labels/folders across my email accounts. I am in the process of deciding how to minimise and unite them drastically! Thanks for this article. I am going to read up on how to ensure Mailbox and Airmail play nice together.

I never had a problem with Apple Mail, either on iOS or OSX, but since Mavericks I also switched to Airmail on OSX. On iOS I prefer Dispatch over Mailbox, which crashed a lot for me (my account isn't even very busy) and at one point stopped displaying Asian characters in emails. I also dislike that it creates new labels in Gmail as I have my own labels. Dispatch takes care of all those niggles; I just wish it had an iPad version.

I switched from Mailbox to Boxer since Mailbox lost Yahoo support, I have 3 Yahoo emails and 2 Gmail emails, so Yahoo support is a must. Though I do miss how fast Mailbox syncs my emails. Sent from the iMore App

I'm using Mailbox from the start, Switched from Sparrow. (I gave every mail app on App Store a try Boxer, mail pilot, evomail etc). but Mailbox still the best. Also the AirMail is my default mail app on my mac.
Actually I'm using your same settings exactly, thanks for amazing article anyway :) Note: Sometimes when I add or modify Lists in Mailbox app, I have to do the following to update it in Airmail App:
1) AirMail>Preference>Accounts>Mapping>Rescan
2) Always set (Automap Folder) to On, on the previous window.

Thanks so much I just did this on iOS and love it. Wasn't happy with the iOS mail app. Great post.

Thanks for this post Ally. I have not used Mac Mail or Mac Calendar I almost a year because of constant issues with syncing mail and weird data usage with both stock apps. I have to use a hot spot with limited data for work and it was getting expensive so everything has been turned off and I basically have to keep browser windows open for all of it. I have seen you and Peter recommend Airmail and Fantasical in the past so I may be pulling the trigger soon. As for Mailbox, I really love it and keep wishing the issues with Yahoo! will get resolved but I may just fully migrate away for Yahoo! because of security issues. I know you said you really don't care about folder access but I could really use it.

Hey Ally I was wondering how to set up swipe gestures or keyboard shortcuts for archive delete in Airmail like we can do with Mailbox. I think you said it possible but cannot find a how to and the shortcut guide on the Airmail Devs website is virtually unreadable.

This has inspired me to try out Mailbox again. Honestly, the one thing that keeps me from using it full time is the fact that my work email can't be added to it, which means I am forced to used two mail clients (mailbox for personal, mail.app for work). But maybe it's just an excuse to use my phone for work email less?

I purposefully have two email clients on OSX and iOS. Really like not having to filter out what's what. Also, I never accidentally send a work email from my personal address, and vice versa.

This was a useful article, Allyson; thank you! I had been thinking about getting Airmail, and your article helped me pull the trigger. Question: When it comes to your Airmail workflow, do you just drag emails to [Mailbox]/Later (or use the V-key shortcut)? I experimented with the To Do feature, but I didn't care for how that copied emails, thus leaving the original in the Inbox. Thanks again!

Allyson, nice article...and thanks for your comments :-) Just an FYI, on March 3, 2014 we released Airmail version 1.3.2 in the MAS. Lots of improvements, new features, bug fixes, new email account auto-discover code and truly a lot to make our users happy.

I downloaded both Mailbox and AirMail because of this article. After a couple of days of use, I realize that both mail clients still has some serious problems. Airmail has a mail threading issue if you're migrating from the Mac Mail and is running AirMail in parallel. (Among other things...) Mailbox crashes when you archive or delete items at the bottom of the inbox -- w/ the inbox containing the max allowed email items (1000+) -- that you're cleaning up. Some features are not working in sync very well: e.g., state of the highlighted email at the LHS panel does not match up with the state you chose for that email on the RHS panel (that displays the email content). And many more to count for both email clients... For sure, It will take some time for these two "best" apps to mature and be really useful and not cause so much heartburn.

Great tip, I now have email harmony between Airmail and Mailbox. Thank you. I wonder if Mail.app in iOS 8 and OS X Yosemite will lure us back...

Great article and I echo all your points. Have been trying everything as the nagging annoyance that's things were just not quite right. I too have gone for Airmail (which is excellent and I
Am using the beta right now) and cloud magic. In both the ability to talk to Evernote for me is a god send. Would never have imagined that I wouldn't be using apple stock products but as you rightly point out, things haven't worked out.

Great Article, But i m having a little trouble with MailBox. Does MailBox only support Gmail and iCloud? I basically an app like Mailbox to arrange my work emails on the iOS. None of my work emails are Gmail based. How do I go about this? I ve been using Airmail on my Mac for about 10 months now, really impressed but sometimes I feel that it takes too long to retrieve new mail. I really need to find an app that can integrate my iOS as well as OSX. Any help would be appreciated.

Where does Sanebox fit in with or in place of Mailbox?

How do I get my existing (30+) OSX archived Apple Mailboxes to appear on my iPhone? I am happy to use any combination of iOS apps and OSX apps so that I can sort and archive incoming emails into already OSX existing folder (names), and access old emails (1,000s of them) that are only on my iMac now.