Daily Tip: How to use Google Maps to plan your vacation lodging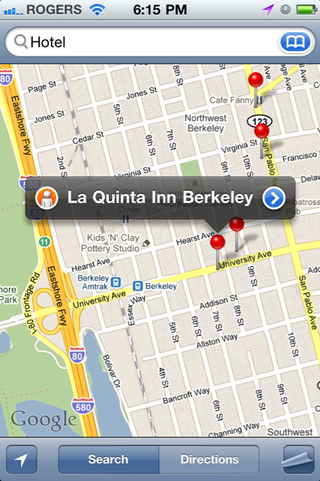 About to embark on a much needed, well deserved vacation and wondering how to find lodging close by? Hotels, motels, beds and breakfast places, the Google Maps app can help you easily locate tons of possibilities. Follow on after the break and we'll show you how!
Let say you are planning a trip to San Francisco and need to find places to stay that are closest to the airport.
Where will you be? - Instead of using iOS's location services in the Maps App, type in the city name in the search field.

Refine the details - Once the Google Maps App resolves the city name and drops a pin, you can then type the word "Airport" in the search field (in case you don't recall the name). I know that Berkeley is the airport I'm heading to, so next I pinch and zoom to the pin for Berkeley Airport.
Search!- search for "Hotel" to find a hotel that is nearest to the Airport. I've chosen La Quinta Inn Berkeley.

More info - Click the info chevron and select if you want to call them direct or visit their website to make a reservation.
You can finally click the "Directions to Here" button at the bottom of the info page and select if you are driving, taking public transit or walking with estimated time it takes to get there.
Any other great vacation planning tips to share? Let us know in the comments!
Thanks to Master from the iPhone Live chatroom for the tip!
Tips of the day will range from beginner-level 101 to advanced-level ninjary. If you already know this tip, keep the link handy as a quick way to help a friend. If you have a tip of your own you'd like to suggest, add them to the comments or send them in to news@tipb.com. (If it's especially awesome and previously unknown to us, we'll even give ya a reward...)
Master your iPhone in minutes
iMore offers spot-on advice and guidance from our team of experts, with decades of Apple device experience to lean on. Learn more with iMore!
Senior Editor at iMore and a practicing therapist specializing in stress and anxiety. She speaks everywhere from conferences to corporations, co-host of Vector and Isometric podcasts, follow her on Twitter @Georgia_Dow and check out her series at anxiety-videos.com.