Developer builds Flappy Bird clone in Swift with 4 hours experience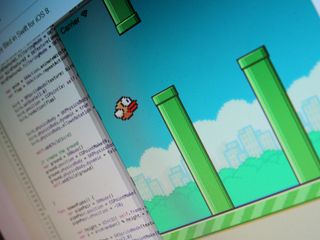 As part of its WWDC 2014 keynote address, Apple introduced Swift, their new programming language. Now one of the company's own programmers has created a clone of the popular mobile game Flappy Bird with Swift to show how easy it is to make a game with the language.
The programmer, Nate Murray, claims he had no prior experience in using Swift before Apple officially announced the language on Monday. He then starting working on the Flappy Bird clone, which he naturally calls FlappySwift, and said he was able to create a working version of the game in just four hours. He's released the source code for the game on the GitHub site.
Apple plans to release the final version of Swift sometime this fall, alongside the launch of OS X 10.10 and iOS 8. Murrary plans to offer an online Swift development course in the near future.
If you are a programmer, are you excited about the prospect of making applications via Swift for Apple's platforms?
Source: Hacker News via TechHive
Get the best of iMore in in your inbox, every day!
I have been writing professionally about technology and gaming news for 14 years.
He did not build Flappy Bird in 4 hours - he ported an existing ObjC version to Swift. That is not to pooh-pooh the work, just to correct peoples expectations as to how fast development in Swift will be, as porting is a different and more rote task than creating. It also tends to result in code flavored like the original language; what will be interesting, if he keeps the project active, is to see how the language (and experience with the language) might lead to different structures and design choices. Sent from the iMore App

I knewwwww it. Misleading titles. Porting != developing from scratch. Sent from the iMore App

It is still impressive, to port something so quickly and accurately - it shows that Swift can be worked into iOS development with very little fuss. Sent from the iMore App

The developer, Nate Murray, was also clear that it took him 9 hours (with supper and putting kids to bed) to write the program.
What he actually said was he wrote the program "with 4 hours of swift experience" not that it took him 4 hours to write the program.

I hope Apple creates some kind of media for new programmers to learn Swift.

There's a guide you can download for free in iBooks Sent from the iMore App

Oh, No I know about that. I was hoping for something along the lines of tutorials for beginners. I'd love to learn how to create an iPhone app with their own programming language...

You might want to check out WWDC's video sessions.
There are some demonstrating and introducing Swift.

I believe if you check the programmers original post in GitTub you will see that his whole point was to promote his "learn programming" course.
https://www.fullstackedu.com
https://github.com/fullstackio/FlappySwift

There are some really good tutorials already cropping up all over the internet, for example: http://ios-blog.co.uk/swift-tutorials/

Although this article is a bit misleading, I would like to hear about actual time savings devs start to experience using Swift.
Thank you for signing up to iMore. You will receive a verification email shortly.
There was a problem. Please refresh the page and try again.