This smart dishwasher is compact enough for the even the tiniest apartment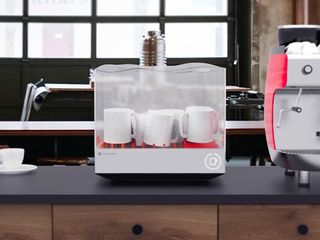 (opens in new tab)
Water-centric appliance company Heatworks took to CES 2018 in Las Vegas this week to debut the company's newest home innovation: a compact smart dishwasher just large enough to hold two place settings. Created in collaboration with Frog Design, the dishwasher — called Tetra — requires no plumbing or special setup and uses only half a gallon of water per cycle, making it good for both the environment and your wallet.
Heatworks CEO and founder Jerry Callahan shared his vision for Tetra as a household staple in a statement:
Design-wise, Tetra is an eye-catching combination of minimal and whimsical. Its base has a sleek brushed steel look, and its top cover resembles gently rippling water. Perhaps coolest of all, however, is that Tetra is completely transparent, allowing you to see exactly where in the dishwashing cycle your dishes are. Basically, it has serious kitchen countertop display potential.
To use Tetra, all you need to do is place it anywhere it can plug into a standard electrical outlet — no special installation or plumbing reconfiguration necessary. After that, you just fill the first compartment in the base with approximately half a gallon of tap water and some dish detergent, insert your dishes, and start it up. Voilà! In about 10 minutes, your tableware will be thoroughly clean. Once it's finished, you just drain the dirty water.
What's more, Tetra uses Heatworks' patented Ohmic Array Technology to heat the water, meaning it doesn't use traditional metal heating elements that can rust and — to put it more simply — get a bit gross over time. Instead, the naturally occurring minerals in water are excited using graphite electrodes, heating it directly and safely. That way, you get more precise control over the temperature of the water and can sanitize your more sensitive dishes, like baby bottles and plastic food storage containers. According to Heatworks, you can even cook seafood and clean fruit using Tetra.
As for what makes Tetra "smart," you can monitor the dishwashing process via the device's companion app, as the whole thing internet-connected. You can even use the app to adjust water pressure, start the dishwasher remotely when you aren't in the room, and customize cycles to best fit whatever you're washing.
Though Tetra's exact pricing and availability hasn't been announced concretely yet, Heatworks says that the mini appliance will cost less than $300, and will be released at some point in late 2018. I think I speak for everyone who lives in an extremely tiny studio apartment and hates doing dishes when I say that launch date can't come soon enough.
Thoughts?
Would you consider adding Tetra to your kitchen setup to save water? Let us know in the comments!
Get the best of iMore in in your inbox, every day!
Tory Foulk is a writer at Mobile Nations. She lives at the intersection of technology and sorcery and enjoys radio, bees, and houses in small towns. When she isn't working on articles, you'll likely find her listening to her favorite podcasts in a carefully curated blanket nest. You can follow her on Twitter at @tsfoulk.
Thank you for signing up to iMore. You will receive a verification email shortly.
There was a problem. Please refresh the page and try again.