Documents 5 by Readdle creates the file ecosystem you've always wanted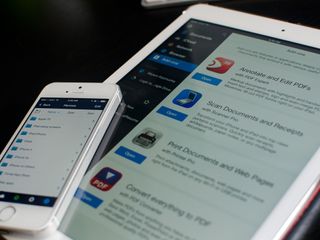 Documents 5 by Readdle has just been released with a flatter, design and a lot of new features including Windows Shares support, Background Downloads, a redesigned file manager, and more. Most notably, the new — and currently iPad-only — add-ons feature brings complete integration between all Readdle products including PDF Expert, Scanner Pro, and more. This means if you need to annotate something, Documents 5 can operate as a central hub and launch companion apps as needed. It's great.
For those not familiar already with Documents by Readdle, it's a management tool that lets you keep track of all your documents in one place. You can sync with Dropbox and copy frequently used files down, keep files in sync over iCloud, and more. You can pair with virtually all file sharing services for quick access to all your files in one place. Readdle tightly integrates Documents into their other apps for document editing.
Other new features of Documents 5 include a flatter design and better integration for Windows users with support for Windows Shares. This functionality lets you connect to shared folders on your PC and sync them back and forth between your computer and iOS devices. Extremely convenient for folks who access commonly used files regularly.
The update is full of other great features too including favorites, drag and drop support, color tags, background downloads and more. I've been using Documents and Scanner Pro for a long time now and I find the tighter integration between them on the iPad to make both apps even more valuable to me than they already were. I'm hoping iPhone support for add-ons comes sooner rather than later.
Highly recommended. Check out Documents 5 and let me know how it works for you!
iMore senior editor from 2011 to 2015.
Thanks for the review! I saw this in the app update post earlier and was wondering about it. I might give it a try, but I'm already heavily invested in Evernote and put lots of documents there. (However, the app recently was "broken" and I can't open Pages or Word docs in it anymore! WTF?!) It seems there are so many scanner and writing apps to choose from, it gives me a headache. (<--High class problem #432)

Great review and very informative article, as always. Thanks Allyson :) FWIW, I'm a fan of this App. Very. Much! Their other Apps are very good, ie; Scanner Pro, Printer and etc.

Finally downloaded it to both my iDevices today. Sent from the iMore App

Great review! I have this app, but didn't know it could do all of this. Re downloading and will utilize some of the information offered. Sent from the iMore App

Awesome review! Sent from the iMore App
Get the best of iMore in in your inbox, every day!
Thank you for signing up to iMore. You will receive a verification email shortly.
There was a problem. Please refresh the page and try again.