Does the Apple Watch Series 5 have a major battery issue?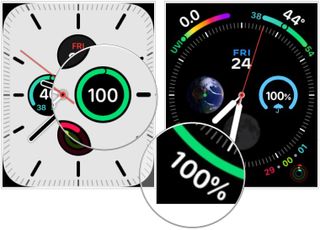 (Image credit: iMore)
It's been five years since the first Apple Watch was sold. As an early adopter, I can't remember a time when I didn't own one. Since my stainless steel Series 0 arrived in April 2015 until now with my Series 5 model, I've worn an Apple Watch every day. The only time I'm not wearing my device is when it's being charged daily before bedtime.
Two weeks ago, my daily routine abruptly changed, however.
After an early evening walk, my Apple Watch had a 40% charge. An hour later, it was dead. Dumbfounded, I put the watch on the charger. Once it rebooted, the device again showed a 40% charge. Eventually, the battery climbed to 100% during the charging process, and this is where it sat for two to three hours during regular use.
Groundhog Day
This annoying behavior has continued, rinse, and repeat every day. Sometimes it's 40%, other days, 56%. No matter the day, my Apple Watch always goes black somewhere between 40% and 60%. After receiving a full charge, the watch's battery indicator freezes at 100% for hours before slowly dropping.
Under normal conditions, when I have an issue with an Apple product, I head to a store. With COVIN-19 stay-at-home orders still in place, stores remain closed, so I contacted the company through the Apple Support app instead.
It took 60 minutes of an aggravating back and forth, which included the running of a diagnostics test for Apple to conclude there was nothing wrong with the watch's battery. Instead, it blamed the watchOS beta installed on my device for the weird actions.
At the time, this sounded like a reasonable conclusion. Unfortunately, the problem continued even after I installed new public updates on both my watch and iPhone, which was one of Apple's suggested solutions moving forward.
Larger problem?
Rather than contacting Apple Support again, I have spent the last few days looking for a solution online. After doing more Google searches than I want to remember, it's clear I'm not the only one have this issue with the Apple Watch Series 5. Perhaps more distressing, it looks like the problem has affected other Apple Watch models going back to the Series 0 in 2015!
Unfortunately, this five-year-old problem doesn't have a concrete solution (opens in new tab), although there are lots of DIY tips online.
Among those tips I found and performed, in no particular order:
Reboot the Apple Watch and attached iPhone
Un-pair the watch from your iPhone, then pair it again
Update the software on both devices, removing betas
Use a different charger
Reboot ONLY the iPhone and see if that resets the battery indicator on the watch
When the Apple Watch's battery indicator drops below 60%, place the wearable on the charger before the wearable device can crash; fully charge before using it again.
Would-be solutions I didn't try include:
Uninstall third-party apps on the watch
Place the watch in a freezer for a few minutes
Send the watch back to Apple for a fix or replacement
On Apple Watch Series 5 only, turn off the Always-On display
At this point, I'm at a loss and don't know which direction to take next. I could again contact Apple or wait until the pandemic passes to get further guidance in person with someone from Apple. The watch is still on warranty so that option is probably the most practical.
I'm less inclined to turn my watch into a popsicle and hate the idea of uninstalling third-party apps that Apple should have already tested for compatibility. However, these are strange times across the board, so perhaps I'll try these tips soon.
Finally, I could turn off the Always-On display and hope for a breakthrough. Performing this step was initially suggested by the Apple representative before she blamed the watchOS beta for the battery issue. At the time, I thought the suggestion was ridiculous since the often-advertised Always-On display is one of the few features that separate the Series 5 from the Apple Watch Series 4. If turning the feature off becomes the accepted solution for Series 5 users, count me among the millions who should file a class-action lawsuit against the iPhone maker.
For now, I've decided to ride this out and wait for a future watchOS update to resolve the issue. While doing so, I'll charge my watch whenever it drops below 60%, so it doesn't crash. Yes, this is a band-aid fix, at best, and an unacceptable one for an Apple device.
If you're experiencing similar battery issues on your Apple Watch, I strongly recommend visiting one or more of the many discussion groups where this is being discussed online, including:
Though
As I and others wait for a real solution, I'd like to hear from you. If you have (or had) a battery issue with your Apple Watch Series like the one described above, let us know below. Did you find a solution?
Get the best of iMore in your inbox, every day!
Bryan M. Wolfe has written about technology for over a decade on various websites, including TechRadar, AppAdvice, and many more. Before this, he worked in the technology field across different industries, including healthcare and education. He's currently iMore's lead on all things Mac and macOS, although he also loves covering iPhone, iPad, and Apple Watch. Bryan enjoys watching his favorite sports teams, traveling, and driving around his teenage daughter to her latest stage show, audition, or school event in his spare time. He also keeps busy walking his black and white cocker spaniel, Izzy, and trying new coffees and liquid grapes.
What a coincidence, I was just researching this issue yesterday. Again. I have a Series 4 that I bought new the day they were available. It replaced my faithful Series 0. For several months now, the battery indicator either reads 100% or the watch is totally dead. It reads 100% right now and I've had it on for 5 or 6 hours. I've tried the reboots and unpair/repair. I'm not putting it in a freezer unless someone can give me a plausible explanation as to what the problem is and why that fixes it. Software is up to date, no betas ever installed on my phone or watch. Every now and then, the indicator seems to behave normally, but one I put it on a charger, it charges to 100% and stays there. Even when it dies and I charge, it indicates 100% within 10 or 15 minutes sometimes. I haven't done any diagnostic stuff, I have to check my AppleCare status. I'd love a fix - certainly doesn't render the watch unusable, but it is annoying to look down at wrist and find it dead. I keep hoping every update will fix the issue, but no joy. Fingers crossed!

I have my series 5 since january, and replaced it once because of this problem already.
The problem started after around one month, now with my replaced series 5 it started after roughly 2 months again. And it is very annoying. I cannot trust my watch anymore if it keeps shutting off at around 40%. Just right now it happend, i cant turn it on, unless i put it on the charged, it showed after a couple of seconds 13%, then shortly later back to the 40%. At least this time i have found your article about it. unsure what i should do now, first replacement was shortly before the pandemic really started :D Also using the battery grapher tool. Its so annoying, wish i could get my series 3 back. No problem with that one in over 2 years

I have a Series 5 with cellular. My issue has a lot of similarities to what you have described. My issue happens when running while using cellular and Apple Music to stream music. All default options are enabled, including Always On display. When streaming music, the watch would die after 10-20 minutes of running. This included using either the Activity app or RunKeeper. Yet, while keeping all else the same, but using music downloaded to the watch, the watch did not die. I could use it for 60+ minutes in this scenario. Typically, the watch would start at 60-80% battery before dying after no more than 20 minutes. After restarting, the battery was at 10%. The Apple Store diagnosed the issue, could not find anything wrong in store, and then took the watch. It was returned 3 days later without having reproduced the issue.
Now, with your additional information about the Always On Display, I have now turned off the Always On display and now I no longer experience the issue, either streaming Apple Music or not.

I have the same issue. I have had series 1, 3 and 4 before the 5 series, and the 5 is the only one that has ever given me any issues. I tried the unpairing and pairing, while setting it as a new watch. I've done the hard resets and the issue continues. This all started after the latest update. I did have the issue early on also after an update. Hoping it irons itself out.

I have a Series 5 LTE I bought a month ago after my 2 1/2 year old Series 3 battery acted up. It worked fine until a few days ago when it died without warning sometime after 2pm three days in a row. I un-paired and re-paired and it worked for a day. Today it was stuck at 100% until after noon. Software is up to date and I did all the battery saving recommendations too. I'm returning it tomorrow and have the 3 back on my wrist.

I'm having this exact issue. First apple watch I've owned and it will randomly shut off, sometimes with a nearly full charge, other times when it's around 40%. The only way to wake it up is to put it on the charger (super handy when I'm out of the house and not sitting at a computer, grrr). I've NEVER received a low battery warning, and most of the time I put it on the charger, it shows at least 75% charged. I sent it back to Apple and their reply was "cannot replicate problem". I asked if I could send the videos showing the problem and they said just follow up with a senior tech. I think I'm just going to return it, honestly, because this is bs. It started when I'd only had it for a week!