Dropbox Pro cuts prices, adds security and power features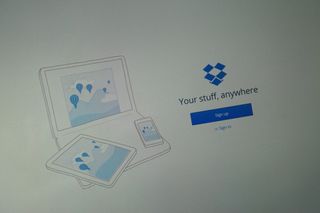 Dropbox is cutting the price for 1 TB of their cloud storage the service all the way down to $9.99 a month. The change shows that the company is going after Microsoft's OneDrive and Google Drive's paid cloud storage services.
Before today, Dropbox Pro offered just 100 GB of space for $9.99, with an upper limit of 500 GB for $500. Now Dropbox Pro's prices are more in line with similar services offered by OneDrive and Google Drive and could generate even more competition in the personal cloud storage space.
Along with the price cut, Dropbox Pro will be getting some extra features, including new sharing controls that will offer better security when sending files to others, and a remote wipe feature that will allow users to delete any Dropbox files from a smartphone or tablet if it gets lost or stolen.
What do you think of Dropbox Pro's big decrease in price and will we see even more cloud storage price cuts in the future from Microsoft and Google?
Source: Dropbox
Get the best of iMore in your inbox, every day!
I have been writing professionally about technology and gaming news for 14 years.
Shouldn't that say 100 GB, and 500 GB, not MB? Posted via iMore App

You beat me to it! Sent from the iMore App

I've used DropBox religiously since 2007 and have referred countless people to their service. With that said, they are way too late to the party in reducing their fees. The others mentioned have inherent advantages even if DropBox's product is superior. I switched to Google Apps for business and get 30GB's along with all of Google's other services for $5/month. With upload speeds bottlenecked, why would I need much more than 30GB's for a non back-up service? This company isn't run very well. They should have set the bar on pricing gaining market share, so they could expand features and services. Steve Jobs was right when he offered these guys $900 million to buy the company out. His point was their service is a feature, not a standalone product.

I hope Dropbox finds a way, because it offers a great service. But that's it: a service. For less than that, I get, for example, MS Office subscription, 1 TB of One Drive and, with the same login, great email service, calendar, contacts, office online etc. What else Dropbox offers? Mailbox and Carousel? Great apps, but just that.

It'd be nice if Dropbox raised their free storage. They start at 2GB free (I now have 8.8GB), but I have 15GB with Google (for mail and storage) and 15GB with OneDrive.

Will people get refund for being over charged in the past?? Posted via the Android iMore App!

No, you can't claim you were overcharged because a company dropped their price down the line. You paid exactly what they charged and you wanted it for that price. If next month, you're charged the original price or didn't get the storage increase, then yes, you should get a refund.

I didn't pay for anything. I was just being an Arse:) Posted via the Android iMore App!

I've been waiting for something like this. I'm still going to see what Apple does with iCloud storage though since I am so invested in the Apple ecosystem.

Dropbox has always been the easiest and most consistent for me to use. I for one will probably drop my other cloud stuff and just go with this. iCloud storage - only useful for phone and iPad backups, and absurdly overpriced. MS cloud - very annoyingly secure. Takes more time to login than does to use it!

So 2Gb free or 1Tb for 10 bucks a month. Where are the in between options. I like Dropbox but they are not getting things right with their service offerings and pricing. They should provide a couple of cheaper choices.
Google Drive have things right, Microsoft have also provided a much more value. I think Dropbox are a little late to change their pricing. Sent from the iMore App

Is anyone concerned that Condoleezza Rice is on the board? Perhaps you should be: http://www.drop-dropbox.com/

You beat me to this. Such a tone deaf move by Dropbox.

Using OneDrive now but this is very enticing considering Dropbox's level of integration in so many things. Holding my cards for iCloud Drive to see what it's all about for now.

Hmmmmm, I may have spoken too soon. Just looked at their website. 1TB is nice and all but i just don't have that much stuff to store. I'd like to see something in the middle like maybe 250GB-500GB? OneDrive has some better offerings.

Best thing about One Drive is that you can simply get a Office subscription for same price and get entire office suite and 1 TB of One Drive cloud space and invite 4 other friends or family members and each get another 1 TB free space. Along with online real time editing. Works with all platforms. It's a win win package. Sent from the iMore App

Blog post headlines keep saying that Dropbox has slashed/reduced/etc their prices, but it's kinda a half truth. Most people were already paying $9.95/month for 100GB. So now you still pay $9.95 and you get a Terbyte, big deal. Show me a solo-entrepreneur, or even a small business that needs that much space. A bigger story is if they'd offer a 250GB or 500GB plan for $4.95. Sent from the iMore App

Dropbox I think feels the competition (which is good for consumers). With a lot of cloud solutions nowadays: Google Drive, OneDrive, Box, SugarSync and Drobo Transporter (just to name a few)--consumers now have plenty of options to choose from.