The ecobee3 wifi thermostat is as smart as it gets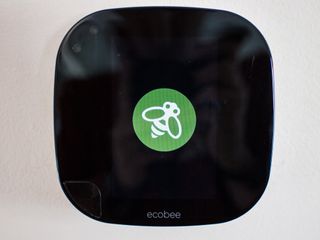 Wifi thermostats are making their way into more and more homes. Gone are the old mercury dials that simply turned your system on or off & adjusted the temperature, here to stay are new devices that you can customize and control from a mobile device when you're miles away from home. In our pursuit to find the best wifi thermostat of them all, we spent some time with the ecobee3 — a new device that has plenty of smart features — and some that make it even smarter than the competition.
The ecobee3 is a simple, understated thermostat that takes control of your smart home and does much of the thinking for you. It's not overloaded with settings that will confuse the average homeowner, but still gives you plenty of control over your entire heating and cooling system. What's awesome about the ecobee3 is that it not only monitors the temperature in just one room like a standard thermostat, but it can actually watch over up to 32 rooms with ecobee3 sensors.
Hardware and Installation
The ecobee3 isn't much bigger than a standard thermostat. It won't take up much space on your wall, and definitely isn't an eyesore like some other, larger thermostats. The only color available currently is black, but even on my white wall, the ecobee3 looks great. It's square with rounded corners, and there are two mounting options available depending on your setup. In most cases, the smaller mounting plate will do best as it sits behind the unit and doesn't protrude around the edges. For those needing to cover up an old install (holes in the wall, mismatched paint) there is a large plate included as well that will do the trick.
The ecobee3 supports conventional 2H/2C, heat pump (4H/2C) including 2-stage, gas, oil, electric, dual fuel, humidifier, dehumidifier, ventilator, and HRV or ERV. Basically, any standard system will be okay with the ecobee3.
If you're even the least bit handy, you shouldn't have too much trouble installing the ecobee3. If you already have a wifi thermostat or powered unit, you're in good shape. If not, the ecobee3 comes with a Power Extender Kit to help with the install. The kit allows you to tap into the powered C wire at your furnace, rather than having to run a new wire up to your thermostat. Having done this in the past, I know what a pain it can be, so the fact that this is even an option when installing the ecobee3 is awesome. This will definitely make life easier for those upgrading from an outdated, non-powered unit.
The box includes a set of labels to stick onto your old wires so you know what's what before you begin. After that, take out the old wires (of course make sure your power is off first), pop off the old unit, and install the ecobee3 back plate. Once you're done, snap on the ecobee3, power things up and you're good to go. The ecobee3 will run you through a quick setup to get everything going and functioning properly. You can use the touchscreen on the unit to get setup, but you'll have to fire up the mobile app too so you can connect your ecobee3 and control things from afar (more on that later).
After setup, the ecobee3 takes a bit to calibrate, so just be patient while it does its thing. When done you can walk away, or dive a bit deeper into the settings to tweak things up as needed.
Using the ecobee3 is easy as can be. Everything you'll need immediately — reading & changing the temperature, checking the weather, viewing the humidity, or getting to settings — is all right on the main screen.
In the middle of the screen you'll see the current temperature. On top sits the system mode (heat/cool/auto/off) and humidity indicator. On the bottom of the screen is the main menu, weather and quick change.
To change the set temperature, simply tap the slider on the right side of the screen and drag it up or down to the desired temperature. The unit will reflect the change, and below the temperature indicator you'll see a note of the current setting.
The bottom left icon gives you access to the main menu, where you'll find everything you need — access to settings, schedule, sensors, comfort settings, vacation, reminders, and more.
Diving into the main menu, you can easily change settings for heating & cooling, as well as your ideal comfort levels. These levels — noted as Home, Away, and Sleep — can be automatically changed on a set schedule, or when your presence isn't detected. The schedule lets you have preset temperatures for every day of the week (or you can just copy one and make them all the same) and it abides by your selected comfort levels. So you can choose to have the heat come on at 6am each day to 68 degrees, then go down to 60 at 10:30pm when you go to bed.
What's cool here is that you can enable what ecobee calls Heating Smart Recovery. With this on, the unit will actually bring your house to temperature by the desired time, rather than power on at that time. For example, I have my house set to heat to 68 at 6am. Rather than the ecobee3 turning on the heat at 6am, it goes on prior to my set time and brings the house up to temperature so it's 68-degrees at 6am. Warm, toasty, and awesome.
Sensors
One of the coolest features of the ecobee3 is the ability to use external sensors in different rooms across your home. So not only will your ecobee3 unit pick up the temperature from where it's placed (your living room for example), but you can also use sensors in other rooms to get an average temperature across the entire house. In my case, my office is always way colder than the rest of my house, so placing a sensor on my desk allows me to have the temperature of the room sent to the ecobee3 where it adjusts the heating accordingly based on an average of the two temps — very cool stuff. Plus you can add in a ton of sensors as you see fit (a two pack is $79) so you can have total control over your home.
The sensors also feature a follow me function, so you can choose to only take into account temperatures from rooms that have recent activity. So if you're not active in your family room or basement, those temperatures won't be included in the average for the home.
The ecobee3 will also pay attention to when you're home or away. So even if your home schedule is running, the device will recognize if you're actually not and then adjust the temperature accordingly. Same if your away schedule is set but someone is actually home. So you can go about your business while the ecobee3 does the thinking for you.
There are plenty of other things to tweak within the settings as well. Home / away modes, temperature thresholds, alerts and more. You can choose how the ecobee3 reacts when you change the temperature during a schedule period (hold permanently, hold until next action). There isn't too much to be overbearing, yet just enough to give you the control you need to have everything set just the way you want.
Of course, you can also control your ecobee3 when you're not in the house using the companion mobile app. The app doesn't have the deep settings of the thermostat itself (nor does it need them) but it lets you control the temperature, turn your system on or off, change schedules, edit vacations, and check alerts among other things.
The main screen of the mobile app essentially mirrors the display on your ecobee3 unit. You'll see the current set temperature, temperature slider, system mode, humidity, and even weather. It's clean, simple, and just plain works. I haven't had any issues with the app whatsoever in my few weeks of use.
The web interface is much of the same, just with more of a dashboard layout and a few different options. But being able to access your ecobee3 from mobile and the web is awesome and super easy.
Although not officially supported, the ecobee3 works with SmartThings as well — so if you're a SmartThings user you can integrate the ecobee3 with your current setup. You'll need to add a custom device type and tweak a few things, but you'll then be able to control your thermostat through the SmartThings app as well — including temperature, system functions, and more. You can also create actions using the ecobee3 like turning down the heat if a door is left open, or turing it up when you arrive home. Loads of possibilites.
I do have to say that I love my ecobee3. I've played with a bunch of other wifi thermostats in my connected lifetime, and so far this is the one that stands out to me the most. It offers features that are on par with other big names like Nest and Honeywell, and it's extremely easy to setup and just plain works. I've had zero issues with it and that's how I like it.
The sensors have been huge for me as well. Having a split-level house I've often had a hard time getting the temperature where I need it on all levels of my home, but thanks to the ecobee3 sensors, I've been able to have more control over what's going on, making for a more comfortable living space all around. (Now I just need more to fill up all my other rooms!)
If you're in the market for a new thermostat for your connected home — look no further than the ecobee3. It's available now for $249 and will pay for itself in no time at all.
Master your iPhone in minutes
iMore offers spot-on advice and guidance from our team of experts, with decades of Apple device experience to lean on. Learn more with iMore!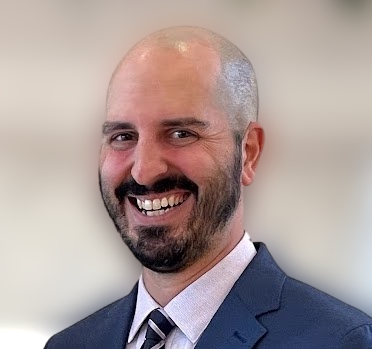 Editorial Director - High Yield
Adam is the Editorial Director of High-Yield content at Future. Leading an outstanding team, he oversees many articles the publisher produces about subscriptions and services including VPN, TV streaming, and broadband. In addition to identifying new e-commerce opportunities, he has produced extensive buying guides, how-to-watch content, deal news, and in-depth reviews. Adam's work can be seen on numerous Future brands including TechRadar, Tom's Guide, T3, TTR, Android Central, iMore, Windows Central, and Real Homes.