Elgato announces Eve connected home accessories, Avea smart light bulbs ahead of HomeKit's arrival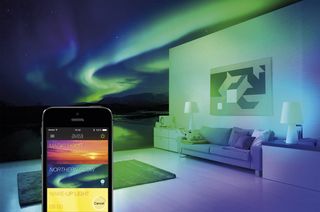 Elgato is jumping into the home automation space ahead of Apple's broader HomeKit push when iOS 8 debuts this fall for consumers. Ahead of Apple's plans and the IFA trade show, the company has announced a range of products under the Eve brand and some colorful connected light bulbs that should integrate nicely into your iOS ecosystem this fall.
The Eve products will come with products to sense when doors and windows are opened, a smoke detector to take on Google's Nest Protect, an energy consumption sensor, and a weather station that measure humidity and temperature.
It looks like Elgato wants to be among the first to support Apple's HomeKit standard with these new products.
Pricing is not yet available and the company says it will announce availability soon.
Additionally, Elgato has also announced a $50 smart lightbulb that can change color and allows you to set the lighting mood. Unlike the Philips Hue bulbs, the Avea smart light from Elgato doesn't need a hub and pairs directly with your iOS device via Bluetooth Low Engergy. You can also set an alarm with the light, which will wake you up with a gentle light so you can have an artificial sunrise to start your day.
Source: Elgato
I love how these product prices are coming down, but without a hub for the bulbs, doesn't that limit the functionality? It would seem you'd have to connect and disconnect to bulbs individually or rely on proximity to your iPhone wouldn't it? I also wonder how/if they work remotely.

iMore must be salivating (!) at the prospect of a significantly increased range of 3rd party accessories that the HomeKit and HealthKit API's will introduce with IOS8, not to talk about he inevitable response from Android and Windows Phone.

Ah, yeah...and your point is.....?

Exactly right, Ladi. Apple needs to develop partnerships. They can't do it all themselves. And they've shown that they're willing to bring 3rd party hardware OEs under their wing. In a way that Google is completely incapable of. Google makes enemies by dumping 2nd best products onto the market at cost or for free. That's how you alienate every potential partner in an industry.

I'm still thinking that the "mystery building" Apple is constructing outside Flint Center is going to be a simulated 2-story home. With HomeKit-enabled devices everywhere (maybe even the garage with CarPlay in a demo car.) All available for the media to try in a realistic home setting.

You may be right. Sent from the iMore App

Sounds interesting.. I wonder which one will come up as the best.

I've had Elgato products for years and they always work really well for me. This new product line looks very exciting and I'm glad there is an interesting alternative to Philips Hue. I hope Australia is included in the first release!
Thank you for signing up to iMore. You will receive a verification email shortly.
There was a problem. Please refresh the page and try again.