Every Exclusive Nintendo Switch Game That Released in 2022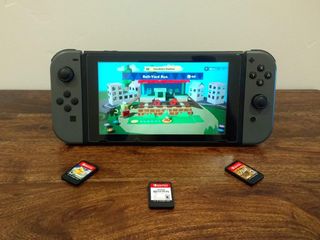 (Image credit: iMore)
2019 was great year to be a Nintendo fan as an impressive number of the best Nintendo Switch games made their way onto the hybrid console. Here's a list of every game that released exclusively for Nintendo Switch in 2019. There are plenty of good ones, so see if there are any that you missed.
(opens in new tab)
Luigi's Mansion 3 - Available Now
★ Featured favorite

The game starts with Luigi, Mario, Peach, and some Toads staying at a luxurious hotel. Things turn sinister when Luigi discovers his friends have disappeared, and ghosts inhabit the building. Using Professor E. Gadd's latest inventions, Poltergust G-00 and Gooigi, Luigi must capture the unearthly inhabitants, battle foes, and search for his missing friends. Expect silly antics and kid-friendly scares as you brave each room.
Exciting games to play
So many exciting games have come out on the Switch this year, and even more, are on their way. We've loved The Legend of Zelda: Links Awakening (opens in new tab) as well as Luigi's Mansion 3 (opens in new tab), and Pokémon Sword and Shield (opens in new tab) has been a blast as well.