Everything we know so far about The Dark Crystal: Age of Resistance Tactics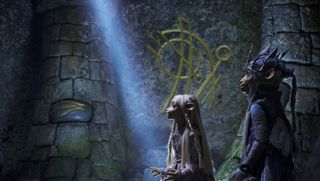 The Dark Crystal is a series based on a movie that came out in 1982. Now, almost 40 years later, Netflix has come out with a series and there's a new game launching! Due to release sometime in 2019, The Dark Crystal: Age of Resistance Tactics is a tactical strategy game that will be available on Nintendo Switch, PlayStation 4, Xbox, and PC. Though there are no pre-orders yet, Steam has a store page for it.
The trailer doesn't reveal too much about content. It looks like it was made for people who recognize the series or have a love of fantasy and tactical games. If you find yourself interested in The Dark Crystal: Age of Resistance Tactics, read on below to see all the information we've been able to pull up!
What is The Dark Crystal: Age of Resistance?
The Dark Crystal: Age of Resistance is a Netflix series that Airs August 2019. It's a prequel to the movie The Dark Crystal that came out in 1982. While the original movie was a high-fantasy puppet film, the Netflix series also features human actors like Rian, played by Taron Egerton.
The story revolves around a planet named Thra and a Dark Crystal that allowed new races to appear in the world. The main antagonist of the series, Skeksis, used the power for consistent regeneration that basically made him immortal. The goal of the movie was for a young hero named Jen to find the broken piece of the crystal, mend the cracks of the Dark Crystal, and complete this goal before the three sun's of the planet align.
In The Dark Crystal: Age of Resistance, the series dates back to before young Jen was tasked with fixing the crystal. Here we learn the story of a band of heroes who are just now discovering the sins of Skesis and molding the rebellion to bring him down.
Besides the obvious fantasy themes of having different types of creatures existing in the world, The Dark Crystal also consists of magic and otherworldly powers.
What will the gameplay be like for The Dark Crystal: Age of Resistance Tactics?
The Dark Crystal: Age of Resistance is advertised as a tactical strategy game. There are 80 turn-based campaigns for you to explore by recruiting allies for the resistance, growing your armies, and upgrading all aspects of your base, gear, and soldiers.
Each challenge will require the player to customize their gear, abilities, and jobs. Once you've made sure everything is perfect it's time to enact your war plans skillfully to take out your enemies. Once you've completed the game, you can either go back and replay levels to get perfect scores or replay the entire game with a different strategy.
This all takes place on the planet Thra with never-before-seen characters from either the show or movie. While you use the skill of these characters to your advantage make sure you also keep an eye on the environment. "Dynamic events" during campaigns can happen on surprise and put your team at a disadvantage.
Check out this Dark Crystal merch!
The Dark Crystal has been around since the 80s, so here are a few gems we found on Amazon for your nostalgic value!
Dark Crystal Short Sleeve T-Shirt (From $9 at Amazon)
T-Shirts are one of the easiest ways to get your friends talking about your passions. Display your love for The Dark Crystal fanbase with this graphic t-shirt!
River Horse Studios Jim Henson's The Dark Crystal: Board Game ($20 at Amazon)
Dust off your old version of this game that still has missing pieces, or relives fond memories with a new set! The board game is another turn-based tactical adventure, just without the electrical screen.
The Dark Crystal DVD ($23 at Amazon)
Call me old school, but there's a specific type of satisfying nostalgia for owning the physical copies of your favorite shows and movies. If you haven't seen The Dark Crystal yet, you can grab a copy of the original movie on Amazon!
Get more iMore in your inbox!
Our news, reviews, opinions, and easy to follow guides can turn any iPhone owner into an Apple aficionado
Essa Kidwell is an expert in all things VR and mobile devices who can always be found with an Oculus Go, a Pixel 2, and an iPhone 7+. They've been taking things apart just to put them back together for quite some time. If you've got a troubleshooting issue with any of your tech, they're the one you want to go to! Find them on Twitter @OriginalSluggo or Instagram @CosmeticChronus.