Fallout 1, 2 and Tactics for Mac and PC free from GOG.com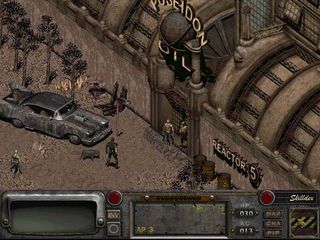 GOG.com is offering Fallout, Fallout 2 and Fallout Tactics for free for the next two days as part of their Winter Promo giveaway. That's a savings of $29.97 compared to their regular price.
The Fallout series is a post-apocalyptic action role playing game series in which you assume the role of a Vault Dweller, the survivor of a nuclear apocalypse who must now roam the radiation-blasted landscape looking for parts to restore the water making ability of their home Vault. Fallout 1 and 2 continue the same story line, set 80 years apart from one another, while Fallout Tactics is actually a spinoff game that focuses on tactical combat rather than role-playing.
Like much of GOG.com's catalog, the three free Fallout games are older - Fallout originally debuted in 1997, Fallout 2 in 1998 and Fallout Tactics in 2001. Also, like many of GOG.com's games, the three Fallout games are not "native" Mac (or Windows) ports - in fact, they run inside of a DOS emulator. Having said that, they work on a wide variety of Intel-based Macs and are a lot of fun to play, so don't let a little emulation stand in your way of having a great time - for free.
Editor's note: As I posted this on Friday GOG.com's web site seemed a bit overwhelmed with traffic, so don't be surprised if you have to retry a few times before the game's download.
Get the best of iMore in in your inbox, every day!
Sounds like a bit of old school fun - right down to the DOS emulation. And at that price, it's just like old school pirating too! xD

Actually GOG updated them, they are now Windows versions in Wine wrappers (using Wineskin). They used to use DOSBox.

This is interesting game for the Mac computer. I haven't really played to many games on my desktop. But, for those that do play, in sure this is a good addition. Sent from the iMore App
Thank you for signing up to iMore. You will receive a verification email shortly.
There was a problem. Please refresh the page and try again.