Flipboard vs Zite vs Pulse: iPad personalized magazine app shootout!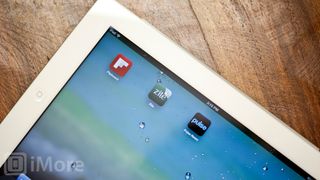 Thanks to its big, beautiful screen, the iPad is a great way to read traditional Newsstand-style magazines in a new, digital way. Because the iPad is online, however, and can be hooked into everything from RSS (Really Simple Syndication) to social networks like Facebook and Twitter, it can also be a lot more. It can be a dynamic, personalized magazine filled with things that are important to you, recommended by the people you trust most, or updated based on your previous likes or dislikes. Flipboard, Zite, and Pulse have all sought to make dynamic, personal, sometimes even social magazine apps for the iPad, and they've all gone about it in a different way. Which one is the absolute best? Lets take a look!
User Interface
Flipboard, Zite, and Pulse all have great interfaces that makes it easy for readers to navigate around and explore news and social sites.
Flipboard is just fun. The cover page is full of big, bold squares and rectangles that highlight photos and images and give you categories to choose from. You navigate by literally flipping the boards to drill deeper into sections and stories. The layout inside the sections is crisp and clean and you can easily flip through until you find a story that catches your eye. Tap a story you like and you're zoomed into a full-screen view. If you want to move tiles around or don't want a specific section, hold down on a tile just like you would to move around app icons on your homescreen. You can then move them around and delete sections you aren't interesting in reading (you can always restore them later via settings if you'd like). Once you're done deleting and organizing, just tap any tile to exit edit mode.
Zite uses lots of white space and it's Top Stories page looks like the table of contents of a contemporary, modern magazine. Sections are off to the side and rendered in big, beautiful type, and individual stories are shown in a spartan, stripped down, almost "read later" style.
Pulse has the densest cover page of the three, and is set on black instead of white. Not only does it fit a lot of content onto one page, but you can swipe through any of the horizontal sections to see even more stories. Tap on one you like and a panel slides over to show you the story. You can swipe sideways inside the panel to move between stories, and because the cover page remains visible, keep swiping between the sections as well to keep browsing even more quickly.
All three are very well designed. However, the award has to go to Flipboard. Everything from the carefully crafted icon to the way pages flip and tiles fold down to view sections is beautiful and intelligently thought out. It's one of those apps that you want to use just because the interface is so enjoyable.
Content
Content is king for a reason. No matter how beautiful an app may be, if there's nothing in it, its value will be limited. When it comes to content, Flipboard, Zite, and Pulse all have their strengths and weaknesses.
Flipboard integrates RSS, Facebook, Twitter, and Instagram as well. So if you're looking for an app that allows you to not only keep up with news but with friends and family, Flipboard offers an incredibly personalized experience.
Pulse allows you to add individual RSS feeds on their own as well as browse for news. There is no Facebook and Twitter integration, though you can sign in with your Facebook account. Pulse will provide suggestions for feeds but nothing that's very customized.
That's where Zite comes in swinging. While Flipboard and Pulse basically pull in the information you've already decided you want to look at, Zite aims to personalize and improve your reading experience over time. When you first launch Zite you can grant it access to your Twitter, Google Reader, Delicious, and Read it Later accounts as a starting point. From there it'll provide you news that it thinks you'll enjoy. If you find a story you don't care for, tap into it and give it a thumbs down. Zite will then stop showing you stories simliar to those. If you find a story, subject, or writer you enjoy following, give them a thumbs up and Zite will pull in more articles that are simliar or by the same author.
Flipboard's Facebook and Twitter integration means you get to see things your friends and the people you follow like. With Zite, you get to see things their continuously refined recommendation engine thinks you'll like. I've found tons of new sites, stories, and writers I enjoy thanks to Zite that I may never have found otherwise, and since I already use Facebook and Twitter in their own sites, I don't feel like I'm missing out by not having them in Zite.
That gives Zite the edge.
Social sharing
Zite, Pulse, and Flipboard all allow you to share stories to Facebook, Twitter, read later services, email, and many more. So there's really no clear winner in this category. Whichever one you decide to use, you'll be able to share things with anyone or any social circle you'd like. All three also support Instapaper and Read It Later.
While Zite and Pulse only allow you to share stories to Facebook and Twitter, Flipboard actually allows you to pull in your Facebook and Twitter feeds. They'll filter in just like news. You can also see who is tweeting stories and you can comment on them as well as @ reply the creator if they're integrated into Twitter. So when it comes to social, all provide integration but Flipboard provides a more in-depth and personal experience.
When it comes to social networking, Flipboard gets the cake.
Cost
All three applications are free in the App Store so if you're debating between one or the other, there's really nothing to lose. Just download all three and stick with the one you find suits you the best.
Tie.
Conclusion
Flipboard is very well put together and integrates social networking in a way the other two don't. If you're heavily tied to Twitter, Facebook, and Instagram, this should be your go-to app. It's also got a unique layout that the others can't quite compete with just yet.
Pulse aims to pack a lot of information on the main screen by using tiles that slide horizontally and vertically. While quick access is important, so is what the app looks like. And to many users Pulse will be a bit too busy. If you're a power reader, you'll likely love Pulse. If not, it can be too much.
Zite has the simplest interface of the three and lets you really concentrate on reading. It may not be as fancy or fun, but for people who just want to read without distraction,
While Flipboard, Zite, and Pulse all make reading news on the iPad an amazing experience, how they handle content is an important part of what makes one better than the other. For this reason, Zite takes the win. It's not only personal to each user, but it grows more personal over time as you use it. The way it recommends new content is something none of the other apps provide. Bottom line, Zite is the best social magazine app currently available on iPad.
Zite - Free - Download Now
Pulse - Free - Download Now
Flipboard - Free - Download Now
Additional Resources:
Get the best of iMore in your inbox, every day!
iMore senior editor from 2011 to 2015.
I could not agree more with your review. I've tried Pulse and Flipboard many times. I've really wanted to love them, especially Flipboard which is so beautifully designed. However, I always return to Zite.
For one thing, I really like how Zite goes out and finds stories from sources I would not have otherwise read based on my interests. I prefer this to having to select feeds beforehand. And, as you mentioned, Zite makes reading those stories an absolute pleasure.
The iPhone app is decent, but on an iPad (especially the new one), Zite really shines and is arguably my favorite app.

I also agree 100%. Have tried them all and Zite is by far the best. I would even pay for Zite if they decided to go that route.

Google Currents? Am I the only one who uses that app?

haha apparently. I downloaded it and opened it once then deleted it after a few months of never using.

Google Currents and Flipboard for me.

I found Google currents to be extremely slow when it came to loading news feeds. If you've got a lot of feeds it has to load them all. It also crashed for me a lot.

These apps are way over-rated, especially Flipboard. People love it because because of the page animation. Just get yourself Mr. Reader, which is better than all these combined.

But Reeder isn't a "personalized magazine type experience" ;)
I use Reeder as well. It's actually one of my all time favorite iPhone/iPad apps. But I use it when I quickly and efficiently need to skim through news and catch up in an organized way.
When I want to kick back and read leisurely or find other articles, authors, and topics that interest me - these options are suited for that. To use Reeder, you "have" to know what you want to read and have feeds already. These allow new users to simply start reading.

I've wondered about these three apps before, but this is the first time I have seen all three in a comparative review. Very well done, Ally. Thanks. Now I know which one will best fit me and my style-Zite.

I agree that Zite is better than Flipboard, but I never tried Pulse. Zite has provided many, many interesting and useful articles. I now have a file of saved emails I've forwarded to myself from Zite with links to articles I want to read etc. (is there an easier way to do this from the iPad?--some sort of save-article-to-read-later function? Sorry for not keeping up on all the apps or IOS or Safari functionality!). My iPad is now making me lose sleep as Zite keeps tempting me with great content!

Martin. Try Instapaper. Fabulous app for reading later.

Thanks, man, I'll give it a try.....wait! Oh, man, I'm such a dope--I already have it installed! I just forgot to see what it's all about. Thanks for the reminder!

Try 'Pocket', it has a fantastic interface!

Zite is the best. Not that the others are bad but honestly I only go to those other ones once I've gone through all my articles in Zite.

Pulse has been my go-to app for a long time. It helps that there's a version on every platform, including WP7. I like the idea of Zite, but I don't really like my content being chosen for me. There are certain sites that I browse every day and Pulse lets me do that at a glance and decide which articles are worth a closer look and which ones aren't. I also like the Readability integration with Pules.
Love Flipboard, but it's more involved. I have to go to each individual feed and look through it, rather than just scrolling and picking the articles I want to read. It's good that the choices are so good that deciding between them is this hard.

I really like Flipboard. Flip is my go to app when I'm lounging around after a long days work. The Facebook/Twitter integration and content is where it's at! After using Flipboard, there is really no need to use social networking and news apps any longer. I have Pulse, but it's too busy for me. I'll give Zite a try to see which place it will end up on my list.

Zite is by far the best, I have no idea why Flipboard is so popular and Pulse is nowhere near as good as either.

Pulse FTW! I have it configured to pull all the blogs from this site and all the other tech sites I visit so it saves me a lot of time having to hit those websites individually. I have no issues with the UI at all in fact, it allows me to more quickly browse what's being pulled down and then decide if I want to read the story or not. I want all that info up front and in my face. Why not? It's that way when I hit the respective websites anyway, only difference is that I'm scrolling sideways instead of down. Pulse is awesome and very well layed out. You can make it as busy or as layed back as you want. No one said you had to put everything on one pane, they just overloaded it in these examples. You could have as little as one site or two sites per pane in Pulse and that alone would free some of the busyness of the UI. I guess some people just don't know how to use the app...

I'm a big fan of flipboard...btw, that's a nice wallpaper you have there...can you tell me where I can find it?

I would if I remembered where I found it ...and I can't find it in my library. Hmmm :\

Weird I was just sitting here thinking about which app I wanted to use to get caught up on all the tech news of the day. I ended up choosing Pulse simply because it aggregates so many different sources into one easy to view menu, and what do you know, the first article I chose is this one. I love Flipboard, but I like to see a snapshot of all the articles and pick and choose which ones I want to read. Also I like the fact that Pulse syncs across all my devices, android and iOS. Pulse is the best for the power user.

I am a heavy news reader and I use numerous news apps on my iPad constantly. Out of these three, Flipboard is the clear winner. It is streamlined, functional and beautiful. Zite p, on the other hand, is slightly clunky and fails to update its news stream on a constant basis. The personalization bothers me as well. News should not be very personalized -- by doing so your worldview can become limited and narrow minded. We already personalize our news by selecting "sections" or certain RSS feeds, it shouldn't go any further.

I would like Flipboard's social sharing aspect more if it could handle multiple twitter accounts.

I like the ability to rate stories on Zite so you can get similar stories. I just like the layout of Zite.

Great article!! Iv been a pulse boy since day one because of the interface and synching across other platforms. But only till recentley flipboard is taking over for me. Its just lovely! Zite is buried somewhere in a folder on my pad, but now have the urge to give it another try :) for people looking for a newspaper layout, try "early edition 2" or "pulp" :)

Ironically, I read this article in Flipboard. But I have both Flipboard and Zite permanently anchored in my iPad's dock. Must try Pulse some time.
Actually, Flipboard and Zite are becoming closer, feature-wise. Zite now lets you add discrete sites as feeds, and Flibboard parses your activities into a top stories section.
The strange thing is that there is nothing even close to this for the Mac.

Zite, is by far the better of the three apps. Zite offers better articles and now with the certain sites partnering with it, it has become even better than before.

Overall, I agree with your assessent of the three news aggregation apps. I haven't had as much experience with Flipboard as the other two, but only because a combination of Pulse and Zite feed my inner news hawk perfectly.
To me, Pulse is the source of quick hit articles compiled from all my favorite news sources and blogs. when I have a quick five minutes to kill, I go to Pulse to get the latest and greatest. What I like most about Pulse is that the app is organized by source. Each row is a different news source or blog that I enjoy, so I no longer have to surf between all those sites to get caught up on al the latest and greatest.
When I have more time to spend, say on a lazy Sunday morning, Zite is my aggregator of choice. By organizing the material into more generalized topics and themes and not specific sources, it offers up sources that I may not be familiar with and thus works to expand on the source boundaries that I naturally place on myself during the week when I am looking for quick updates. Another added bonus is that Zite seems to offer more long-form news articles thatI really enjoy when I actually have time to sit down and read them.
Together, Pulse and Zite satiate my full desire for news. I'm sure Flipboard is a fantastic app- I have heard nothing but rave reviews about it- but I've always shied away from it because I'm more than a little worried that should I try it and get hooked on it, the three apps combined would cause information overload.

I liked Flipboard but I've switched over to Flud now that the latest updates finally made it the slick and fast news reader it always should have been. You can get to your content quicker and I like the feed customisation options a lot more than the above ones. At least in Flud the headlines are not truncated which was my biggest gripe with Flipboard/Pulse.

I loved as much as you will receive carried out right here. The sketch is tasteful, your authored material stylish. however, you command get bought an shakiness over that you want be handing over the following. in poor health certainly come more before once more since precisely the similar just about very regularly inside of case you defend this hike.

hhmmm i haven't even heard of zite before but i've tried flipboard and pulse and their both extremely good i have feeds on pulse which i read nearly all the time -the ones i've added- and ones i read ocassionally -default ones- i loved flipboard because of the page turning and the way it presents stuff in a magazine i might try zite...

Pulse has been my goto app. Recently tried Flipboard which I've liked. Man, this Zite app is amazing. Not sure how I missed this one. I like the facebook integration on Flipboard which is the only reason I didn't delete it along with Pulse.

This is a good tip especially to those new
to the blogosphere. Simple but very accurate information Appreciate your sharing this one.
A must read post!
my web page :: seattle dentist

I agree with everything you said.
I use Flipboard for more entertainment reading and browsing. For these, I can pick an easy set of sources and flip away.
I use Zite for professional news. It's exceptionally useful for bringing me relevant content - much of it from my competition. I always find something good to read when I open the app.
Your points about Pulse are dead on for me. The layout just doesn't do it for me and the stories are often repetitive or irrelevant.

Fantastic article, and I agree wholeheartedly. I have found Zite to be the more accessible and personal news magazine app so far.

Zite is the best...BUT, if you have less than perfect vision, on an iPad mini the fonts are just too small.