The future of apps is services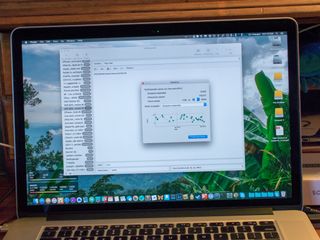 Every Friday, The Network column brings you the perspective and charm of the best and brightest minds in the Apple and tech community. This week we have iMore alumni Peter Cohen. A 30-year Apple industry vet, Peter had careers in tech support and IT before writing for Apple magazines and web sites beginning in the mid-90s. He's currently a technology writer at Backblaze.com and you can find him on Twitter at @flargh.
Developers who can find ways to do it are migrating to a subscription-based publishing model instead of what's become known as a "perpetual license" (pay once and forget about it). Expect this trend to continue. Case in point: Smile Software's newest release of TextExpander, the popular keyboard shortcut utility. Even if you don't welcome this change, it's important to understand what's going on here that's brought us to this point.
TextExpander goes pay-to-play
New versions of TextExpander for OS X, iOS, and now Windows are available for download. Unlike previous releases, the new release requires you to have a new TextExpander.com account. After a free "test drive" period, you'll be asked to pay $4.95 a month for to continue using it (annual discounts and upgrades are available).
The subscription model does more than just enable you to use the app, though. Smile is centralizing online syncing of TextExpander. Owners of the previous release could use iCloud or Dropbox in order to sync text snippets between devices and workgroups. Now that's gone and everything is handled as a service through TextExpander.com, which introduces a web interface to enable you to manage snippets and how they're shared. To help entice businesses to migrate to the new service, Smile's incorporated new team sharing management capabilities.
All told, There's a lot more going on under the hood with the new TextExpander service, which is why Smile wanted to roll its own sync service rather than continue to depend on iCloud or Dropbox.
There's no gun to your head to upgrade, if you're an existing TextExpander user. Your version of TextExpander still works. You got what you paid for. Just don't expect too much more in terms of new features or new operating system support unless you migrate to the new product.
Apps as services
Smile joins some big players at it seeks to reinvent TextExpander as a service instead of as an app you pay for once until the next major upgrade. Take Adobe, for example. The company went all in on the service model a few years ago by focusing development of their creative apps as the Creative Cloud. An ever-growing constellation of new apps and services continue to give creative professionals reasons to subscribe to Creative Cloud products.
Microsoft has done the same with Office, and while Office 2016 is also available with a perpetual license, Microsoft gives users plenty of incentive to subscribe to Office 365 instead, with more flexibility and better features. Office 365 users got the earliest look at Office for Mac 2016 when it made its debut last year.
Even Apple's gotten into the act. Buying an iPhone or a Mac is just the start. If you want to use Apple Music, that's another $10 per month. iCloud is free, unless you need more space. Family plans, added iCloud space and optional services like Apple Music have many of us tithing to Cupertino faithfully every month.
(In the interest of full disclosure: I work for one of those companies I'm talking about: Backblaze.com - we sell cloud-based backup services for Mac and Windows users. Our subscribers pay a flat monthly fee and in turn, we back up their computers to our data center.)
Software as a Service certainly doesn't work for everyone, and Smile is bound to lose some customers as it makes this migration. Other text expansion and shortcut utilities for Mac and iOS are available. Smile's move is likely to spur at least some of those developers to redouble their efforts to win hearts and minds away from Smile.
Likewise, some designers still hold out with their Adobe Creative Suite 6 software or have migrated to other non-Adobe products all together. There are plenty of other productivity apps and suites besides Microsoft Office.
Devil's advocate
As hard as it may be to shift perspective, consider the developer's point. A subscription model offers a regular flow of income, and stops the developer from having to run on what Smile CEO [Greg Scown calls](/e?link=https%3A%2F%2Fwww.shareasale.com%2Fr.cfm%3Fb%3D1215646%26m%3D81274%26U%3D885495%26afftrack%3DUUimUdUnU37197%26urllink%3Dhttps%253A%252F%252Fsmilesoftware.com%252Fsoftware-releases%252Fentry%252Fthe-new-textexpander&token=yVmevOG- "the upgrade treadmill."
That helps to predictably support current and future development efforts, instead of having to plan development cycles on the expectation of a big windfall whenever there's a major new release.
Rather than having to save big ideas for major version releases, new features can be rolled out gradually and incrementally as service improvements, instead of dangling them as enticements to get people to spend money on upgrades. The developer has the incentive to keep service excellent and new features coming, otherwise subscriptions will drop off. When it's done well, it works out better for everyone.
In Smile's case, owning the sync stream makes sense too — it enables them to do more, going forward, with snippet syncing than they could before, as evidenced by the new web-based interface employed by TextExpander, its greatly enhanced workgroup sharing capabilities, and other features (and possibly new products) Smile undoubtedly has planned for the future.
The value of the software has changed for many users, however. There's a big difference between paying once for a utility that you'll use indefinitely and paying every month. Without a discount, you're going to spend $60 a year on TextExpander, a utility whose previous release cost $35, once. Are the new features worth it? What happens if Smile pulls up stakes on the service?
As evidenced by the outcry on social media, some TextExpander customers are not happy with the change. And why should they be? This is getting exhausting.
As I said before, when it's done well, it works out better for everyone. When it's done poorly, customers get screwed. Another case in point: Revolv, a recent Google acquisition that was folded into Nest, the business started around a smart thermostat. Revolv goes dark next month, and anyone with a Revolv hub is going to be stuck with a very expensive doorstop. Televero CEO Arlo Gilbert recently took Tony Fadell and Nest to task for abandoning Revolv.
Death of a thousand cuts
Ever since the personal computer debuted in the 1970s the software business has existed to support it. Personal computer software has gone through multiple iterations and reinventions in that time, just as the computer hardware has.
For years, retailers ruled the roost. Boxed software and heavy bound manuals sat on store shelves. We paid for software when we needed to, and we were done.
As more of us went online, we discovered that we could download shareware. Once the Internet became ubiquitous it became possible to just buy apps through app stores instead. Constant downward pricing pressure in those app stores forced developers to figure out other ways to produce a sustainable income. Once Apple had a mechanism in place, some developers began giving away apps and offering in-app purchases.
To that end, selling software as a service is simply another reinvention. There are already successes, there are already casualties, and there will be more.
The problem, of course, is that all these services add up. And they add up fast. Office 365 costs $10 a month. Adobe Creative Cloud is another $50. $5 for TextExpander.com. Another $5 for Backblaze. Netflix. Hulu. It piles on. Before you know it, you're spending $100 or more on top of whatever your Internet costs.
It feels like the death of a thousand cuts - paper cuts inflicted by small bills. Microtransactions.
Of course, you don't pay your electricity bill or your phone bill just once - you pay it every month, because it's a service you find useful or necessary to your life.
Paying for software in the same way as we pay for electricity may seem odd. Most software isn't as essential as a cell phone or working lights, but the same rule applies for service - you should expect to pay something for its continued maintenance and development.
That is, of course, predicated on the assumption that you find that service worth paying for to begin with. If you don't, you can vote with your wallet. The choice is yours.
Master your iPhone in minutes
iMore offers spot-on advice and guidance from our team of experts, with decades of Apple device experience to lean on. Learn more with iMore!