Game controller support in iOS 7 is a step in the right direction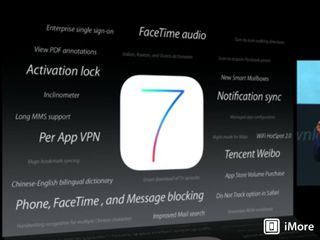 Introducing iOS 7 at WWDC last week, Apple's Craig Federighi mentioned MFi game controller support in passing. Apple's announcement has long-term ramifications for iOS 7 as viable gaming platform.
Made for iPhone/iPad/iPod
MFi is a licensing program Apple offers to developers. It enables hardware makers to certify that their products are up to Apple's spec for peripherals that work with for iPod, iPhone or iPad. The program's been around for a while, and if you've ever seen the "Made for iPod/iPhone/iPad" stamp on the box for a speaker system or peripheral, their manufacturer is part of the program.
Developers involved in the program gain access to hardware and software they need to make their devices compatible and up to spec with Apple's rigorous guidelines. More than just that, MFi is a necessity for any company that wants to make a hardware product sold in Apple retail stores or by Apple authorized resellers.
Game controllers for iOS devices have been around for a while, but up until now, they haven't really had Apple's full sanction. Successful devices like Ion Audio's iCade system have been able to work around MFi by going through Bluetooth instead.
A change of heart?
Games are already the biggest single category in the App Store, so it's entirely reasonable that Apple should bolster support for game devices with the MFi program. Apple has insisted for years that the right way to interact with iOS devices is by using the touch interface to its full potential. But game developers and critics have also insisted for years that many titles for iOS are hamstrung by the absence of proper game controller support.
Games that are created from the ground up for iOS, and ones that are really cleverly designed to work on touch interfaces, won't benefit from game controller support in iOS 7. But there are hundreds, if not thousands of games that will.
MFi is only one piece of the puzzle. Apple has also created a development framework to standardize the way game controllers should work on iOS, to make sure users get a consistent experience from device to device.
iOS, and the devices that operate it, aren't suddenly going to go toe-to-toe with Microsoft, Sony or Nintendo for dominance of the gaming market, and controller support in iOS 7 isn't going to change that. iOS is, first and foremost, a general-purpose operating system designed to appeal to a broad swath of consumers. Some technology Apple has developed for gamers is obvious, like Game Center. Other stuff is more under the hood - OpenGL 4 support in OS X 10.9, for example.
But by embracing support for third party game controllers, Apple shows that it is open to change, and that it's willing to extend the iOS user experience in ways that it has been very reluctant to in the past. And that's a good thing for iOS users and developers alike.
Get the best of iMore in in your inbox, every day!
I was always skeptical that Apple would support this sort of thing, because Steve Jobs said this about smartphone interfaces (that is, pre-iPhone smartphone interfaces):
"The problem with them [these smartphones' interfaces] is really sort of in the bottom 40 there. It's this stuff right here [the keyboards and buttons below the screens]. They all have these keyboards whether you need them or not to be there and they all have these control buttons that are fixed in plastic and are the same for every application. Well, every application wants a slightly different user interface; a slightly optimized set of buttons just for it. And what happens if you think of a great idea six months from now? You can't run around and add a button to these things—they're already shipped! So what do you do? It doesn't work because the buttons and the controls can't change. They can't change for each application, and they can't change down the road if you think of another great idea you want to add to this product."

The thing is, by specifying a standard for games controllers Apple's not taking away anything from touch screen control (in fact your game still has to be designed to work touch screen only). It does add the ability to use control schemes for certain types of games that have proven to work really well and they can be expanded by using game controllers alongside touch control if the designer wants. It's a very good thing.

A game controller SDK is something I asked Apple for via a developer bug report in December 2011. As part of the report I said "Standardizing the SDK would make many more developers want to support it in their games or even update existing games to support it. I really feel that this is the missing piece needed for iOS to become the primary game platform going forward." I was happy to close this bug report (really a feature request) as resolved after WWDC. Now that we have a SDK for game controllers, the next thing we need is the ability to publish apps for the AppleTV. This is where a game controller would let game apps really shine. Let's hope we see third party game apps on AppleTV later this year.

ATV ... hmmm yes I can see the link there. That would certainly be exciting with a dedicated game controller

Interesting. Sent from the iMore App

I wonder if they will also work on Mac Os X 10.9

I would love to see something like a Sony style dual shock controller mated with an iPhone somehow. My biggest criticism of gaming on the iPhone is that touch isn't right for all types of games. This is also potentially a nice response to devices like the nVidia Shield that are attempting to provide Android based dedicated gaming devices.

Considering the iPad's hardware capabilities, high-end gaming seems the next logical step in the device's development. Happy to hear about the upcoming compatibility, perhaps someday I can play games like Rise of Glory in public - you know, without having to swing the dang thing around and look like a crazy person.
Thank you for signing up to iMore. You will receive a verification email shortly.
There was a problem. Please refresh the page and try again.