WWDC Flashback 2013: iOS 7, Mavericks, new Mac Pro and more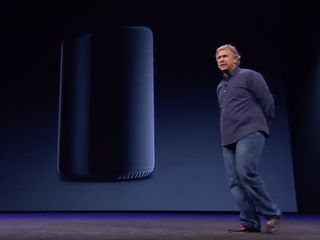 As we head towards WWDC 2014 we thought it would be fun to look back at Apple World Wide Developer Conferences past, what they introduced, and what impact they made. Today let's take a look at WWDC 2013, where Apple introduced iOS 7, OS X Mavericks, new MacBook Airs, new Time Machines and the stunning new Mac Pro...
WWDC 2013 took place from June 10 to 14 at the Moscone West convention center in San Francisco. Tickets went on sale in late April and sold out about 70 seconds later, prompting Apple in 2014 to offer WWDC tickets to registered developers for the first time in a lottery.
WWDC 2013 was a crucial year for iOS. Apple had reinvented iOS in the biggest single update since the iPhone was introduced in 2007 when it unveiled iOS 7, featuring a radical visual departure from previous releases. iOS 7 — the first version to be spearheaded by Apple's design chief Jony Ive — focused on clarity by removing unessential interface elements, shifting buttons to tinted text and simply getting out of the way of contents and apps. The entire interface was cloaked in a physics and particle engine that shifted as you moved the device, building a parallax engine into the home screen.
Other new features of iOS 7 included Control Center, to make it easy to access commonly-used apps and features, an enhanced Notification Center, multitasking, AirDrop and more.
By comparison, OS X Mavericks didn't have the visual pizzazz of iOS 7, but sported a lot of under-the-hood changes aimed at improving performance and efficiency, especially for laptop users. Losing the big cat moniker for the first time, OS X Mavericks is named for an infamous surf break not too far away from Apple's Cupertino headquarters.
With timer coalescing, App Nap, memory compression and other features, Mavericks makes the Mac operate more efficiently with less power and better performance. But there are some interface changes, too, like tabbed Finder windows and better document tagging. Multiple display support was enhanced, and Maps and iBooks applications have been added. Notification Center was dramatically improved with Mavericks, as well.
Cloud services got some important updates at WWDC, too. Apple introduced iWork apps for iCloud, making it possible for iCloud users to work on their Pages, Keynote and Numbers documents without needing a Mac or iOS device at all. And with pressure mounting from streaming music services like Pandora and Spotify, Apple introduced iTunes Radio.
Apple also introduced new MacBook Air laptops, the first Macs to feature Intel's Haswell CPUs, which enable heretofore unimaginable battery life for MacBook Airs - up to 12 hours of continuous use between charges for the 13 inch model. The upgrade also gave Apple a chance to incorporate 802.11ac Wi-Fi networking, with an overall speed boost of up to 3x provided you're using an 802.11ac base station. That's why Apple introduced new AirPort Extreme and Time Capsule devices at the same time.
Apple also took the wraps off a machine that wouldn't ship until late December, but one that got Mac hardware fans excited: the radically different Mac Pro, a machine presumed dead after Apple discontinued the earlier model, which languished for years.
One-eighth the volume of its predecessor and turbine-shaped to speed the removal of warm air from its unified core, the Mac Pro is a parallel processing powerhouse, featuring a Xeon processor with up to 12 cores and twin AMD FirePro workstation-class GPUs. SATA hard drive bays are gone, in their place went PCIe-based flash storage, and RAM with twice the bandwidth of the old Mac Pro.
Give it the keynote a watch and let me know — what do you think of WWDC 2013 and what, if anything, does it make you hope for at WWDC 2014?
Get the best of iMore in your inbox, every day!
This was the best WWDC ever. :)

I miss the "wooden bookshelf" in iBooks in iOS 7.

The MacPro nailed the whole show.
The iOS 7 was a worthy update. Sent from the iMore App

The MacPro nailed the whole show.
The iOS 7 was a worthy update. Sent from the iMore App