Gmail: Everything you need to know!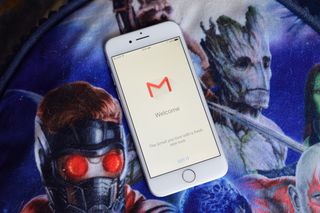 (Image credit: iMore)
Gmail is Google's email service. With over 1 billion active users, it's one of the most popular email platforms in the world. What makes Gmail stand out from the rest and why would you use it over other platforms?
Here's everything you need to know!
What's new with Gmail?
April 12th 2018: Gmail for web is getting a facelift
Gmail is currently testing a new design for Gmail on the web to bring it more inline with the Gmail mobile app.
The new design includes a few features that were originally introduced for Google's Inbox app including smart replies and snooze.
Smart replies gives you the option of quickly replying to emails with pre-made suggestions, while the snooze features enables you to tempoairly remove emails from your inbox until a certain time.
No exactly release date is known as of yet, but the updated design should be rolling out in the next few weeks.
First off, how much does Gmail cost?
Free! Gmail is completely free to use. You can, of course, pay for premium features, like more inbox storage and that sort of thing, but if you don't need that, then you're good to go!
There is, however a paid version, which lets you choose a custom email domain, like your company name, and you get unlimited group email addresses, 99.9% guaranteed uptime, twice the storage of personal Gmail (30GB), no ads, 24/7 support, Microsoft Exchange support, and more.
So if you're switching to Gmail with business in mind, you'd probably want to opt for the paid version.
Prices start at $5 per month, per user.
Does it work just like my current email service?
Yes and no. Gmail is incredibly Google and works in a very Google-like way, which is why it benefits from so many features. Google does make Gmail accessible via traditional POP and IMAP protocols as well, though, if that's your bag. (Also via Exchange, if you opt for the business version.)
You can head to google.com and sign in there or you can download the iOS or Android app.
You can send text emails, attach files, photos, and videos, Cc, Bcc, etc. — it's a full-featured email client.
Do I need to switch to Android to be able to use it fully?
Absolutely not. The iOS app is robust and was recently overhauled to look and work in almost the same way the Android app does. You get every feature, including the ability to delete emails from your lock screen. If you want a Gmail account but prefer the iOS Mail app, you can easily add your Gmail account and get all your email that way.
Can I migrate my existing email?
Yep! Google has some migration tools you can use to make the whole process easy and efficient.
Can I have multiple email addresses?
You bet! Using your original Gmail ID, you can create up to 30 email aliases. Sick of receiving mail on one of those aliases? Just delete it and the spam stops!
Does anything else come with a Gmail account?
And how! Signing up for Gmail doesn't just get you an excellent email client; you get access to the entire "G Suite", which is Google's suite of cloud apps, including Docs, Sheets, Drive, Calendar, and more.
These apps don't cost you a thing, and you can access them from just about any device, via the web or the corresponding app. Docs is a great word processor; sheets is a spreadsheet app á la Excel; Drive is where you can store all of your files (up to 15GB of storage for free); and Calendar lets you keep track of all of your events and reminders.
Do I have to use all of those apps?
Nope, not if you don't want to. Google includes G Suite in order to complete your user experience. That way, you sign in once, and you have access to everything you need, be it your notes, spreadsheets, slideshows, whatever. If you prefer Microsoft Office or whatever you're already using, you never have to touch anything but your actually email if you don't want to. Just know that it's always there if you need it.
Is it secure?
Gmail is quite secure, and if you're unsure, it supports two-factor authentication, so you can rest assured that if your password's ever figured out by those who would do harm to your account, they would still need the six-digit code to sign in.
You can also enable S/MIME protocols to encrypt your emails in transit.
Is it private?
Google is an advertising company. As such, it's algorithms do scan mail so Google can display ads that are as relevant as possible to your interests. That way you're less likely to be annoyed and more likely to click or tap on those ads.
All that data is anonymized and kept secure by Google, and isn't sold off to any unsavory marketing types.
You're going to have to decide if that's fair payment for the mail service.
Should I switch?
If you're perfectly happy with your current email client, then there's really no reason — it's all up to personal preference at the end of the day. However, if you are considering switching, then Gmail is easily one of the best email clients around because you get so much more than email.
Any other questions about Gmail?
Let us know in the comments below!
Master your iPhone in minutes
iMore offers spot-on advice and guidance from our team of experts, with decades of Apple device experience to lean on. Learn more with iMore!
Mick is a staff writer who's as frugal as they come, so he always does extensive research (much to the exhaustion of his wife) before making a purchase. If it's not worth the price, Mick ain't buying.