Google Home vs. Amazon Echo: 8 Differences You Should Consider Before Buying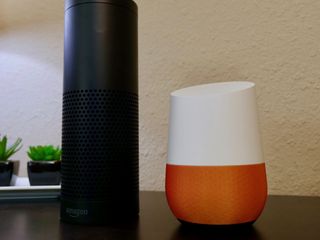 So you've decided you want to add a smart speaker to your home, eh? Maybe you like the idea of using your voice to control your smart home. Maybe you're looking forward to listening to music. Maybe you just want a (slightly robotic) friend you can count on. Whatever the reason, you've got a question that needs answered: Between the Amazon Echo and the Google Home, which smart speaker is right for you?
Amazon Echo and Google Home are both always-on smart speakers, devices that play media and feature intelligent assistants that respond to voice commands. The Amazon Echo is a tall, cylindrical tube with built-in 360º omni-directional speakers and seven microphones touting "far-field voice recognition" that allow the device to hear you no matter where you are in the room. Google Home is a shorter, squatter device that looks more like home decor than its taller counterpart. It packs in a hi-fi speaker and microphones with "far-field voice recognition" as well as a touch surface on the top of the device for controlling the system with your hands. The Amazon Echo features Amazon's intelligent assistant, Alexa, which gives the device access to an ever-growing list of smart home technology and other integrations. Google Home touts the Google Assistant, an intelligent assistant powered by Google's knowledge graph, AI chops, and integrations with your personal data.
For the most part, the competing smart speakers offer similar features in differently shaped packages. We've seen the companies take cues from one another, announcing features and improvements that are often a little too similar to be a coincidence. Still, there are quite a few things to consider — both minor and major — before you adopt a smart speaker, even if some considerations will be based entirely on personal preference. Luckily, I have and use both the Google Home and Amazon Echo in my home. Lets take a look at some of the objective differences between the two devices to help you decide which device is right for you.
Do you even Google?
This consideration is almost entirely focused on the Google Home smart speaker. If you want to get the most out of your Google Home, you're going to need to use Google's services (Gmail, Google Docs, Google Calendar, Google search, etc.). The device can help you get to work on time, remind you of upcoming appointments, notify you of a flight delay, and more, but it has to be able to get that information from somewhere. That somewhere — you guessed it — is the company's various services. If you don't use Gmail, maintain a Google calendar, or manage documents with Google Docs, your money is better spent on an Amazon Echo. Because there's no Amazon Mail or Amazon Docs, the smart speaker integrates with the services you already use.
To be clear, not using Google's services isn't an automatic deciding factor in your quest for the best smart speaker, it just limits the full potential of the Google Home. If you want to get the best possible experience out of the device, you're going to want those Google tie-ins.
Music and media streaming
For the most part, Google Home and Amazon Echo offer similar music-listening experiences. Both integrate with Spotify, Pandora and their own respective music streaming services (Google Home has YouTube Music and Google Play Music; Amazon Echo has Amazon Music). That's where the similarities end, however.
Firstly, Google Home has a better speaker system hands down. The built-in Hi-Fi speaker sounds heaps better than Echo's speaker.
Although Google Home has an update coming that'll enable this feature (eventually), it doesn't currently offer Bluetooth streaming. Right outta the box, you can connect to the Amazon Echo over Bluetooth and stream any audio content you choose. For now, if you want to stream audio to Google Home, your app or service of choice will need to support Chromecast.
Lack of Bluetooth sucks, but there is one advantage to the Chromecast requirement: multi-room audio. You can stream audio to any or all of the Chromecast-enabled devices in your home and control playback with your Google Home.
Design
Design considerations are mostly subjective, yes, but they can help you decide on the right smart speaker for your home.
With its unique shape, customizable base, and small size, I personally think Google Home is the better-looking device. Google Home is a statement piece — as much a unique piece of home decor as it is a smart speaker. Its brightly colored base and unique curvature will draw attention. If you want your smart speaker to stay hidden (like your Wi-Fi router), Google Home might not be the best choice.
The Amazon Echo is a tall, stark cylinder that comes in two colors: black and white. It's a little reminiscent of a desktop tower fan or air purifier. It's more appliance than art piece. The Echo's trademark blue LED ring adds a pop of interest to an otherwise understated design. The Echo isn't likely to turn heads, so if you want your smart speaker blending in with your environment, if you want your voice assistant to be a disembodied voice from above, the Echo's right for you.
Microphone(s)
Both Google Home and Amazon Echo feature something called "far-field voice recognition." The technology allows the smart speaker to hear you and understand you no matter your distance from the device. It's what lets the Amazon Echo in my living room hear me say, "Alexa" when I'm two rooms away.
Google and Amazon used two different strategies when implementing their far-field voice technology. The Echo is jam-packed with far-field microphones that listen for voice and background noise to better "hear" which is which and understand your voice. Google Home doesn't have as many microphones, instead relying on Google's natural language processing to understand your voice and process your queries. In practice, the Amazon Echo's many-mic approach was the better choice. The Echo can hear me throughout my entire home and has far fewer false positives (incorrectly recognizing its wake word) than Google Home. If you think you'll be issuing commands from all over your home, the Echo is a better choice.
Expandability
Both the Amazon Echo and Google Home offer some level of multi-device functionality. That is, you can have multiple Amazon Echoes and multiple Google Homes in one environment and the devices will function as a whole-home smart speaker system. Google's one-size-fits-all approach, however, might deter you from going multi-device with Google's smart speaker. You'll need to buy multiple Google Home smart speakers to outfit your home with a Google Assistant-powered setup. Sure, the devices will communicate with one another and offer multi-room support, but buying multiple Google Homes starts to get pretty pricey. With Amazon Echo, you can buy one full-sized Echo to act as your main point of contact with Alexa and outfit the rest of your home with the less-expensive Echo Dot. The Dot doesn't have great (or even good) built-in speakers, but it's meant to be connected to external speakers anyway.
If you want to save some dough while outfitting your home with a smart assistant and smart speaker awesomeness, Echo's the way to go. If you're all-in on the Google Assistant and Google's good-lookin' Google Home (and don't mind spending the extra cash), the Home makes sense for you.
Home automation
Although Amazon used to have a huge lead on Google, the companies are now neck-and-neck when it comes to home automation. Both Google and Amazon move quickly to add new smart home integrations to their respective platforms. Here's a list of compatible home automation products for Amazon Echo and Google Home:
Switches and Bulbs
Philips Hue Bulbs, Lights, and Lightstrips
Lutron Caséta Switches & Dimmers
LIFX Bulbs and Lightstrips
Insteon Lighting
TP-Link Switches and Bulbs
GE Link Bulbs
Haiku Home Select Lighting
Stack Bulbs
Outlets
WeMo Plugs
TP-Link Plugs
iHome Smart Plug
D-Link Smart Plug
iDevices Smart Plugs
Locks
August Smart Lock
Schlage Touchscreen Deadbolt
Schlage Connected Keypad Lever
Yale Assure Lock
Yale B1L Lock
Yale Key Free Deadbolt
Yale Push Button Deadbolt
Yale Push Button Lever Lock
Yale T1L Lock
Yale Touchscreen Deadbolt
Yale Touchscreen Lever
Kwikset SmartCode Deadbolts
Kwikset SmartCode Levers
Kwikset SmartCode Touchscreen Deadbolts
Note: Most of Amazon Alexa's lock compatibility comes by way of its integration with the Samsung SmartThings Hub and Wink Hub.
Thermostats
ecobee3 & ecobee3 Lite Thermostat
Nest Learning Thermostat
Lyric T5 Thermostat
Sensi Emerson Thermostat
iDevices Thermostat
Honeywell Lyric Thermostat
Tado Thermostat
Carrier Côr Thermostat
Appliances and Misc.
Racho Smart Sprinkler Controller
Samsung Robotic Vacuum
Switches and Bulbs
Philips Hue Bulbs, Lights, and Lightstrips
TP-Link Bulbs and Switches
LIFX Bulbs and Lightstrips
Some switches and bulbs available to Samsung SmartThings and Wink Hub 2
Outlets
Insignia Smart Plug
TP-Link Plug
WeMo Plugs
Some outlets available to Samsung SmartThings and Wink Hub 2
Sensors
First Alert OneLink Smoke and Carbon Monoxide Alarm
First Alert OneLink Environment Monitor
Some sensors available to Samsung SmartThings and Wink Hub 2
Cameras
Locks
Thermostats
First Alert OneLink Thermostat
Nest Learning Thermostat
Honeywell smart thermostats
Some thermostats available to Samsung SmartThings and Wink Hub 2
Appliances and Misc.
First Alert OneLink Safe
IFTTT integrations
Frigidaire smart appliances
Rachio Irrigation and Sprinkler Controllers
Other appliances and accessories available to Samsung SmartThings and Wink Hub 2
Proactivity
Google's pretty well known for its ability to leverage the data you've given it to provide a better, more personal experience — much of that already exists on the Google Home and the company plans to make it even better soon. Google will be rolling out an update to Google Home that adds proactive updates to the smart speaker. When the Google Assistant has access to your data (calendar, location information, mail, etc.) it can alert you with proactive notifications. For example, if you get an email letting you know your flight is delayed, you'll see Google Home's light ring light up. When you see it you simply ask the device, "Hey Google, what's up?" and the device will let you know what's going on. It can alert you of traffic so you leave for work on time, remind you about upcoming appointments, and more.
Amazon Echo is not a proactive device. Other than timers, alarms, and reminders, the Echo doesn't do much operating on its own or independent interactions. You activate the Echo, talk to it, and it responds.
If you want a smart assistant in your smart speaker that occasionally checks in on you (instead of the other way around), Google Home is the right choice. If that proactive back-and-forth puts you off, Amazon Echo is probably better for you.
Price
Once you understand the differences between the two devices, pricing can better help you arrive at a decision. Google Home comes in one size. Amazon, on the other hand, offers several Alexa-enabled, smart-speaker-style devices.
What do you think?
Were you able to come to a decision? Still have questions about the two smart speakers? Gimme a shout in the comments or over on Twitter and I'll try to clear things up for you!
Master your iPhone in minutes
iMore offers spot-on advice and guidance from our team of experts, with decades of Apple device experience to lean on. Learn more with iMore!
Mikah Sargent is Senior Editor at Mobile Nations. When he's not bothering his chihuahuas, Mikah spends entirely too much time and money on HomeKit products. You can follow him on Twitter at @mikahsargent if you're so inclined.