Google overhauls the iOS Gmail app for the first time in nearly four years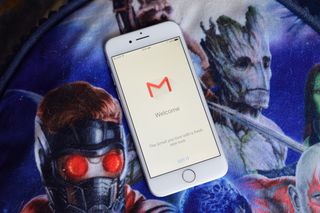 (Image credit: iMore)
My first smartphone was the iPhone 5. After some frustration, I switched to Android for a bit, and then came back for the iPhone 7. One thing I truly loved about Android was its Google Apps experience. The Gmail app for Android is intuitive, laid out nicely, and ultimately easy and convenient.
Returning to iOS with much of my data tied up in Google Drive, I downloaded the Gmail app and immediately felt cold, alone, and like Bambi watching his mother being shot (OK, that might be a bit dramatic).
The Gmail app for iPhone just wasn't a good time. Until now!
Everyone loves a comeback
OK, the Gmail app never really went anywhere, but my iPhone-using friends with Google accounts weren't using it. That's because it felt stilted and far less intuitive than its native counterpart. I mean, come on — swiping to delete might be its best feature! The lack of features was, to put it lightly, lame.
Remember Space Jam, when all the Looney Tunes get together and "spit shine" that gym until it's gorgeous? That's what Google did in the latest Gmail app update. It's a Google app, on an iPhone, that actually feels like a Google app, and I love it.
Hey, ma, look what I can do!
The latest update doesn't just come with a facelift; the iOS Gmail app has a few new tricks up its sleeve.
SWIPE TO DELETE IS FINALLY HERE!
There's nothing more annoying than having to select emails, one by one, and then tapping to delete, or selecting them all and tapping to delete. Just like in the Mail app, you can now swipe to either archive or delete email (you can change the action in the account's settings within the app).
Searching was a major pain in the ass before, too. Now you can search much faster, and live search options will populate as you type, so if you're in the mood for productivity, the Gmail app now saves you time when you're looking for old email.
Save face before actually needing to
A collective sigh of relief swept over Googledom when Google introduced the Undo Send feature for desktop. You can now do it in the iOS app, so if you've sent an email riddled with typos, or you accidentally called the boss Mom, you can quickly undo sending the email and no one will know. (I mean, you'll know, and you'll have to live with that for the rest of your life. But no one else will know. Well, Google might. But no one else.)
Google plays nice
Is this a gesture of good faith by Google toward iPhone users? Who knows? Either way, it's a smart move on Google's part, especially if it actually want folks using its apps.
Will this sway anyone at this point? Perhaps not. I set up Outlook a while back and getting into a new email app can be a bit tedious. That being said, the Gmail app recognizes the Google accounts on your iPhone and has them ready to go when you launch the app, so it wouldn't be all that difficult.
I think that the best thing this update has going for it is that it makes it that much easier for Android users to transition to iPhone, which might make them want to stick around a little longer. To be fair, Google's apps are great to use — on Android devices. Making them more Google-y for iOS is a smart move.
Maybe it was everyone saying that the Pixel is Google's iPhone!
Calendar gets some love too!
Google didn't just overhaul the Gmail app; it added some shiny new features to Calendar to make things more Google-y as well!
Why this wasn't a feature before, no one knows
You now have Month view and week view in landscape. How you have a calendar app with no month view, I don't know, but Google finally added it. Rejoice and enjoy.
Spotlight search support is now a thing! You can search for Google Calendar events, reminders, and more!
12 months ain't for everyone
The iOS Google Calendar app now supports alternate calendars, so anyone looking for dates on non-Gregorian calendars can find what they want.
Are Google and Apple buddy buddy now?
No, presumably not, but Google sprucing up its apps to function like they're supposed to is a boon to those coming from Android or those who just like the look and feel of Google apps. Is it a bit late in the game to attract new users to these apps? Probably, but as folks constantly switch teams, this is a positive step for Google, and a wonderful change for anyone on iOS looking for a decent email app and having to use Google Calendar.
Your thoughts?
Do you use the Gmail app now? Will you make the switch now that it's awesome? Do you use Google Calendar? Let us know in the comments below!
Master your iPhone in minutes
iMore offers spot-on advice and guidance from our team of experts, with decades of Apple device experience to lean on. Learn more with iMore!
Mick is a staff writer who's as frugal as they come, so he always does extensive research (much to the exhaustion of his wife) before making a purchase. If it's not worth the price, Mick ain't buying.