GROW Duo is a connected planter that lets you easily grow your own salad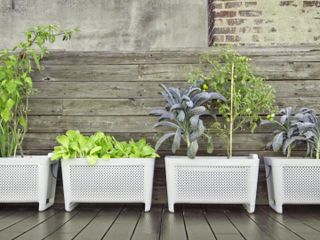 GROW, a company that wants to make self-grown healthy food accessible to everyone, recently announced Grow Duo, a smart planter that helps your garden thrive without fuss.
According to the company's website, each GROW Duo kit consists of a GROW Duo smart planter complete with embedded sensors, a hose connector and water tube, a bag of organic potting soil, two AA batteries, two watering heads, and two starter seed sheets (a "salad mix" and an "herb mix.")
GROW Duo planters are powered by the aforementioned AA batteries. You place them outside your home, and then connect them to a hose or faucet. An important part to note there is "outside your home" — while you can have GROW planters in any outdoor environment, urban or suburban, they need to be outside in order for the self-water feature to function properly (as well as for the successful growth of plants like tomatoes that require sun). This is a bit of a bummer for those of us who live in apartments with no balconies or outdoor space, but I digress. According to GROW's site, installation is fairly simple: all you have to do is connect the planter to your water source, sync it with the GROW app via Bluetooth, and then add your potting soil and seed sheets.
GROW Duo is equipped with multiple sensors that constantly asses everything in the plants' environment, from soil temperature and moisture to light to air temperature. Then the planter and the app will consolidate that data with the needs of your chosen plants and then water them accordingly, meaning you can reap an amazing harvest from even the most inhospitable garden. Because GROW Duo only gives your plants the exact amount of water that they require, GROW claims that there is no overwatering, underwatering, or water waste. If you hate bringing your plants in, GROW Duo can even remain outside all winter in some locations. However, if you live in a location where freezing temperatures are a common thing, your GROW Duo app will alert you about when you need to disconnect your planter from your chosen water source.
If you need more herbs and veg than one GROW Duo can hold, you can connect up to 10 of them to the same water source and each other, giving you a ton of space for all your treasured seedlings.
What's all this about an app?
Your GROW Duo must be connected to the GROW app in order for the sensors to function in tandem with GROW's PlantAI. The app gives you notifications to let you know how best to take care of your plants, and tells you when to do everything from pruning to planting your seeds to adding plant supports to harvesting. The app will be available for both iOS and Android.
The GROW Duo starter kit is currently priced at $199.99, and is available for preorder on GROW's website.
Note: Preordering items from an unestablished company involves a certain level of risk. Because this company is a startup, we cannot assure the deliverability of its products.
Thoughts? Questions?
If you don't have a green thumb, do you think GROW could be the solution to your gardening woes? If you're an experience gardener, how do you feel about GROW? Let us know in the comments!
Tory Foulk is a writer at Mobile Nations. She lives at the intersection of technology and sorcery and enjoys radio, bees, and houses in small towns. When she isn't working on articles, you'll likely find her listening to her favorite podcasts in a carefully curated blanket nest. You can follow her on Twitter at @tsfoulk.
Thank you for signing up to iMore. You will receive a verification email shortly.
There was a problem. Please refresh the page and try again.