Habit List for iPhone review: Keep track of your habits and set attainable goals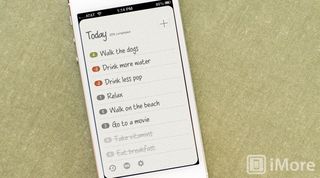 All of us have bad habits we'd like to break and replace with good ones. Habit List for iPhone allows you to add goals that you'd like to achieve either on daily, weekly, or unscheduled intervals. Once you've completed a goal you've set for yourself, you can swipe to mark it off. As you start doing things every day, you'll notice that you obtain streaks within Habit List. If you forget to do things or fall off schedule, you'll see a negative streak for the days you haven't met your goals for accomplishing certain habits.
Habit List makes it easy to start using it and adding things. Once you've launched the app you'll be automatically taken to today's date. Just start tapping the "+" sign in the upper right hand corner to add new habits you'd like to make for yourself. The cool thing about Habits list is that there are several options as far as notifications and intervals. You can set habits to repeat every day, every few days, or just set them loosely so you set a goal to do them so many days a week.
Next to each habit, you'll see a number off to the left. This number represents your streak and how many times you've completed that habit in a row when it's scheduled. If you see a red number with a negative sign in front of it, that means you've missed performing that habit for that many days. Completing it will bring the count back to 1 and you'll start over on your streak.
Tapping on any habit within a list will show you statistics on that habit in weekly breakdowns. You can see a calendar view that'll show you how many times you've completed a particular habit followed by a completion rate percentage based on how many times you've achieved it and missed it. Along the top you can toggle between calendar view and stat view. Stat view will show bar graph representations that'll break down how many times you completed that habit in any particular week. At the bottom you'll also be reminded how many times you've chosen to do that habit.
From the Today screen you can tap on today or tap on the lower left icon in the bottom menu to pull out the submenu. Here you can jump to different days so if you forget to mark off a habit from yesterday, you can always jump back in and mark it at any time. To mark something as complete, just swipe across the title of it and you'll see a line appear through it which marks it as complete for the day. You can also tap on the repeating items icon in the bottom navigation in order to view what habits you've set to repeat. Here you can also reorder how they show up in your lists.
The good
Absolutely gorgeous interface
Streaks make you more aware of where you stand at a quick glance
Notification support makes it easy to remember to do repeating items every day
Passcode lock support
The bad
Would be nice to see support for monthly tasks but it's not a deal breaker
The bottom line
We've all got bad habits we want to replace, but in order to do that we typically have to put better ones in their place. Habit List can easily help you do this. With the ability to create rigorous habits or looser ones, it's got options for any kind of habit you'd like to form.
If you're looking to make some changes in your daily routine, Habit List make be just what you're looking for.
Get the best of iMore in in your inbox, every day!
iMore senior editor from 2011 to 2015.
it kinda looks like reminder, just that this one have more features and a better design

Thanks for the review Allyson. You'll be happy to hear that longer-term frequencies (bi-weekly, monthly) will be coming soon!

This appears to be a cool app. It's not anything that my calendar and reminders won't do, but it specifically focuses on that area. Great review!

I'm trying it now. It offers the same functionality as other habit apps I've tried. The ability to set repeat intervals is a nice option for those who need it. Most of my habits are daily so I don't think I'd ever use it. The interface is really nice, most of the habit apps I've tried have a nice interface but this one is probably the best. I appreciate the ability to change fonts and rearrange the order of habits. One thing I wish this app had was the requirement (or option) to go in and check when you did NOT do something. With apps like this I'm more likely to pay attention to the app or do the habit if I have to be somewhat accountable by marking that I didn't do the habit each day (vs. training myself to just ignore the app). ETA: I must be missing something because the pictures above show a negative count so it must keep track of when you don't do something, I'm just not able to see it in my app. The things I didn't do yesterday show a 0 today and not a -1. Maybe I have to do them at least once before they start counting?

Yes you've got to do them at least once before it starts tracking streaks and missed days.

have you ever come across an app that can be used in business for staff. For example if I host a staff meeting and delegate tasks to staff, can they be placed on a shared app that allows the staff to input progress on items that can viewed by everyone?
Thank you for signing up to iMore. You will receive a verification email shortly.
There was a problem. Please refresh the page and try again.