Apple Watch Series 9 vs Apple Watch Series 7: Should you upgrade?
Should you upgrade your watch?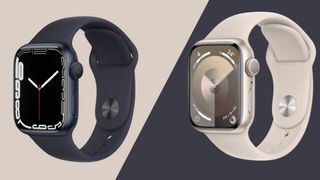 (Image credit: Future)
The little things
The Apple Watch Series 9 is a muted update on the Series 8 but still a very impressive watch. Though it has a new more powerful chip and the brightest screen on a non-Ultra Apple Watch, it doesn't look any different from the outgoing Series 8. Unless you like pink. Against the Series 7, however, things are a little more encouraging.
For
The S9 SiP
An extra color option
A brighter display
Improved on-device Siri use
Against
More Expensive
A granular update to the Series 8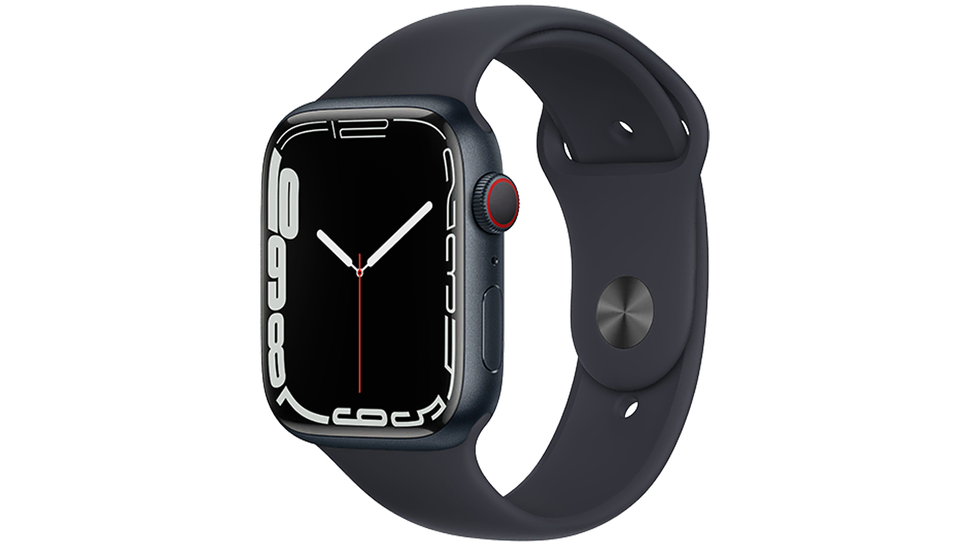 Still standing
The Apple Watch Series 7 is starting to age a little bit but, with it coming in the same sizes at a very similar weight to the Series 8 and 9, it's a worthwhile choice for anyone looking for a cheap watch. You can even get it for less now that the next watch has launched if you're able to find one.
For
Going to be much cheaper
Still performs admirably
Against
Less bright
An older chip
No double tap
Over the past few years, many of the flagship Apple Watches have gone for small but positive changes rather than a big move that changes up the future of the device. Apple Watch Updates instead tend to be more incremental, building on the device each year.
However, the Watch Series 9 does have a few upgrades worth talking about, from a better chip to a smart temperature sensor. You will notice the difference if you put down the extra cash for it.
'If you skipped on the Series 8 because your Apple Watch Series 7 was just fine, the Series 9 might be the one for you. We finally have a new chip in the Apple Watch which is going to make using it much snappier, not to mention that double tap gesture is a game changer. The new UWB chip enables all sorts of cool interactions, such as controlling the music playing on your HomePod directly from your watch. The display is also twice as bright, which means viewing your watch outdoors and in brightly lit areas will be a much nicer experience.'
Apple Watch Series 9 vs Apple Watch Series 7: Specs
You can always trust iMore. Our team of Apple experts have years of experience testing all kinds of tech and gadgets, so you can be sure our recommendations and criticisms are accurate and helpful. Find out more about how we test.
On paper, there are some pretty impressive spec improvements for the Apple Watch Series 9.
Swipe to scroll horizontally
| | | |
| --- | --- | --- |
| Specs | Series 7 | Series 9 |
| Display Size | 41mm, 45mm | 41mm, 45mm |
| Display Type | OLED | OLED |
| Peak Brightness | 1,000 nits | 2,000 nits |
| Capacity | 32GB | 64GB |
| Splash, water, dust resistance | IP6X | IP6X |
| Chip | S7 | S9 SiP 9 |
| Apple Pay | Yes | Yes |
| Location | GPS | GPS |
| Power and battery | 20 hours | 20 hours |
| Sensors | Accelerometer, Gyro, Heart. Rate, Barometer, Always-on Altimere, Compass, Sp02, VO2max | Accelerometer, Gyro, Heart. Rate, Barometer, Always-on Altimere, Compass, Sp02, VO2max, Crash Detection, Temperature Sensor |
| Operating system | watchOS 8 (On launch) | watchOS 10 |
| Neural Engine | None | 4-Core |
Though many of the specs remain the same, you will notice the new S9 SiP 9 (System in Package), essentially the central chip responsible for the watch. This helps with the brand-new watch control mode, double tap, allowing you to execute certain actions with just your finger and thumb. It also allows it to measure temperature and, when in direct sunlight, the display will shine much brighter.
One thing that a spec sheet can't fully track is how devices age. With the Series 7 being two years old now, its battery will perform worse than it did at launch (unless you buy it new)). Batteries degrade with time so this is to be expected of older watches. The Series 9 will have a better battery regardless of specs.
Apple Watch Series 9 vs Apple Watch Series 7: Features
Here are some new features on the Series 9 that aren't built into the Series 7:
Temperature sensor
Coming with the ability to measure your temperature, the Apple Watch Series 9 will automatically take a measurement every night to get a baseline, where it will then indicate if your temperature is higher or lower than usual. This is a great way to track illness and menstrual cycles, as well as get a better read on your overall health.
On-device Siri
Where the Series 7 cannot use Siri without access to your phone, the Apple Watch Series 9 can answer basic commands on-device without the need for an iPhone or data. This is good for shortcuts and ease of use, and it's all thanks to that impressive new chip and its neural upgrades.
Improved Find My
The Gen 2 Ultrawide band chip comes with the added advantage of much better Find My capabilities, with specific directions and sounds to point you to the precise location of your Apple devices.
Crash Detection
If you ever find yourself unlucky enough to be in a crash, the Series 9 can detect it and immediately call emergency services — a potentially life-saving extra.
Double Tap control
One of the central selling points in the Apple Event, Double Tap control allows you to use some Apple Watch functions without ever actually touching it. Though there is a similar function in the accessibility options in the Series 7, it isn't quite this powerful or intuitive. This can be super useful when your hands are full and for accessibility purposes.
Apple Watch Series 9 vs Apple Watch Series 7: Sensors
As well as the temperature sensor and high-g accelerometer, the Apple Watch Series 9 has a more accurate heart rate sensor. All previous sensors have also been improved.
This is partially because the suite of sensors in the Apple Watch line is already very impressive, making it the perfect fitness companion for those who like to run, swim, or cycle. You can pick up Apple Fitness Plus to get even more out of it.
Apple Watch Series 9 vs Apple Watch Series 7: Processor
The brand new S9 SiP powers the Apple Watch Series 9 and it's an impressive bit of tech. SiP technology uses many integrated circuits inside a single chip package, allowing it to more efficiently stack its internals. The SiP is essentially a processor, storage, and RAM all in one. The way they are stacked together allows for a smaller watch with a better chip.
Like the S7 featured in the Watch Series 7, it is still a 64-bit dual-core processor but it has double the storage at 64GB and benefits from the power of the Ultrawide band gen 2 chip.
The S9 chip has 60% more transistors than the S7 and is reported to be 30% faster - a much bigger speed bump than the Series 7 to Series 8. It also has a 4 core neural engine, allowing it to use machine learning and AI functions on the go. This improves everything from the heart rate detection algorithms to the use of Siri. This is a noticeable upgrade that will affect almost every action you take with faster responses and more accurate data. It will also ensure your watch is futureproofed for watchOS updates beyond watchOS 10.
Apple Watch Series 9 vs Apple Watch Series 7: Display
Both Apple watches have an OLED display and are available in both 41mm and 45mm. Though the size has not had a refresh of any kind, one of the biggest differences this year is in the potential brightness of the display.
The brand new Series 9 display can go all the way up to 2000 nits on a particularly sunny day. This means it is much easier to read when it's bright and allows the flashlight function to work much better. As well as this, it can go all the way down to 1 nit at night, allowing you to better conserve battery.
Apple Watch Series 9 vs Apple Watch Series 7: colors
One of the most notable color changes this year is the introduction of a Pink Series 9 in Aluminium. As well as this, it is available in Starlight, Midnight, Silver, and (PRODUCT)RED. The Series 7 has all of these colors except for the Pink and also offers a Blue and Green model.
As far as the Stainless Steel option is concerned, the Watch Series 9 comes in Gold, Silver, and Graphite. The stainless steel Series 7 offered the same colors as well.
Apple Watch Series 9 vs Apple Watch Series 7: Strap options
With the Apple Watch Series 9, you can use all previous watch straps given they are the right size. Bands designed for 38mm, 40mm, and 41mm cases are all compatible with each other, and all bands that are 42mm, 44mm, or 45mm work together.
There are a handful of brand-new styles to accompany the launch of the Series 9. The recent Apple Event had a focus on environmentally friendly design and the new watch strap choices are part of this. The Apple Watch Series 9 is the company's first carbon-neutral device. In service of this, all leather straps are gone, with textile, rubber, and FineWoven straps taking the spotlight. This is a brand-new material made from 68% recycled materials, essentially made to replace leather.
You can still pick up second-hand leather straps and leather straps from third-party sellers but there's no official way of doing so from the Apple website.
For the Apple Watch Series 7, you could get the traditional Sport Loop, as well as the Braided Solo, Solo Loop, and Alpine Loop. These come in medium and large sizes, depending on your wrist size and watch choice.
Apple Watch Series 9 vs Apple Watch Series 7: should you upgrade?
If you have the cash and find yourself asking this question, the answer is likely yes, you should upgrade to the Apple Watch Series 9. You are getting two years' worth of upgrades in one swoop and this means you have a faster chip, better brightness settings, and a handful of great new sensors.
You're also likely finding that your Apple Watch Series 7 is starting to show its age as it comes to the end of its two-year contract if you bought it from a carrier. The battery will have suffered two years' worth of nightly charging cycles, and its internals likely won't feel quite as spritely as you might like. Upgrading to Series 9 is going to feel like a big jump to you — while it may look very similar, the changes under the hood make it a very different watch to use.
If you are looking to finally pick up your first Apple Watch, the Series 9 is a pretty great place to start. It has plenty of fancy features and the new Pink color looks very nice. In an effort to be a little more future-proofed with the great chip and Neural engine, it may be worth the investment. You might, however, want to think about looking for a reduced Series 8 — That is a slightly newer watch than the Series 7, and if you want to replace your aging watch then it's a great way to save money. You'd best be quick with this option, however, as new examples are running out as the Series 9 replaces them on shelves.
If you can get a Series 7 refurbished or second-hand, it may be worth considering but buying the Series 9 new comes with the added benefit of Apple care and support. Buying second-hand also comes with the worry of your device not lasting quite as long. The Series 9 is a better watch and that price tag shows it.
Master your iPhone in minutes
iMore offers spot-on advice and guidance from our team of experts, with decades of Apple device experience to lean on. Learn more with iMore!
James is a staff writer and general Jack of all trades at iMore. With news, features, reviews, and guides under his belt, he has always liked Apple for its unique branding and distinctive style. Originally buying a Macbook for music and video production, he has since gone on to join the Apple ecosystem with as many devices as he can fit on his person.
With a degree in Law and Media and being a little too young to move onto the next step of his law career, James started writing from his bedroom about games, movies, tech, and anything else he could think of. Within months, this turned into a fully-fledged career as a freelance journalist. Before joining iMore, he was a staff writer at Gfinity and saw himself published at sites like TechRadar, NME, and Eurogamer.
As his extensive portfolio implies, James was predominantly a games journalist before joining iMore and brings with him a unique perspective on Apple itself. When not working, he is trying to catch up with the movies and albums of the year, as well as finally finishing the Yakuza series. If you like Midwest emo music or pretentious indie games that will make you cry, he'll talk your ear off.