watchOS 10: Everything you need to know about the next Apple Watch update
The time for watchOS 10 is approaching.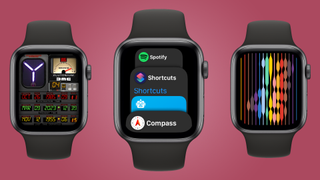 (Image credit: iMore)
With the Apple Watch getting some serious hardware upgrades in 2022, we're getting excited about what Apple might have in store for the next edition of its wearable operating system, watchOS 10.
When the first Apple Watch was made available in 2015, watchOS 1 didn't feature many third-party apps, and there was a big focus on communication rather than the fitness focus of what we see in the lineup today.
However, while there are a couple of features that we'd love to see return again, there are also a few long-absent ones that should have appeared by now, which we'd like to finally see as we head into WWDC 2023 in June, followed by the rumored Apple Watch Series 9 in the fall.
watchOS 10: Expected launch and release Date
Since watchOS 2 in 2016, major software updates have been announced and showcased at WWDC every year, followed by a release with a new Apple Watch model in the fall.
We're expecting the same for watchOS 10, with it being announced at WWDC 2023, followed by a release alongside Apple Watch Series 9, and possibly an Apple Watch Ultra Series 2 in the fall.
WWDC nearly always takes place in early June, so we would expect watchOS 10 to be unveiled in a keynote on either June 5 or June 12. The Apple Watch Series 8 was announced on September 7, 2022, and we'd expect Series 9 to follow suit with a launch alongside the iPhone 15 in September. watchOS is normally released when that product becomes available for sale, usually the following week.
watchOS 10: Likely Compatible models
A new Apple watchOS usually heralds the end of support for Apple's oldest support model. For example, last year, watchOS 9 saw the end of the aging Apple Watch Series 3. No doubt, all of the most recent best Apple Watch models, such as the Ultra, Series 8, and SE will retain support, as will older models such as the Series 6 and 7. The only question really is whether Apple will retain support for the Apple Watch Series 4 and the old Apple Watch SE, which was replaced last year. Here's a provisional list of devices we'd expect to get support for watchOS 10, but we won't know for certain until it's launched in June.
Apple Watch SE
Apple Watch Series 4
Apple Watch Series 5
Apple Watch Series 6
Apple Watch Series 7
Apple Watch Series 8
Apple Watch SE (2nd Generation)
Apple Watch Ultra
watchOS 10: Features we'd like to see
As watchOS is about to reach double digits, it's time for Apple to refine certain features, while bringing in some highly-requested ones. Especially as the bigger screen on Apple Watch Ultra gives developers the opportunity to build apps for the larger space.
Third-Party Watch Faces
This is a feature that's been long requested - while users have been able to install third-party apps since watchOS 2, Apple has not allowed watch faces to be distributed in the App Store.
Since the launch of the Watch, Apple has introduced a bunch of watch faces that have been great to use - some charming, some useful. The Toy Story and Mickey Mouse watch faces come to mind as the ones as close to third-party watch faces that have arrived on the wearable.
While there have been workarounds, such as Clockology (opens in new tab), allowing developers to make dedicated watch faces would be very appealing, and it also gives Apple Watch users better customization options.
Imagine a watch face that comes with PCalc (opens in new tab), created by James Thomson (opens in new tab). Many of us remember the calculator watches from the early nineties, so having one that mirrors the app would appeal to a lot of people.
Weather Watch Face
If Apple doesn't introduce third-party watch faces, let's see a new one that revolves around the redesigned weather app (opens in new tab). I've been a big fan of Apple's weather app since its debut in iOS 14 - I've been using it constantly, and more so since it made the move to iPadOS and macOS in 2022.
To see a watch face animated in the same way as the app does on iOS would be great - raising your wrist to see that the display has changed to raindrops, or that it's so cold that it's snowing and the time looks as though it's freezing up would awesome, and a weather face would be a staple on my Apple Watch.
Bring back Time Travel
This is a feature I used all the time when it arrived with watchOS 2, and I was disappointed when it was removed with watchOS 5. Using the crown of your Apple Watch, you could go forward in time to check on the weather and calendar entries for example.
While I mainly use my Apple Watch for health reasons, it was great to use the crown to simply check on any appointments in the group calendar that my wife and I share. Since watchOS 5 and the removal of Time Travel, I've had to keep a complication on my watch face to have upcoming appointments constantly displayed.
For watchOS 10, let's see a return of Time Travel - perhaps even a dedicated watch face for it that has effects that reference time travel shows and films of the past - from the sparks of Back to the Future, to the time vortex of Doctor Who.
Better Camera Remote App
The camera app on watchOS is one of the most underrated features of the Apple Watch, but it's barely seen an update since it debuted with the original model back in 2015.
I have a MagSafe stand for my iPhone, so when my wife and I were on holiday last year, it was useful being able to place it on a ledge and take a photo with the camera app on my Watch.
But as the cameras on iPhone have become more sophisticated, it would be great for a new app in watchOS 10 to take advantage of the extra lenses at our disposal. More controls such as switching to Portrait Mode and Cinema Mode would be useful here, alongside giving you the ability to enable the flash if needed.
Rest Days
While the Fitness app has seen great improvements in setting different goals for the three rings, there's still no way to pause the streaks you've earned if you're ill or had to commute somewhere that would end the streak.
Rest days are common with fitness, so it's baffling, nine years since the launch of the Watch, that there's no way to set this up.
So, please Apple, let's finally have the option to activate a rest day. Or even better, have the Watch spot that there's no exercise on a day where there usually is, and it will ask if it's an unplanned rest day.
---
It could be a year of gains for software, not hardware
While my Apple Watch Series 5 is starting to show its age in battery life these days, alongside the smaller screen compared to what the Apple Watch Series 8 and Ultra models offer, it's high time for the software to mature.
Recently, rumors have said that Series 9 will allegedly be a minor release, focusing on a faster chip and not much else. However, this could be where Apple brings in some big fixes and changes to watchOS as a whole - features many have been asking for while refining what's there.
But it would be good for Apple to go even further - being able to see your ring activity on macOS 14 and iPadOS 17 through widgets while some writing or video editing is being done, would be welcome instead of raising your wrist or checking your iPhone to keep on top of your daily goals.
Regardless, 2023 should be the year when watchOS matures into an even more useful companion on your wrist while giving you the rest days that you finally deserve, to keep those streaks going.
Get the best of iMore in your inbox, every day!
Daryl is iMore's Features Editor, overseeing long-form and in-depth articles and op-eds. Daryl loves using his experience as both a journalist and Apple fan to tell stories about Apple's products and its community, from the apps we use everyday to the products that have been long forgotten in the Cupertino archives.
Previously Software & Downloads Writer at TechRadar, and Deputy Editor at StealthOptional, he's also written a book, 'The Making of Tomb Raider (opens in new tab)', which tells the story of the beginnings of Lara Croft and the series' early development. He's also written for many other publications including WIRED, MacFormat, Bloody Disgusting, VGC, GamesRadar, Nintendo Life, VRV Blog, The Loop Magazine, SUPER JUMP, Gizmodo, Film Stories, TopTenReviews, Miketendo64 and Daily Star.