Here's a transcript of Tim Cook's surprise Mad Money call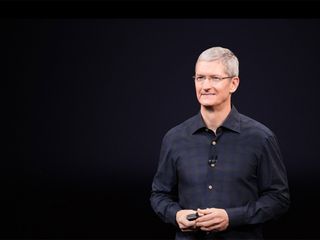 Apple CEO Tim Cook surprised Mad Money anchor Jim Cramer on the air Thursday with a sweet tenth anniversary wish for the show, which turned into a lively seven-minute conversation about ResearchKit, Apple Pay, and the Apple Watch. Below is a transcript of their conversation.
Cramer: Let's take a call: go to Tim in California. Tim.
Cook: Hey Jim, I'm calling from Cupertino, California, to be exact. This is Tim Cook at Apple, and I want to congratulate you on ten great years of Mad Money.
Cramer: Wha — wow! That's even cooler. I want to congratulate you for running the greatest company on Earth and for creating such amazing wealth and the best products on Earth — for everybody! You have done a remarkable job, Tim, I am honored that you're calling in.
Cook: It's the great team here that does it. Jim, you've been a champion for American innovation, and of course Apple feels the same way, and we love the fact that you highlight innovation as the centerpiece of your show.
Cramer: Well, you know what, you make us proud and you do such incredible, incredible innovation yourself, every time. You know I am totally involved with what you're doing for the phone, but of course for the watch, and for the ResearchKit! I basically am looking at your company as being the health company of the future. I'm looking at you as being the credit card company of the future. They really are the great growth areas that you're in charge of, Tim.
Cook: You know, it's really incredible. Since, uh, in the first 24 hours of ResearchKit, we've had 11,000 people sign up for a study in cardiovascular disease through Stanford University's app. And, to put that in perspective, Stanford has told us that it would have taken normally 50 medical centers an entire year to sign up that many participants.
So ResearchKit is an absolute gamechanger.
Cramer: I think that this is the most — but people don't understand why you absolutely have to have this device [the Watch], which is why I can't — I can't wait until it comes out.
I also am focused on the fact, Tim, that your product for retail, uh, with Apple Pay, is by far the best. I have to believe that given the banks, given Visa, given MasterCard, it's perfectly realistic to believe that the customers will demand it from every major retailer in the world. Do you think I'm right?
Cook: I totally think you're right. You said last year, I think, when it first came out, that it would take the country by storm, and it's doing it. We've already got 700,000 locations accepting Apple Pay, and by the way, we really want to add your Bar San Miguel to the list.
Cramer: Tim! [laughing] Tim! You're too much!
Cook: And if you do that, I am joining you there for dinner.
Cramer: You are too much! [laughing] Tim! I've gotta ask you, Tim. We always hear that the company, it's so big, whatever. I mean, I think that you're — I look at your company, and I think it's not that expensive, you've got the best balance sheet in the world — country, company, doesn't matter.
You know my mantra: People should own Apple, not trade it. D'you think that, eventually, people will understand what I'm talking about?
Cook: I think eventually they will, yes. I mean, y'know, for people that have owned the stock for ten years or so, our stock price ten years ago when you started Mad Money was less than six dollars on a split adjusted basis. And so you can bet that those people are extremely happy right now.
Cramer: Well, everyone's thrilled with what you've done. When you come to work every day, I know you come in hungry — the competition, are you feeling like that you've kind of left it behind, or are you just every day, do you come in and say, "Someone might have a better mousetrap"?
Cook: We're always paranoid. We live paranoid, and we always want the very best products, and if we're not beating someone else, we're trying to beat the thing that we have currently shipping. Everybody here lives on the edge.
Cramer: Do you think — well, do you think that... y'know, people are worried about the world, people worry about Europe, people worry about currency. Are we being, are those just the kinds of things that Wall Street worries about, and if you're at home, or you're watching, you own a hundred shares of Apple, you should just be thinking that Tim Cook and the team are ready for pretty much anything the world might throw at us?
Cook: Currency's clearly a problem, but frankly the best companies will figure out a way to manage it.
Cramer: And I regard your company with the highest ideals and the greatest manufacturing. I know every day when you come to work I feel you must think that you have a stewardship you've got to fulfill because of Steve Jobs. I want you to know that we — that you have far exceeded what ever — anyone, I think, could have done, but you still walk in his footsteps. How do you feel about the legacy?
Cook: You know, there's not a day that goes by that I don't think about Steve, and he is still the core part of Apple, his DNA is deep in the company. His office is still next to mine with his name on the door.
And the values that he placed in here, and sort of the spirit — that we are here to make the very best products in the world that enrich people's lives — that is still the centerpiece of this company.
Cramer: And do you think that there are — I know that from Walter Isaacson's book, that there really, that the pipeline that you're using really, is, while it definitely had good things from Steve, a lot of these devices are yours and your team's, aren't they?
Cook: Oh, absolutely, yes. We're now, y'know, quite a ways away from, unfortunately, his passing, and so there's uh, there's been a lot of things that have started in creation after his passing.
Cramer: Let me ask you about where you think things are going — I know that the car, the home — do you think of them as connectivity/social mobile cloud connectivity? Do you feel as though these are the next frontiers, or is there a frontier that I'm missing, I'm not thinking big enough?
Cook: Well, I think that those are two big ones that you've talked about. I think that Health may be the biggest one of all, because for years, people have depended on strictly someone else to determine their health. And now these devices — in essence — empower people to manage and track their own health and fitness. And so I think that market is probably significantly underestimated.
Cramer: Well, let's go there, because I know my cardiologist, well, he's working on the Stanford project, knows about it, and told me that it's within our lifetime that we will have your watch, and your watch will show whether my blood pressure spiked — which it did, by the way, when you called, because I had no idea you were calling.
But we will have, from your watch, diabetes, maybe blood pressure, maybe even cancer detection because of the great access through you have, and because of the HealthKit — do you think this is within the realm of our lifetime?
Cook: Oh, I absolutely do. I absolutely do. And, y'know, discovering and curing some of these diseases will push our life expectancy much longer than it currently is, and we'll be able to enjoy Mad Money fifty years from now.
Cramer: [gasps] Aw, Tim. Well, Tim, I gotta tell ya, I am deeply honored that you called in, I think that you're the best we have, maybe the best that's ever been. Thanks so much, Tim Cook.
Cook: I really appreciate that, yeah, Jim. You say that "Some people want to make friends, I just want to make money," but let me tell you, you've made at least one friend in me, and I wish you all the best. So happy anniversary.
Get the best of iMore in in your inbox, every day!
Serenity was formerly the Managing Editor at iMore, and now works for Apple. She's been talking, writing about, and tinkering with Apple products since she was old enough to double-click. In her spare time, she sketches, sings, and in her secret superhero life, plays roller derby. Follow her on Twitter @settern.
That was incredible... his reaction, especially when Tim announced his name, was priceless, Sent from the iMore App

Right with you RupMjee,
T Cook is the Michael Jordan. The 'Great' Wayne G, the intimidator and Joe Montana/Tom Brady all rolled up into a single business individual. His knowledge and networking of the 'supply chain' "ownership" got him to the seat
But EVERYtime I hear him speak whether WWDC or MWC, surprise calls like this OR just 'street chat' caught 'on tape' the man is a BEAST. An American and one HELLUVA business savvy man. To follow Steve Jobs and maintain its 'control' over the iPhone and it's (lack of) bloat from carriers....the third generation 64bit chips, the A9 are currently in production and Imagine Technologies has some exciting tricks as well The small things that aren't mentioned; development of SWIFT & continuity/handoff, the integration and aggregation both vertically and horizontally with OS X and/or Windows or the Linux distro of your choice --- it WORKS! I'm 45 this year and I've grown 'up' with the 8086 (born in 1971 the chip, me in '69). At 14 my Apple IIe was IT ...til I got to college. My first 286--->486 for graduate school,, full circle a decade ago when Vista nearly annihilated my business I made the switch. Continued use of 'training wheels' with XP on a beta partition of BootCamp and I was on my way to the permanent switch to OS X and iOS (Android --- I use a Note 4/Windows 8.1 convertible laptop with the business as there's nothing like having a core i5 13" tablet 'in the field' for necessary edits, ability to run full fledged X86/32 or 64 bit programming is awesome!)
IMHO, with the new CEO at MS, and they keep their nose to the grindstone they'll over take samsung and Google as the #2 smartphone seller within a half decade
One can't complete anything else once field work is done if the production rigs at the studio are Chromebooks.

I actually met Jim Cramer.
Several times, in fact.
He lives rather close to my town. Sent from the iMore App
Thank you for signing up to iMore. You will receive a verification email shortly.
There was a problem. Please refresh the page and try again.